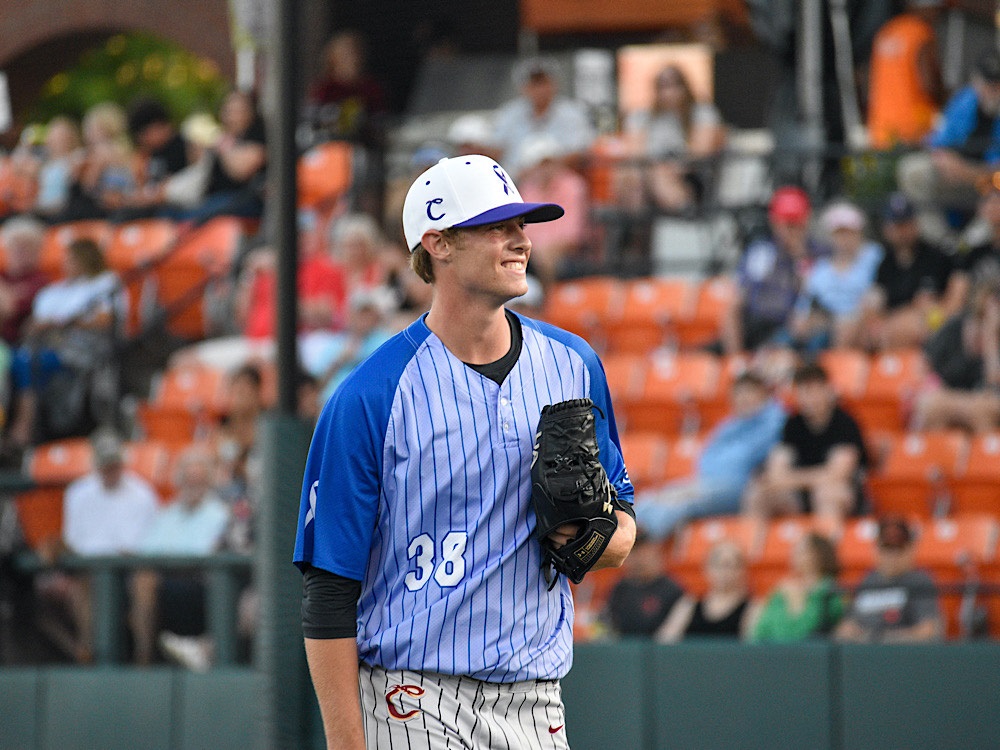 Knights squander late lead, fall to Cowlitz 5-4 in playoff opener
Tuesday, August 8, Longview, Wash.  – If the Corvallis Knights are to win their seventh consecutive West Coast League championship, they will have to do it the hard way.
Ahead 4-0 with only five outs to get, the bullpen imploded and enabled Cowlitz to rally for a 5-4, 10-inning victory in Game 1 of their best-of-3 South Division playoff series at David Story Field.
The Knights (43-16) must now win games 2 and 3 at Goss Stadium on Wednesday and Thursday to stay alive. Corvallis faced a similar hurdle in 2022 after losing its playoff opener at Yakima Valley, but it rallied to win four games in a row to successfully defend its title.
Down 4-0 with one out in the last of the eighth inning, the Black Bears parlayed four walks and two singles into four runs to tie the game. They then walked it off on a leadoff homer in the bottom of the 10th inning.
Corvallis's quest to stay alive begins at 6:35 p.m. Wednesday at Goss Stadium. Jayden Vinson of Mt. Hood CC (1-2, 3.60) will start for Cowlitz, opposed by Miles Gosztola of Gonzaga (1-1, 2.61) for the Knights.
The Knights will also host Game 3 at 6:35 p.m. Thursday, if necessary.
If the Knights come back to eliminate the Black Bears, they will host either Ridgefield or Portland at 6:35 p.m. Saturday in the South Division championship game. Saturday's victor advances to the Aug. 14 WCL championship game.
Corvallis starter Merit Jones (Utah, pictured above) allowed no runs, one hit and two walks over six stellar innings. He struck out six and faced only 20 hitters, two over the six-inning minimum. He left with a 3-0 lead after throwing 44 strikes in 72 pitches.
The Knights jumped to a 3-0 lead in third inning. Infield singles by JC Ng (Pomonza-Pitzer) and Tyler Quinn (Utah) and a walk to Ethan Hedges (USC) loaded the bases with one out. After a strikeout, Mason Le's (Cal State Northridge) single to left field on a 3-2 pitch with the runners on the move cleared the bases, with the third run scoring after the relay throw was bobbled.
Corvallis made it 4-0 in the eighth on a two-out walk to Lee and a ringing double off the fence by Ethan Hott (Stanford).
However, Cowlitz rallied to tie in the eighth, scoring four times on only two hits, aided immeasurably by four walks. Sean Wiese (Arizona Christian) finally retired the side but was saddled with the loss in the 10th.
The Knights have advanced to the postseason all 16 summers since the divisional playoff format was introduced in 2007. They have played in 13 of 15 possible WCL Championship series since that season.