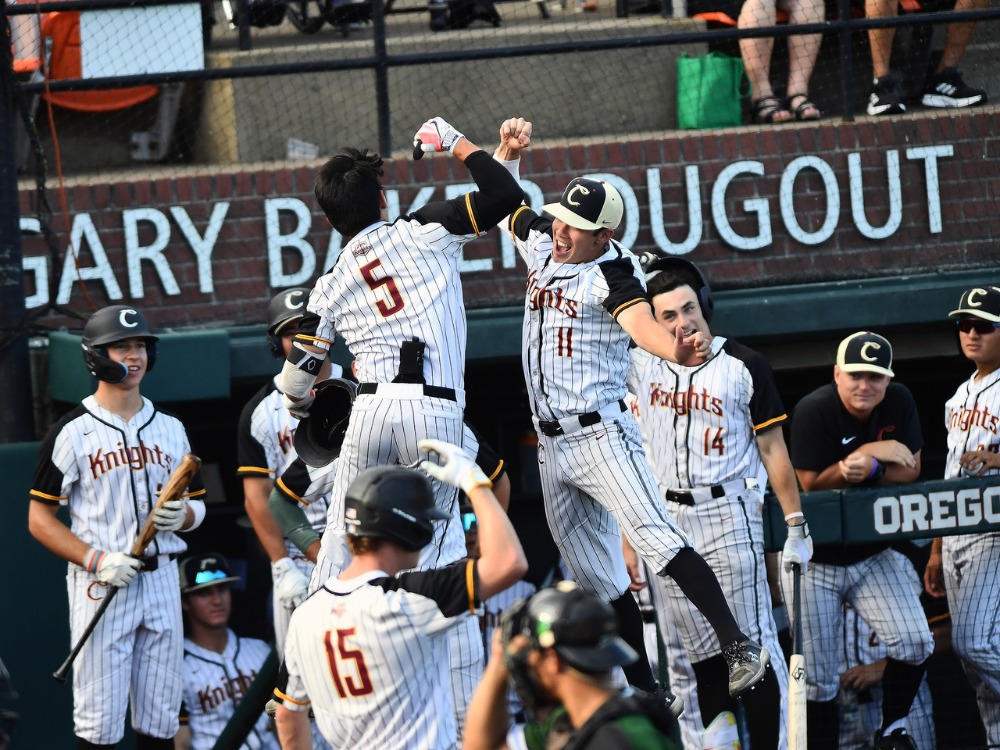 Two Hottest Clubs in WCL to Face-Off in South Divisional Series
Tuesday, August 8, Corvallis, Ore. – The six-time defending West Coast League champion Corvallis Knights completed their 2023 campaign winning 21 of its last 24 WCL games following a 1-0 shutout defeat at Cowlitz on July 9.
The team's strong finish secured a record 16th consecutive playoff berth, a second-half WCL South title and the league's top overall record at 39-15.
The Knights will face an equally hot Cowlitz Black Bears club that went 21-7 in the second half and won 10 straight league contests between July 25 and August 4, finishing up winning 11 of its last 12 games and with a 33-21 overall mark, a franchise record.
After dropping its series finale at the Black Bears, the Knights ripped off a 12-game win streak and won its final 8 series. Cowlitz, the Knights first-round playoff opponent, is the last team to take a series from Corvallis, shutting out the Knights twice at David Story Field.
For the regular season, Corvallis and Cowlitz split, 3-3, each winning series at home. Arguably, they are the hottest two teams in the WCL.
Game one is set for David Story Field at Lower Columbia College, with a first pitch set for 6:35 pm. Game two and three (if necessary) are scheduled for Goss Stadium at Oregon State with start times at 6:35 pm.
Corvallis went 20-7 at Goss this season while Cowlitz posted a 17-10 home mark.
The Knights led the league in fielding percentage (.980) and posted a league low ERA of 2.88. Cowlitz was fourth in fielding at .972 and fourth in ERA at 3.25. Both teams are strong on the mound and play outstanding defense.
"Defensively, we've been really consistent, and we've had some guys make some memorable plays along the way.  We've been able to stay away from the big inning by simply making the plays we're supposed to make," said Corvallis skipper Brooke Knight.
Corvallis is led offensively by left-handed hitting outfielder Sam Stem of Gonzaga. The rising sophomore led the WCL in at bats with 220 and extra base hits with 23, tied for the league lead in games played with 54, was second in total bases with 93, tied for second in runs scored with 37, tied for second in triples with 3 and was tied for third in hits with 59.
Returnee and 2022 team MVP Tyler Quinn, a grad transfer from Pacific heading to Utah this fall, played a spectacular third base and finished the regular-season hitting .297 with 11 doubles, 4 homers and 36 RBIs.
Left-handed hitting outfielder JC Ng of Pomona-Pitzer led the WCL in walks with 45. The rising junior collected 7 doubles and 27 RBIs. Rising sophomore outfielder Ethan Hott of Stanford led the team in stolen bases with 18 and hit. 281 with 29 RBIs.
Left-handed hitter Ty Yukumoto of Pacific led the club in hitting with a .303 batting average. The slick-fielding shortstop was steady in the field committing only 6 errors for the season. He led the team in HBP with 11 and stole 17 bases.
Catching duties were shared between rising sophomores Tyler Howard of Portland and Anson Aroz of Oregon. Howard led the Knights in OBP at .437. Aroz hit .235 with 5 doubles, a triple, a homer and 17 RBIs.
First basemen Ethan Hedges of USC and Blake Avila of Grand Canyon played solid defense and will be counted on to deliver offensively in the playoffs. Hedges, a right-handed hitter and sophomore-to-be, hit .282 with 7 doubles, 2 triples, 3 home runs and 31 RBIs over 156 at bats. He stole 14 bases. Avila, a left-handed hitting rising junior, batted .265 with 2 homers and 19 RBIs in 156 at bats.
The Knights strength this past regular season was its defense, especially its infield and shortstop/center fielder Pheonix Call, an incoming freshman at UCLA. Infielders Tyler Quinn, Ty Yukumoto, rising senior Mason Le of Cal State Northridge, rising sophomore Tate Shimao of Cal Poly and Ethan Hedges shined brightly in the field all summer long.
Corvallis pitching was also stellar, posting league lows in ERA (2.88) and opponents batting average at .201.
The bullpen was magnificent, led by veteran returnees Sean Wiese, a recent commit of Arizona Christian, and Neil Fiest of Cal State Northridge. Wiese, a southpaw who pitched at George Fox and Hawaii, went 6-0 with two saves and 2.80 ERA over 16 appearances and 35.1 innings pitched. Feist tied for the team lead in appearances with 18 and went 4-1 while posting a 3.02 ERA over a team-leading 41.2 innings pitched.
Other bullpen stalwarts that coach Knight will count on during the post-season are rising sophomores Frank Camarillo of UC Santa Barbara (2 saves, 1.42 ERA), Nate Marshall of Lane CC (13 appearances, 35.2 innings, 2.01 ERA), Zach Johnson of Utah Valley (4-0, 1 save, 2.34 ERA, 31 K in 30.2 IP) and Max Debiec of Folsom Lake College (18 appearances, 1-1, 1 save, 3.16 ERA, 31 K in 31.1 IP). Johnson pitched at Portland this past spring while Debiec redshirted the past two springs at UW and Texas A&M.
"We've had our ups and downs throughout the season commanding the strike zone.  A couple stretches in there where we issued too many free passes," said Brooke Knight. "That being said, when our stuff is in the zone, it plays well, and we've been able to really hold teams down in the second half with a much more reliable effort on the mound across the board."
Coach Knight has announced that Merit Jones of Utah will start Tuesday's game one contest and incoming freshman lefty Miles Gosztola of Gonzaga is set to start game two on Wednesday at Goss Stadium. Jones made 9 appearances and 6 starts this summer and went 1-1 with a 1.45 ERA while striking out 32 over 31 innings pitched. Gosztola made 5 appearances and 4 starts and went 1-1 with a 2.61 ERA over 20.2 innings.
If the series goes three games, rising junior University of Portland pitchers Sam Stuhr (3-0, 2.61 ERA, 7 appearances, 5 starts) and Kaden Segel (4-0, 1 save, 1.17 ERA, 22.2 IP) are probable starting options, as is returnee southpaw Ethan Ross of San Jose State. Stuhr spent the last two springs as a non-roster pitcher at Oregon State before transferring to UP. Both Stuhr and Segel played on the 2021 WCL champion Knights. Segel was a 2022 first-team all-WCL selection for Corvallis. This is Ross' third summer with the Knights. He has made 9 appearances and 4 starts this season, with 28 strikeouts over 18.1 innings pitched while posting a 3.92 ERA.
Over the summer, the Knights pitching staff was depleted by nagging injuries losing key arms like Brady Jones of Georgia State, Grant Cleavinger of Nebraska and Bransen Kuehl of Utah. Corvallis also lost rising sophomores Tyler Bremner of UC Santa Barbara and Jakob Wright of Cal Poly, both potential aces for the Guachos and Mustangs.
But mid-season additions of pitcher Kaden Segel and infielder Mason Le, key returnees from last summer's championship club, have helped supplement the roster and add leadership. Segel and Le played through June in the Coastal Plain League and Northwoods League, respectively.
If Corvallis were to beat Cowlitz and advance, the Knights would host a WCL South semi-final at Goss Stadium versus either the first-half champion Ridgefield Raptors or Portland Pickles on Saturday, August 12.
The West Coast League championship game is set for Monday, August 14. Since Corvallis owns the league's top record, the Knights would host if they advanced that far. Corvallis has posted the top overall mark in the WCL now for four consecutive seasons.