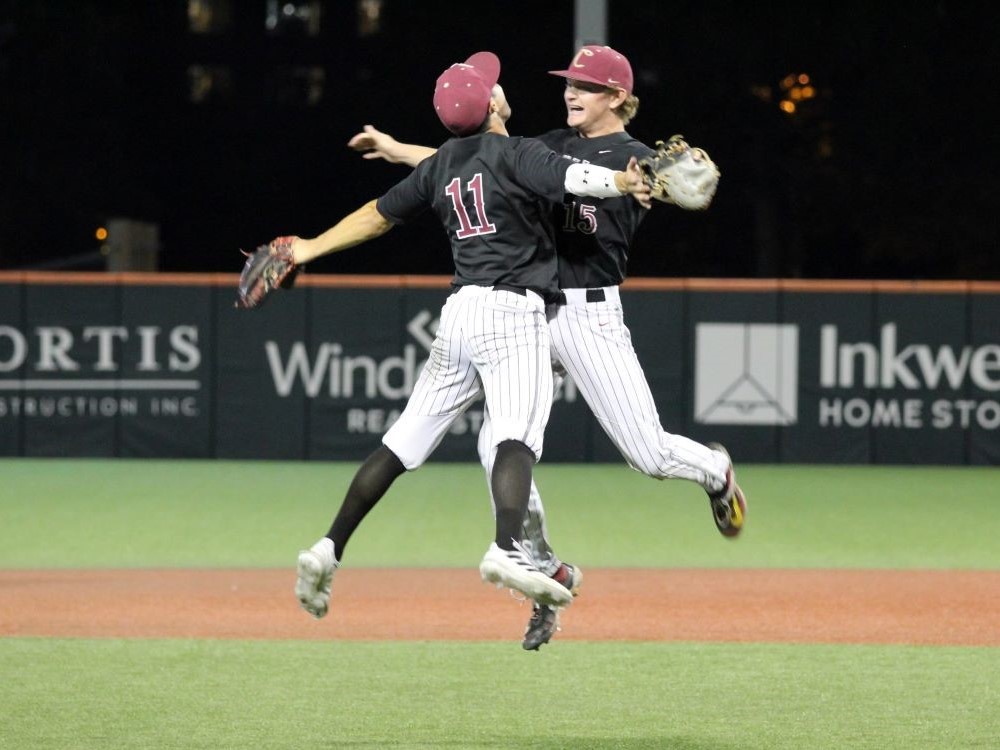 Knights rally for 3-2 victory, advance to South Division final
Thursday, August 10, Corvallis, Ore.  – They're still alive.
For the second night in a row, the Corvallis Knights staved off elimination by defeating Cowlitz 3-2 in a tense, do-or-die Game 3 of the West Coast League's South Division playoffs.
The reigning WCL champions rallied from a 2-0 deficit by scoring twice in the fifth inning and once more in the eighth, delighting a small but focused and enthusiastic crowd of 671 on a comfortable night at Goss Stadium.
The Knights (45-16) advanced to Saturday's one-game South Division championship against the Portland Pickles, starting at 6:35 p.m. at Goss Stadium. The victor moves on to the WCL Championship game against Bellingham or Victoria.
If the Knights win Saturday, the championship game will be played at Goss Stadium, where Corvallis defeated Bellingham 5-0 in the 2022 finals for its sixth consecutive league title. Corvallis was 6-0 vs. the Pickles this season and has won 10 straight in the series overall.
Knights' veteran reliever Sean Wiese (Arizona Christian), victimized by a walkoff homer in the Aug. 8 series-opening loss at Cowlitz, exacted sweet revenge on Thursday. He retired the Black Bears in order in the ninth on only eight pitches, preserving the win.
Reliever Frank Camarillo (UCSB) was outstanding, with four scoreless innings in relief of starter Sam Stuhr (Portland) to keep Cowlitz from adding to its 2-0 advantage. Camarillo allowed only one hit, struck out three and picked a runner off first.
Catcher Anson Aroz (Oregon) helped Camarillo by gunning down a would-be base-stealer at second to end the eighth inning. Camarillo faced just 13 batters, one over the four-inning minimum.
Corvallis broke through with two outs in the fifth inning to tie the game 2-2. Tyler Quinn (Utah) reached on a fielder's choice and JC Ng (Pomonza-Pitzer) and Sam Stem (Gonzaga) walked to load the bases. Ethan Hedges (USC) then grounded a 1-2 pitch into center field to score Quinn and Ng.
Hedges, pictured above celebrating with Le (11), was named the Washington Park Advisors Player of the Game.
The Knights left runners in scoring position in the sixth and seventh before breaking through with the game-winner in the eighth. Pinch-hitter Blake Avila (Grand Canyon) led off with a double to the right-field gap. Tate Shimao (Cal Poly) then sacrificed pinch-runner Phoenix Call (Stanford) to third.
Mason Le (Cal State Northridge) walked and then stole second with Ty Yukumoto (Pacific) at-bat. Call broke from third on a 2-1 pitch and Yukumoto bunted toward the pitcher; Call slid under the tag and was safe on a bang-bang play for a 3-2 lead.
Stuhr struck out seven and allowed only two hits in four innings. However, he hit two batters in the fourth inning and both came around to score.
The Knights have advanced to the postseason all 16 summers since the divisional playoff format was introduced in 2007. They have played in 13 of 15 possible WCL Championship series since that season.
Thursday's crowd of 671 raised the season total to 56,668 in 33 dates.