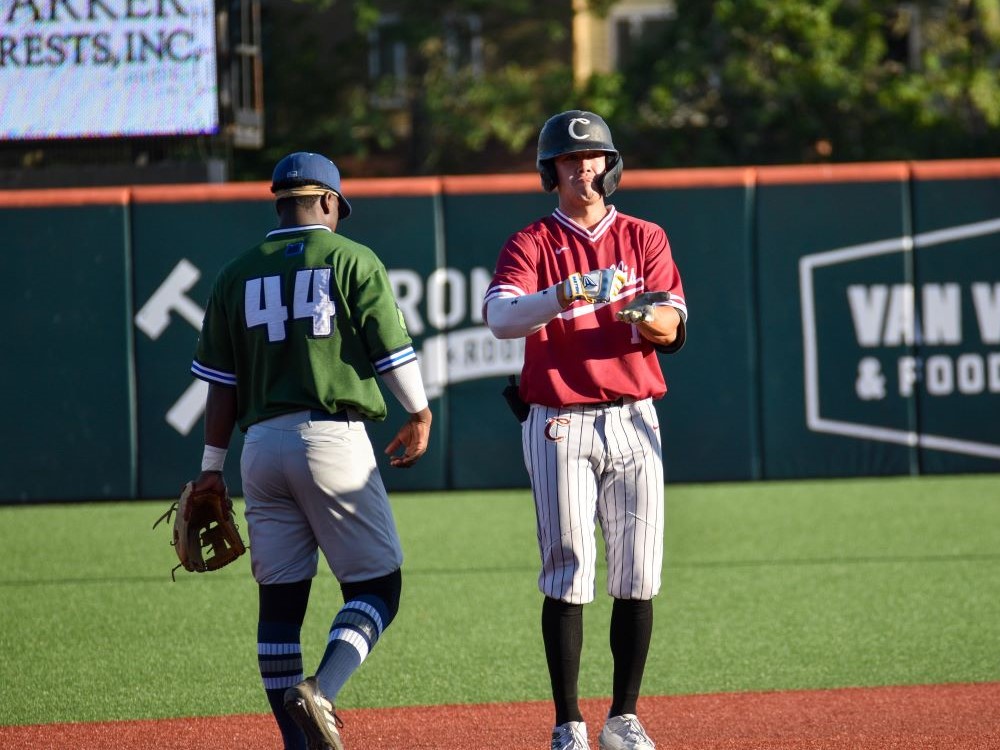 Knights continue run to title game by ousting Portland 4-1
Saturday, August 12, Corvallis, Ore.  – And we'll see you on Monday night.
The Corvallis Knights won their third consecutive elimination game and advanced to the West Coast League championship final with a 4-1 victory over the Portland Pickles before an appreciative Goss Stadium crowd of 1,137.
The Knights (46-16) will battle for their seventh consecutive WCL crown at 8 p.m. Monday against North Division champion Victoria. The HarbourCats eliminated Bellingham 7-6 to earn their shot at a title. It will be the third time Corvallis and Victoria have played in the finals; Corvallis prevailed in 2017 and 2019. The teams did not play during the regular season.
The late starting time is due to the anticipated 105-degree weather on Monday.
Second baseman Mason Le (Cal State Northridge) was 3-for-5 with three runs scored and a stolen base to pace Corvallis, which scored single runs in the first, third, sixth and seventh innings. Le (pictured above) earned Washington Park Player of the Game honors.
Right fielder Sam Stem (Gonzaga) and catcher Tyler Howard (Portland) were each 3-for-4 with an RBI. Left fielder Ethan Hott (Stanford) was 2-for-3 with an RBI and ended the eighth inning with a spectacular diving catch in left field.
Kaden Segel (Portland) started for Corvallis and allowed just one run on two hits, soft singles in his third and final inning that produced the Pickles only run. He struck out four and walked one.
Neil Feist (Cal State Northridge) was magnificent in relief and earned the win. Bouncing back from a rough outing at Cowlitz on Aug. 8 in the Knights' playoff opener, he pitched four scoreless innings to keep the Pickles at bay while the Knights expanded their lead from 2-1 to 4-1.
Pitching to contact throughout, he got eight of his 12 outs via ground balls, allowed two harmless singles, did not issue a walk and faced just 13 hitters, one over the four-inning minimum.
Closer Sean Wiese (Arizona Christian) handled the final six outs with his customary aplomb to earn his second save of the playoffs, with two perfect innings and one strikeout. He also saved the Knights' 3-2 win over Cowlitz in the Aug. 10 Divisional Series final with a 1-2-3 ninth inning.
Feist and Wiese combined to retire 17 of the last 18 Pickles in order. The one Portland batter who reached was immediately erased on a 5-4-3 double play to end the sixth inning.
Corvallis finished the season 7-0 vs. the Pickles and now has 11 consecutive wins in the series over the past two summers.
The Knights have advanced to the postseason all 16 summers since the divisional playoff format was introduced in 2007. They have played in 14 of 16 possible WCL Championship series since that season and won the title in 2008, 2011, 2013, 2016, 2017, 2018, 2019, 2021 and 2022.
Saturday's crowd of 1,137 raised the season total to 57,805 in 34 dates.