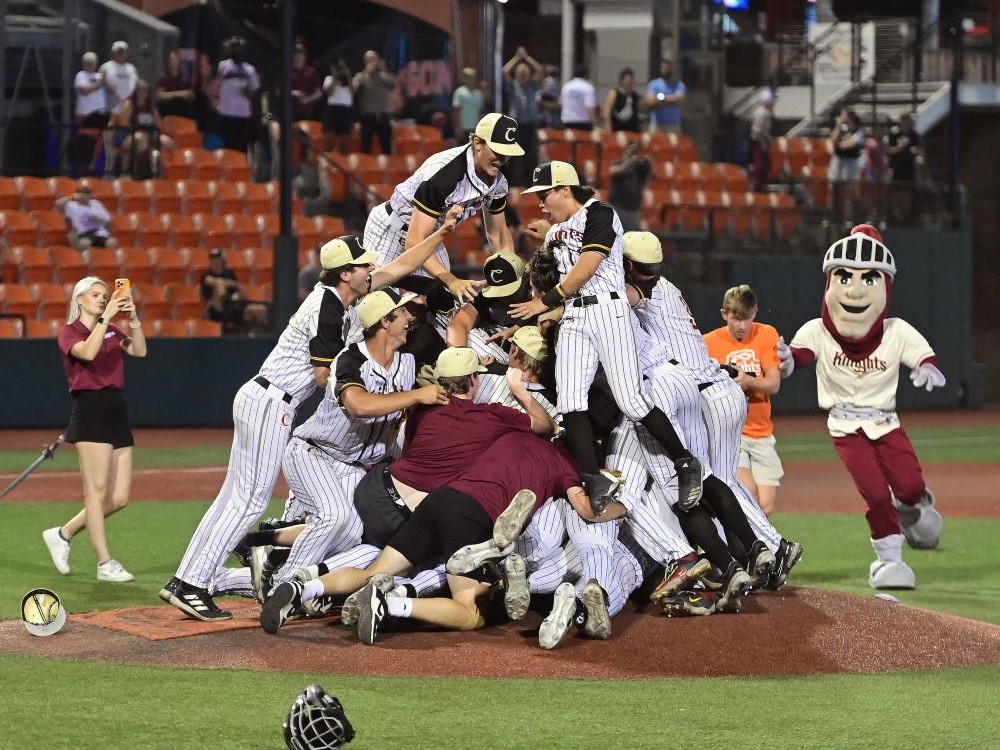 Knights blank HarbourCats 5-0 for 7th WCL championship in row
Monday, August 14, Corvallis, Ore.  – Only two things were hotter than the 100-degree weather at Goss Stadium on the final night of the 2023 West Coast League season.
The Corvallis Knights pitching staff, and center fielder Ethan Hott.
Starter Merit Jones (Utah), and relievers Zach Johnson (Utah Valley) and Sean Wiese (Arizona Christian) handcuffed Victoria on five hits in a 5-0 victory that powered the Knights (47-16) to their record seventh consecutive WCL championship before a crowd of 1,097.
Hott (Stanford) was 3-for-3 with two RBIs and a run scored. He hit an even .500 (8-16) in the Knights' five-game run through the playoffs, with a double, two steals, five RBIs and no strikeouts in 20 plate appearances.
Coincidentally, it was the Knights' second 5-0 championship-game win since the current playoff format was adopted for the 2022 season. They blanked Bellingham by an identical score in last summer's title game.
It was the 10th overall championship for Corvallis, which also prevailed in 2008, 2011, 2013, 2016, 2017, 2018, 2019, 2021 and 2022. It was the third time they'd beaten Victoria in the finals, having previously won in 2017 and 2019.
Jones (pictured above) was aces in his final appearance, allowing just three hits over 5.2 innings, with nine strikeouts and two walks. In two playoff starts, he allowed no runs on four hits over 11.2 innings, with 15 strikeouts and only four walks.
He gave up only one hit over six innings at Cowlitz on Aug. 8 but was not involved in the decision.
Wiese was equally effective after losing the Aug. 8 playoff opener at Cowlitz on a walkoff homer in the 10th inning. He saved two of the final three victories, allowing no runs over five innings.
Johnson also starred, with a save and no runs allowed over 2.1 innings in two appearances.
Control issues led to the loss at Cowlitz, but after that the staff buckled down. It allowed just six walks in 36 innings in two wins over Cowlitz, the South Division title game win over Portland and Monday's night's championship victory.
Hott's RBI single got Corvallis started in the second inning. A sacrifice fly by Tyler Howard (Portland) and a two-out single by Ty Yukumoto (Pacific) made it 3-0 in the sixth.
Mason Le (Cal State Northridge) doubled to lead off the seventh and scored when the catcher threw the ball into left field on his steal of third base. Hott then added a two-out RBI single to score Ethan Hedges (USC) for the final run; Hedges walked and then stole second and third, the Knights' third and fourth steals of the game.
It was the 10th WCL championship for head coach Brooke Knight and the fifth with Corvallis for associate head coach Ed Knaggs. Knaggs also won five titles as the head coach of the Wenatchee AppleSox.
It was title No. 7 for assistant coach Youngjin Yoon and No. 3 for pitching coach Beau Kearns. The Knights pitching staff allowed runs in only five of 46 playoff innings, and just nine overall.
It was the third championship for Wiese, Ethan Ross (San Jose State) and Kaden Segel (Portland), and the second for Le, Tyler Quinn (Utah), Sam Stuhr (Portland), Nathan Marshall (Lane CC), and Neil Feist (Cal State Northridge).
The Knights have advanced to the postseason all 16 summers since the divisional playoff format was introduced in 2007. They have played in 14 of 16 possible WCL Championship series, missing only in 2010 and 2015.
Monday's crowd of 1,097 raised the season's final total to 58,902 in 35 dates.