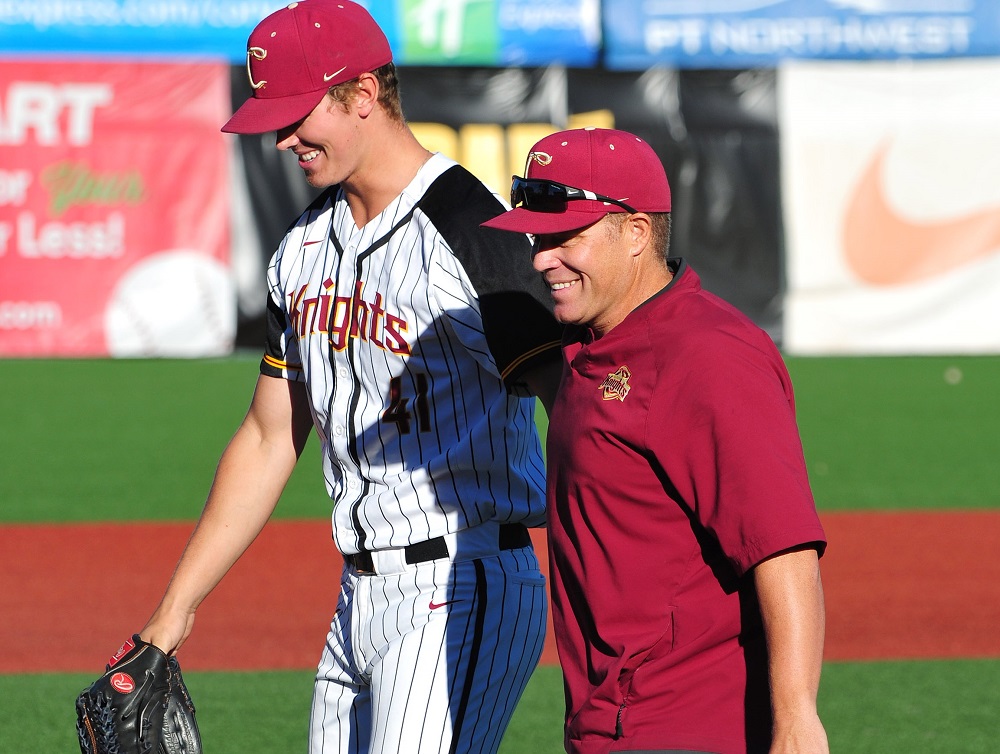 Knights Skipper Brooke Knight Candidate for Top Australian Post
Corvallis Knights head coach Brooke Knight has emerged as a serious candidate for the field manager's position with Team Australia Baseball, that country's national team.
Knight has a successful coaching history in Australia, having directed the Perth Heat to the 2011 and 2012 Australian Baseball League championships. He also had a successful stint with the ABL's Adelaide Bite in 2014-15.
Team Australia hopes to have its new manager in place as early as possible in 2018 so it can begin to prepare for the upcoming 2019 Premier 12, Olympic qualification, 2020 Tokyo Olympics and 2021 World Baseball Classic events scheduled over the next three years.
"To even be mentioned in the discussion is quite an honor," said Knight, a Corvallis native who graduated from Crescent Valley High School before playing at Linfield, Oregon State and Western Oregon and in the minor leagues in the Milwaukee and Pittsburgh organizations.
"There are some extremely talented managers in Australia who I greatly respect," Knight added. "Guys like Dave Nilsson, Michael Collins, Steve Fish, any one of these guys are capable of guiding Australia towards more success.
"I've always had a passion for Australia and the community that encompasses Australian baseball. There are some real opportunities for Australia to continue to elevate its game, to liaison better with professional Australian-born talent, and to grow the game further at the grass-roots level."
Geoff Hooker, the High-Performance Director for Baseball Australia, described Knight's Australian managing career as "extraordinary."
"He has two ABL championships under his belt while managing just shy of four seasons, and had every opportunity to win it again in 2015 with an organization [Adelaide] that hadn't won in 35 years.
"He turned around a club in 2014 in Adelaide that missed out on the post-season by one game.  His winning percentage on our soil is shoulders above some very exceptional coaching talent we have here in Australia.
"He's a proven winner, and his track record abroad in the US puts him in an elite class.  We've been keeping a close eye on him and his performance."
Geoff Hooker played at Lewis & Clark College before returning to Australia. He formerly served as Chairman of the Board of the Perth Heat, one of the premier franchises in the Australian Baseball League.
The Team Australia program is being restructured. Former Minnesota Twins infielder Glenn Williams, an Australia native and member of the country's 2004 Olympic silver-medalist team, was recently appointed to the newly-created position of the Team Australia General Manager.
The new manager will work with Williams and the Baseball Australia High Performance Team in upcoming events such as the Premier 12, Olympic qualification, the 2020 Tokyo Olympics and World Baseball Classic events.
"The talent level Australia has produced over the years is elite and I firmly believe this team could make some very special memories at the international level," Knight said. "There is no reason Australia shouldn't continually be in the International discussion with Cuba, Japan, Netherlands, Canada, USA and the like."
Australia earned the silver medal in the 2004 Athens Olympics. It has never advanced beyond the first round in the World Baseball Classic.
Knight is no stranger to Australian baseball. He first coached there in the late 1990s after completing his playing career, and then returned in 2010 to manage the Heat.
He directed the Heat to back-to-back ABL Championships in 2011 and 2012. After a brief hiatus, he returned to the ABL with the Adelaide Bite at midseason in 2014 and directed a struggling team to within one game of a playoff berth.
He returned to the Bite in 2015. They posted the ABL's best regular-season record before losing to Perth in Game 3 of the ABL Championship Series.
Knight is the WCL's most successful manager. In his 10 years as the head coach, the Knights have captured five championships, finished runnerup four other times, and have advanced to the playoffs every season. He is a four-time WCL Coach of the Year.
His 10-year record is 465-213 overall and he is 373-197 in WCL games. The Knights won the WCL's Jim Dietz Team Sportsmanship Award in 2008, and shared it with Wenatchee in 2016.
Corvallis Knights president Dan Segel said Knight has won everywhere he's managed, and is a leader who can create an amazing culture with any organization.
"I've often wondered how he's been so consistent over the years, but it really comes down to who he is and how he approaches his players," Segel said. "They know he cares, he is a fiery competitor every day, and his players can feel it, taste it, breathe it.
"There is complete and total buy-in, because he's authentic. He's learned from some of the best in the business and the results speak for themselves. Brooke would be successful at any level, including a Division I or professional job.
"Put him in the Mariners clubhouse in April and he'll find a way to make them winners."
Knight said he would miss managing the Knights if he was selected for the Australian position but plans to simply let the process play out.
"At this point, I am so grateful for the Corvallis Knights and our entire culture, the people that make it tick, and what we provide for young student-athletes, aspiring interns, and front office staff," he said. "That is my focus for now. There is a lot to consider."