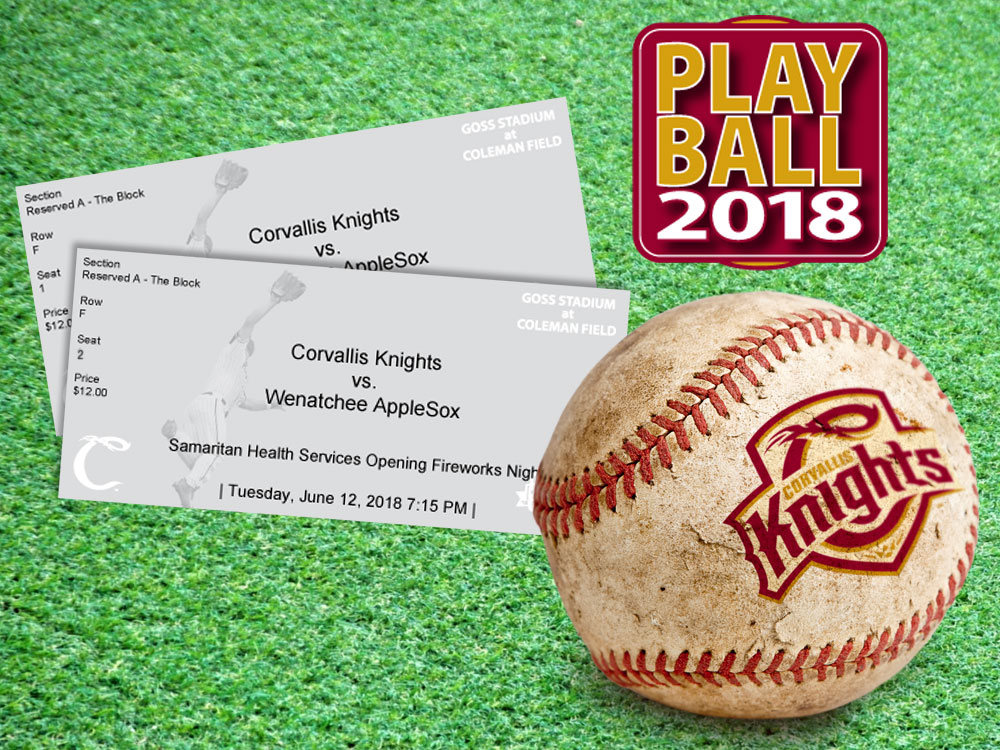 Knights Individual Game Tickets Go on Sale Tuesday, May 1
Are you ready for some summer baseball? Well, we've got you covered and much more. It's all happening June through August at OSU's Goss Stadium. And it's the place to be!
Come next week, you can purchase individual Corvallis Knights game tickets as they go on sale on Tuesday, May 1st.
Single-game tickets can be purchased online, at the team's downtown office on 4th and Jefferson or by calling (541) 752-5656.
To check out this season's promotional schedule, please click here. To download this summer's game schedule at OSU's Goss Stadium, please click here.
Reserve the best seats in the house for your favorite promotion or favorite opponent. Individual game tickets will be available on Tuesday, May 1.
Fireworks Nights tickets go fast. So, order your tickets sooner than later.
This summer, Opening Night is Tuesday, June 12 and we are featuring a fireworks display following the game compliments of Samaritan Health Services.
On July 3rd, we host the Mid-Valley's most spectacular fireworks display on Oregon State Credit Union Fireworks Night, and we close our season on Wednesday, August 8th with a fireworks show brought to you by Pioneer Telephone Cooperative.
Also, make sure to get your tickets now to catch the return of the World Famous ZOOperstars! presented by Andersonblues on Saturday, June 30th
Bring your friends, family and associates out to Goss Stadium this summer for an entertaining night out.
A full slate of promotions are in place, with something for everyone. And the team's four unique concession outlets are serving up a range of local products at affordable prices including Zenner's hot dogs; Block 15 and Sky High beers; and 2 Towns Cider.
Come dine with us, and root on the back-to-back West Coast League champs – the Corvallis Knights.