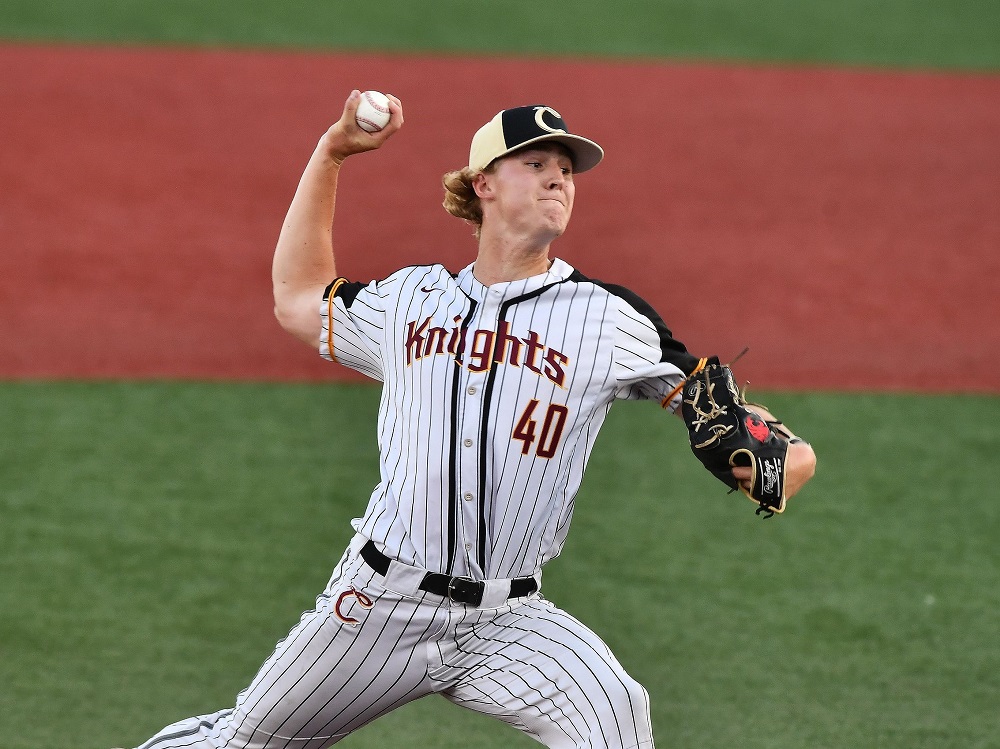 Knights hold off Ridgefield 5-2, advance to title game vs. Bells
Saturday, August 13, Corvallis, Ore. – The Knights advanced to their sixth consecutive West Coast League finals by downing Ridgefield 5-2 in the South Division Championship, delighting an enthusiastic crowd of 1,604 at Goss Stadium.
Starter Duke Brotherton (Washington State) and closer Sean Wiese (Hawaii) stymied the Raptors on 10 hits as the Knights (44-17 all, 3-1 playoffs) exacted a measure of revenge for losing its season series with the Raptors, 4 games to 2.
Corvallis will host North Division champion Bellingham at 6:35 pm Monday, August 15 in a one-game, winner-take-all showdown. It's the third time the Knights and Bells have faced off for the title in the WCLCS; Corvallis won in 2016 and the Bells prevailed in 2014. Bellingham won the season series, taking 2 of 3 at Goss Stadium June 24-26; the teams did not play in Bellingham this summer.
The Knights will also be seeking their sixth consecutive title and ninth overall crown. They won it all in 2008, 2011, 2013, 2016, 2017, 2018, 2019 and 2021. There was no season in 2020 because of the Covid 19 pandemic. Corvallis lost in the WCL finals in 2007, 2009, 2012 and 2014.
Brotherton escaped several jams in a five-inning stint and allowed just one run and five hits, with two strikeouts. He stranded a runner in the first, three in the second and another in the fifth, aided by a timely 6-4-3 double play.
In his last four starts, the Washington State righty was 4-0 with a 1.29 ERA, giving up just three earned runs over 21 innings, with 20 strikeouts. He lowered his ERA from 6.43 to 3.34 in that span.
Wiese went the final four innings, giving up a run on five hits. His biggest out came in the eighth, when he retired future Oregon Stater Mikey Kane on a foul pop up to first baseman Kiko Romero (Arizona) to retire the side, stranding two runners. He had two strikeouts and no walks and recorded his sixth save.
The Knights jumped ahead 5-1 after two innings but did not score again, stranding six runners over their final six innings.
Kiko Romero had a 2-run single and Tyler Quinn (Pacific U) followed with an RBI single as the Knights scored three times in the first to erase a 1-0 deficit. Briley Knight (Portland) made it 5-1 with another 2-run single in the second.
Center fielder Johan Advincula (WSU) had two hits and two runs. Second baseman Mason Le (CSU Northridge) also had two hits.
Saturday's crowd of 1,604 raised the season total to 59,213 in 33 dates, an average of 1,794 per outing.