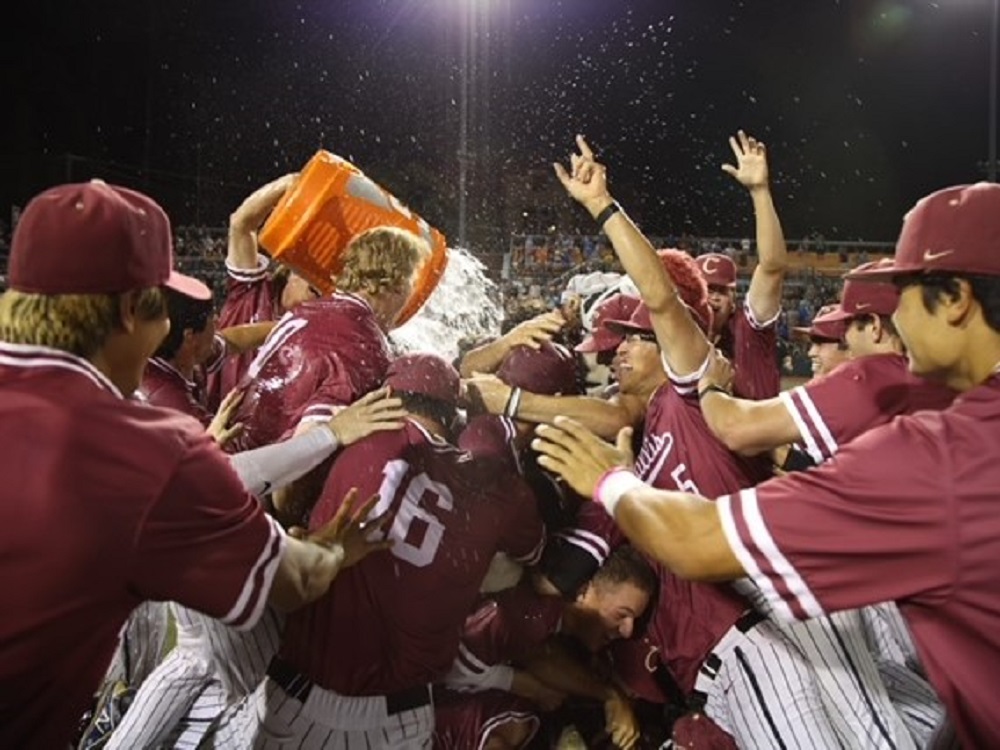 Knights arms handcuff Bells 5-0, claim 6th consecutive WCL title
Monday, August 15, Corvallis, Ore. – The dynasty remains intact for another season.
The Knights captured their sixth consecutive West Coast League championship on Aug. 15, defeating Bellingham 5-0 before an enthusiastic, playoff-record crowd of 2,075 at Goss Stadium.
Corvallis (45-17, 4-1 playoffs) pitchers Matt Scott, Kaden Segel, Ethan Ross and Cam Day combined to stifle the hard-hitting Bells on three hits. It was the Knights second shutout of the playoffs; the staff allowed just two runs over the final 30 postseason innings.
It was also the Knights fourth consecutive elimination-game triumph. After losing their playoff opener at Yakima Valley, Corvallis outscored its opponents 20-5 in its march to the title.
In his postgame remarks to the crowd, head coach Brooke Knight praised the Knights for their summer-long dedication to excellence. He said they arrived to Goss Stadium well before the required 3 p.m. reporting time and were on the field and ready go well before the 3:30 deadline.
"Most of the time that was always the plan," Knight said. "These guys are here at 1:30, 2 just kicking it and enjoying each other."
He noted the cooler 2022 summer also helped.
"But these guys just really enjoyed spending time with each other, and that part of it was neat to see," he said. "They really care about each other and they got along really well."
Corvallis scored single runs in the first three innings, the fifth and the seventh in a methodical victory. Center fielder Jonah Advincula (Washington State) singled twice, scored twice and stole three bases; designated hitter Logan Johnstone (Gonzaga) singled, doubled, scored, stole a base and drove in two runs.
Briley Knight (Portland) singled and drove in a run and Tyler Quinn (Pacific U) added an RBI. Spencer Scott (Portland) doubled.
An incoming Stanford freshman, Matt Scott got the start and was touched for one hit in 3.2 scoreless innings, with three strikeouts. He finished with seven scoreless innings in two playoff appearances, with seven strikeouts.
Scott was the winning pitcher in the 5-3 comeback victory over Yakima Valley in Game 2 of the South Division series that ignited the Knights closing playoff run. His 3.1 perfect innings enabled the Knights to erase a 3-2 deficit with three eighth-inning runs.
Kaden Segel (Linn-Benton CC) relieved Matt Scott with two on and two out in the fourth and ended the threat with a strikeout. He then added three more scoreless innings, allowing only two hits.
He finished with six strikeouts and no walks to earn the championship game win. It was also his second playoff appearance; he started the Yakima Valley game Matt Scott finished.
Ethan Ross (San Jose State) booked a scoreless eighth, with a strikeout and a nifty 4-6-3 DP to retire the side. Cam Day (Utah) touched 99 MPH on one pitch, struck out the side in the ninth and then was buried in a mass of dogpiling teammates.
It was the fourth title for Briley Knight, a member of the 2018, 2019 and 2021 championship teams. It was the second for Ross, Segel, Ethan Loveless, Spencer Scott, Kiko Romero, Tanner Smith, Kaleb Kantola, Nathan DeSchryver and Sean Wiese, key members of the 2021 title team.
Monday's crown was the ninth overall for Corvallis, the most-successful franchise in the WCL's 17-year existence. The Knights also won it all in 2008, 2011, 2013, 2016, 2017, 2018, 2019 and 2021. There was no season in 2020 because of the Covid 19 pandemic.
It was the third time the Knights and Bells played for the championship. Corvallis won in 2016 and the Bells prevailed in 2014; both series went the full three games under the old two-round playoff format.
Corvallis reached the championship game by eliminating Yakima Valley and Ridgefield. Northern Division champion Bellingham advanced by ousting Victoria and Wenatchee.
Monday's crowd of 2,075 raised the season total to a franchise-record 61,390 in 34 dates, an average of 1,803 per outing. The old record was 59,663 in 2019.
It was also a franchise record for a playoff game. The former standard of 1,903 was set against Bellingham on Aug. 15, 2016, exactly seven years ago.