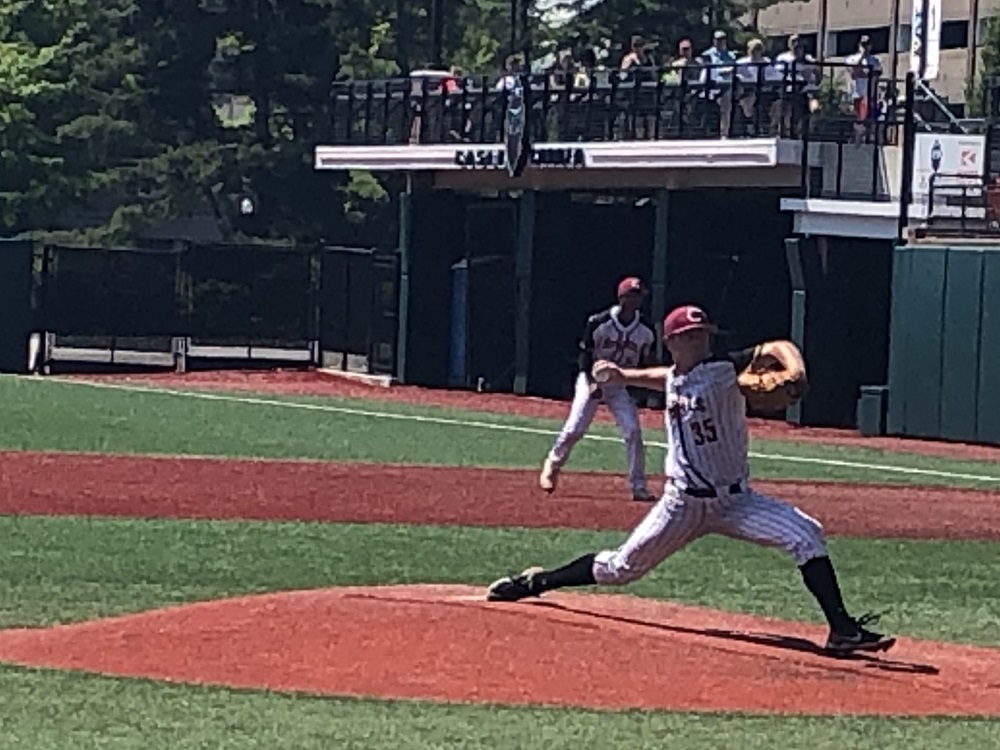 Knights Escape with 7-6 Home Win to Sweep Sox
Sunday, June 27, Corvallis, Ore. – On a blazing hot day at Goss Stadium, the Knights lit up the base paths stealing 9 bags including an exciting steal of home by shortstop Riley Way of L-C State in the fourth inning in their series finale victory over Wenatchee, 7-6.
Corvallis scored four runs in the fourth to take a 5-1 lead, and stole 8 bases in the inning. Three Knights stole two bases each including Way, and Cal Poly second baseman Taison Corio and UC Santa Barbara outfielder Nick Vogt.
Way starred in the field and at the plate, as the senior-to-be played a spectacular short and went 3-for-5 with 2 RBIs and a triple.
Starter Brock Townsend (pictured) of Oregon State earned the win, tossing six innings of one run ball in 100 degree heat (158 degrees on the turf by the end of the game).
In the top of the ninth, reliever Chase Walter of Cal Poly hit a batter, recorded a fielder's choice out, gave up a single, walked a batter and then gave up a three-run triple. He was replaced by Kenji Lamdin of Linn-Benton CC who proceeded to give up a RBI single. But lefty Ethan Ross stopped the Wenatchee uprising by getting two comebackers to earn the clutch save and give the Knights the hard fought 7-6 victory over the Sox.
With the win, Corvallis extended its win streak to 7 games and improved its WCL mark to 14-4. Today's game started at 10 am because of projected temperatures of 111 degrees in the afternoon.
The Knights host the Portland Gherkins tomorrow night in a non-league contest. First pitch is set for 6:35 pm.
To check out today's box score, click here.