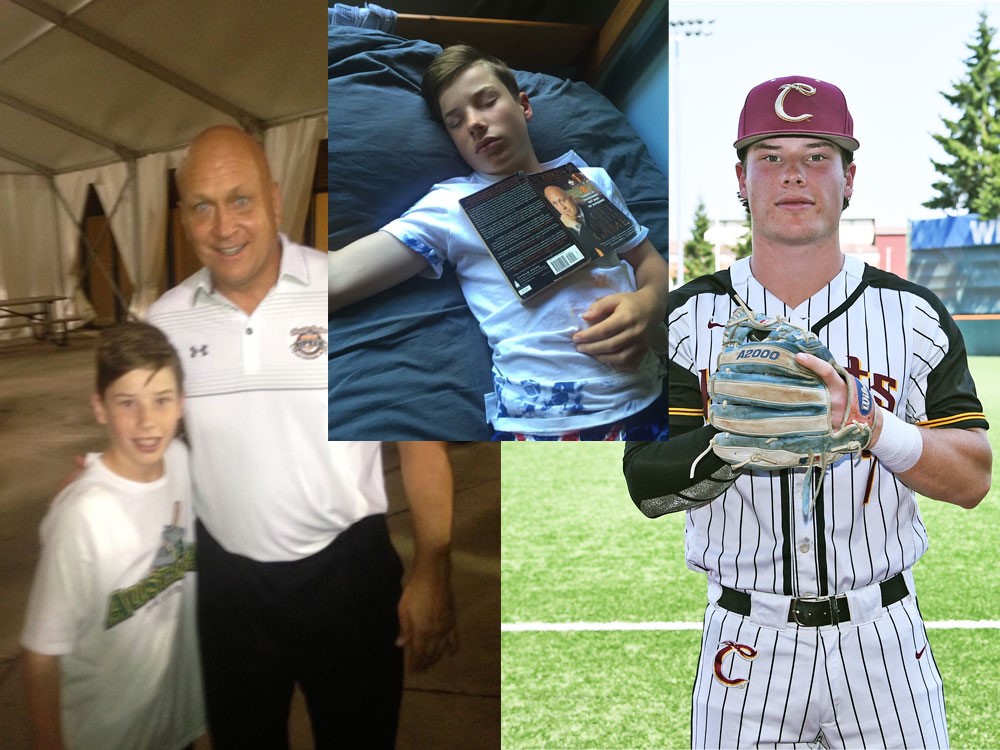 Big League Chew Makes Memories Worldwide by Travis Bazzana
Bubblegum Connections and the Small World of Baseball
by Travis Bazzana of the Corvallis Knights
I started this story before I left Sydney, Australia but thought I should finish and share it on Big League Chew's night at Goss Stadium. I hope that Knights' fans and Rob Nelson enjoy it.
I was watching some of the team's work leading up to the season and following the social media. I enjoyed the "60 seconds with Dan & Mike" interviews and felt they gave me some understanding of the Corvallis Knights, their proud history and what they do for and mean to their community.
It is really apparent you guys have helped launch many a career, on the field and off it. I love the fact that you stay in touch and celebrate the achievements of lots of alumni, even those that spent only a single summer with the Knights.
Your interview with Rob Nelson of Big League Chew triggered some memories for me and revealed some connections and karma that reinforce the beauty of the baseball community, stretching across continents from the best college town in the Pac-12 to my home – the Emerald City, Sydney, Australia.
Big League Opportunity
My first "Big League" opportunity in Baseball was in 2014 when at the age of eleven I was the youngest player selected to represent Australia at the 12U Cal Ripken (Babe Ruth) World series in Aberdeen, Maryland.
The Australian National fee to attend was $5,500. Wow! My parents were so excited for me but I could tell it was going to be a strain for them to find the money. My Dad and I talked about some ways to fundraise and came up with the idea of selling BIG LEAGUE CHEW to offset my costs.
One of the Sydney baseball stores was the only one we knew who had the gum. They sold it for $7 per pouch! We googled some US candy wholesalers and realiszed we could buy it for around $1 per pack. The shipping cost to Sydney was about another dollar giving us a landed cost of about $2 per pack. We decided to sell the packs at $5 each or I would discount to 3 for $10 when I had plenty of stock. I would take my wares to any tournaments I attended and in between games I would make some sales. Original, Ground Ball grape and Sour Apple gum was in high demand and kids would seek me out to get their fix. I made in excess of $1,100 profit in the summer season prior to the tournament.
So Nellie's gum helped me get my first taste of the bigger stage! But the crazy connections don't end there.
The Fingelsons
My 10U coach in the prior season was a guy called Larry Fingelson who was South African born and had moved to Sydney in his teens and played for the Sydney Blues in the original Australian Baseball League. His family was baseball royalty at my junior club the Stealers.
His father Frank was an old school coach and mentor who was super passionate about baseball. His brother Gavin was a long-time national team representative and won an Olympic Silver Medal in Baseball in Athens (an Aussie team that defeated Japan twice in the tournament).
So…The Fingelsons met Rob Nelson when he went to play in South Africa. Larry's father Frank caught Rob in some games in South Africa and Larry remembers buying gum for Rob at the concession stand! Larry spent some time with Rob in London and apparently worked together on a project about a board game Rob had invented. When Rob came to pitch in Sydney it was with the NorthShore club that the Fingelsons were heavily involved in.
Cal Ripken JR
At the end of my 10U season (I was 8 yrs old at the time), Larry presented me with a book as a personal gift from him. He wrote a beautiful note inside the front cover.
The book was "Get in the Game" by Cal Ripken Junior and my dad read bits of it to me that year. I didn't know Cal's story at this age.
I'm not sure if the Fingelsons had met Cal but his toughness and determination would have been a great fit with their family. Larry's older brother Gavin named his firstborn son Cal!
When selected for the tournament, I fully read Cal's book and used it for my major project at school where I had to pretend to be somebody famous including making a speech in their character and answering questions from parents about their achievements (my American accent was terrible).
For weeks before the tournament my dad tucked me into my bed while loudly saying "and leading off for Australia, 2nd baseman Travis Bazzana…"
I cracked a smile when in my first international at bat vs Mexico the announcer said it word for word, only louder.
Big League Chew was a sponsor of the World Series tournament and I was part of a successful Guinness Book of World Record attempt to have the most people blowing a bubble-gum bubble at the same time!
My team punched above its weight winning 4 of 6 games at the tournament, I got to meet Cal (pictured) and I was named to the world all-star team at the end of the tourney. This opportunity was the first time I realized that if I kept working on my game I could compete well against players from anywhere in the world.
Thanks so much for making me a Knight! I love Corvallis and love playing at Goss Stadium. I can't wait to be a Beaver and to play more baseball next spring at Oregon State.