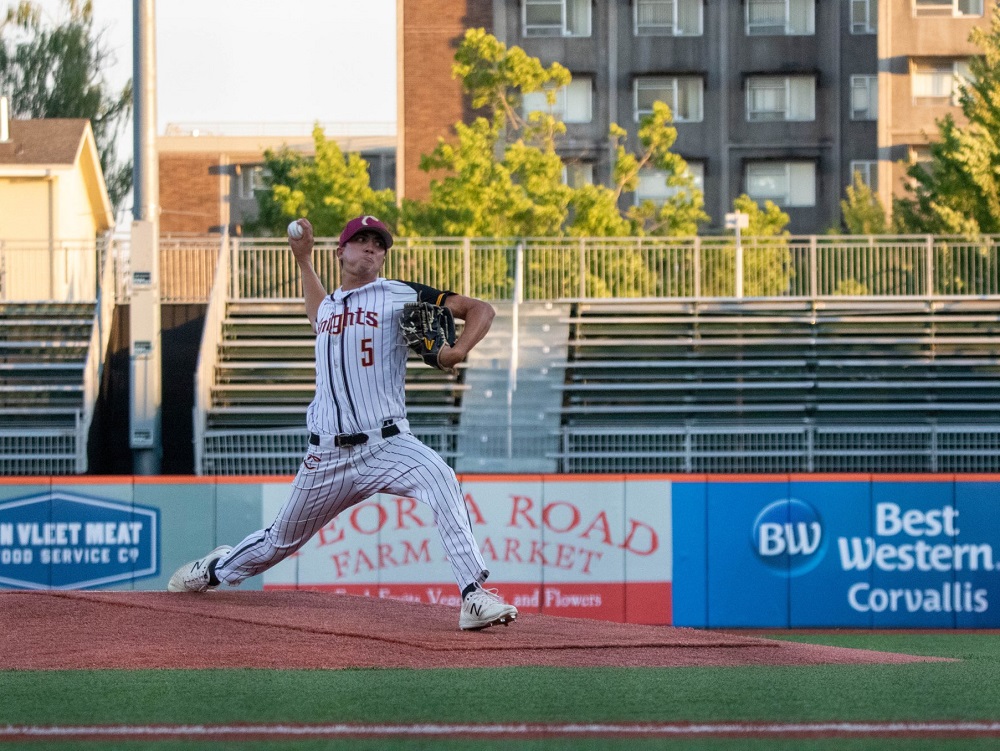 Frazier shuts down Portland Gherkins in impressive debut
Monday, June 28, Corvallis, Ore. – Reliever Tyler Frazier (pictured) excelled in his Knights debut in a 9-8 non-league victory over the Portland Gherkins before a crowd of 1,106 at Goss Stadium.
The rising redshirt sophomore at UC Riverside retired all seven Gherkins he faced after entering the game in the fifth inning. He struck out three with no walks in an effective initial appearance, throwing 17 strikes in 28 pitches in a game where the other Knights' pitchers combined for eight free passes.
"My main source of confidence was watching the guys compete the last three days," said Frazier, who joined the team before this past weekend's series sweep of Wenatchee. "I just went out there, trusted my defense and it really worked out for me."
A 6-foot-1, 180-pound righty from Santiago High School in Corona, Calif., Frazier appeared in nine games in his first season at UCR following a stellar but abbreviated sophomore season at Mt. San Antonio College. He played at Oregon in 2019.
"I loved playing at Goss," he added. "I've played in summer leagues before and never had this amount of fans, all those Knights supporters. It's way different being at Goss, not being a Duck and getting yelled at."
The first six batters in the Corvallis lineup scored in the first inning to give the Knights an insurmountable lead. Center fielder Kyler Stancato (Washington State) had two hits, scored twice and drove in a run to lead the offense.
DH Braden Boisvert (Oregon State) added a run and two RBIs. First baseman Kiko Romero (Central Arizona JC) doubled, scored twice and had an RBI.
Crescent Valley graduate Ethan Krupp pitched 3.1 scoreless innings for the Gherkins, an affiliate team of the WCL's Portland Pickles. The Chemeketa CC righty struck out two.
The Knights now hit the road for a three-game road series with the Bend Elks, starting on Tuesday. Corvallis has won seven consecutive West Coast League games and holds a three-game lead over Ridgefield in the South Division race.
Their next home game is set for 6:35 p.m. Friday against Ridgefield. The annual July 3 Oregon State Credit Union Fireworks Night game is set for Saturday, starting at 7:15 p.m.