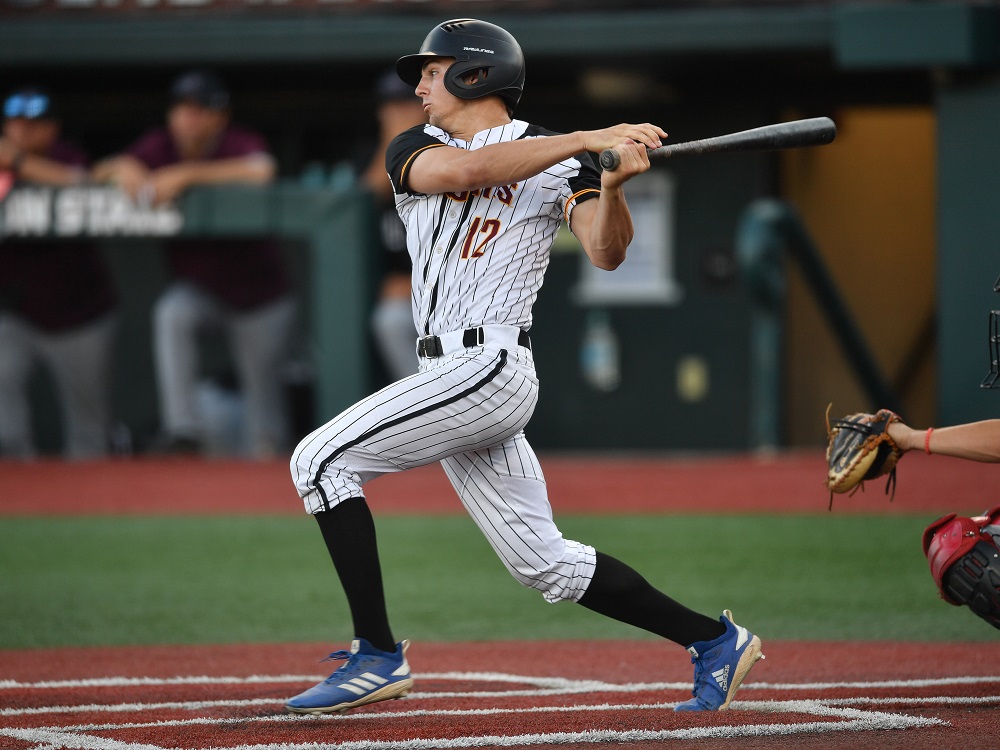 Knights Edge Elks in 10th inning, Take Exciting Series Opener 6-5
Tuesday, August 10, Corvallis, Ore. – Corvallis put a serious crimp in Bend's playoff hopes as the Knights edged the Elks 6-5 in 10 innings before a crowd of 1,560 on a steaming, 90-degree night at Goss Stadium.
Right fielder Nick Vogt's (UC Santa Barbara) sacrifice fly in the 10th inning drove in the winner for the Knights (37-9 WCL, 19-3 second half, 46-11 overall) , who stretched their league winning streak to seven games in a row.
Bend dropped one game behind in the race for the South Division's second playoff berth. Corvallis won the first- and second-half championships, so the division team with the most overall wins earns the second spot. Portland and Ridgefield each won on Tuesday and have 25 victories  each. Bend and Cowlitz have 24 wins apiece; all four teams have two games left.
Riley Way (Lewis-Clark State) fought off two two-strike pitches and singled to deep short leading off the home 10th. Travis Bazzana (Oregon State) then doubled to left, moving Way to third, and Briley Knight (Portland) was intentionally walked to load the bases.
Vogt got ahead 2-0, then fouled off two pitches before stroking his liner to center. Gavin Rork snared it with a diving catch, but he he had no chance to retire Way, who tagged up and sprinted home well ahead of a desperation throw.
"I saw all his pitches," Vogt said. "I knew he was going to come in with his fastball. I got it and put a good swing on it."
Vogt finished with four RBIs, as he also slammed a three-run, opposite-field homer to right to give the Knights a 5-2 lead in the third inning. Corvallis' first two runs came on Knight's first-inning blast to the right-field bleachers.
Bazzana was 3-for-5 with two singles, two runs and a double. He raised his league-leading average to .439, 70 points better than the No. 2 hitter, Leo Mosby of Portland , who sits at .369.
Reliever Brett Gillis (Portland) spaced two hits over the final two innings and got the win. He struck out the side in the 10th, retiring Collin Montez – who had two homers and an RBI double – for the third out, stranding the go-ahead run at second base.
The series resumes at 7:35 p.m. Wednesday, one hour later than the customary starting time because of the heat. Kaleb Kantola (1-1, 4.70) of Lipscomb will start for the Knights, opposed by future Oregon Stater Jacob Kmatz (2-1, 2.91).
The teams close the regular season at 7:35 p.m. Thursday; note the adjusted start time. Linn-Benton signee Kaden Segel (0-0, 10.38) will start for the Knights, opposed by Jack Slominski (1-3, 6.75) of Grand Canyon.
The Knights will open the best-of-3 South Division playoff on the road on Saturday against a to-be-determined opponent. Game 2 is at Goss Stadium at 6:35 p.m. Sunday; Game 3, if necessary, will be at Goss Stadium at 6:35 p.m. Monday. The WCL's tiebreaking format is available here.
"We're all just trying to enjoy the moment, soak it in and have fun before this weekend," Vogt said.