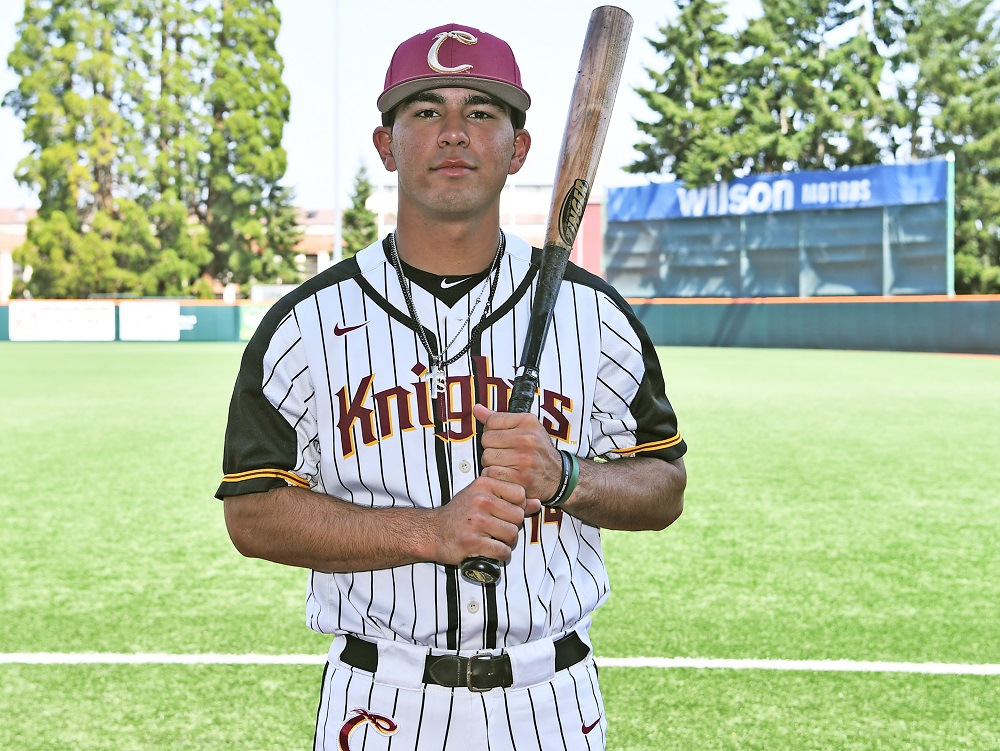 Bend Defeats Knights 9-2, Evens Final Regular-Season Series 1-1
Wednesday, August 11, Corvallis, Ore. – Bend took advantage of 17 walks and two hit batters to defeat Corvallis 9-2 in a West Coast League game before a Goss Stadium crowd of 1,088.
The Elks thus stayed alive in the South Division playoff race. They trail second-place Portland by one game heading into Thursday's season finale; they must win to remain in postseason contention.
Bend scored four times on two hits in the sixth and three times on no hits in the seventh to erase a 2-1 Knights advantage. Corvallis pitchers walked eight and hit another and six of the seven runs in those two innings were scored by batters on base via a free pass.
Central Arizona sophomore Kiko Romero (pictured, above) doubled, singled twice and drove in a run for the Knights (37-10 WCL, 19-4 second half, 46-12 overall), who saw their seven-game winning streak snapped. Nick Vogt (UC Santa Barbara) had two hits and an RBI and Spencer Scott (Portland) singled twice.
Chase Walter (Cal Poly) was the most effective of eight Corvallis pitchers. He retired all seven hitters he faced, with four strikeouts and no walks. Connor Redmond (Montana State-Billings) handled the ninth and was the only other pitcher to not allow a run or a walk.
Corvallis won the first- and second-half championships to earn an automatic postseason berth, so the division team with the second-most overall wins earns the second spot. Portland won on Wednesday and has 26 wins; Bend and Ridgefield each won on Tuesday and have 25 victories each. Cowlitz lost and was eliminated.
For a compete rundown on the WCL's various tie-breaking procedures, please click here.
The teams close the regular season at 7:35 p.m. Thursday; note the adjusted starting time. Linn-Benton signee Kaden Segel (0-0, 10.38) will start for the Knights, opposed by Jack Slominski (1-3, 6.75) of Grand Canyon for the Elks.