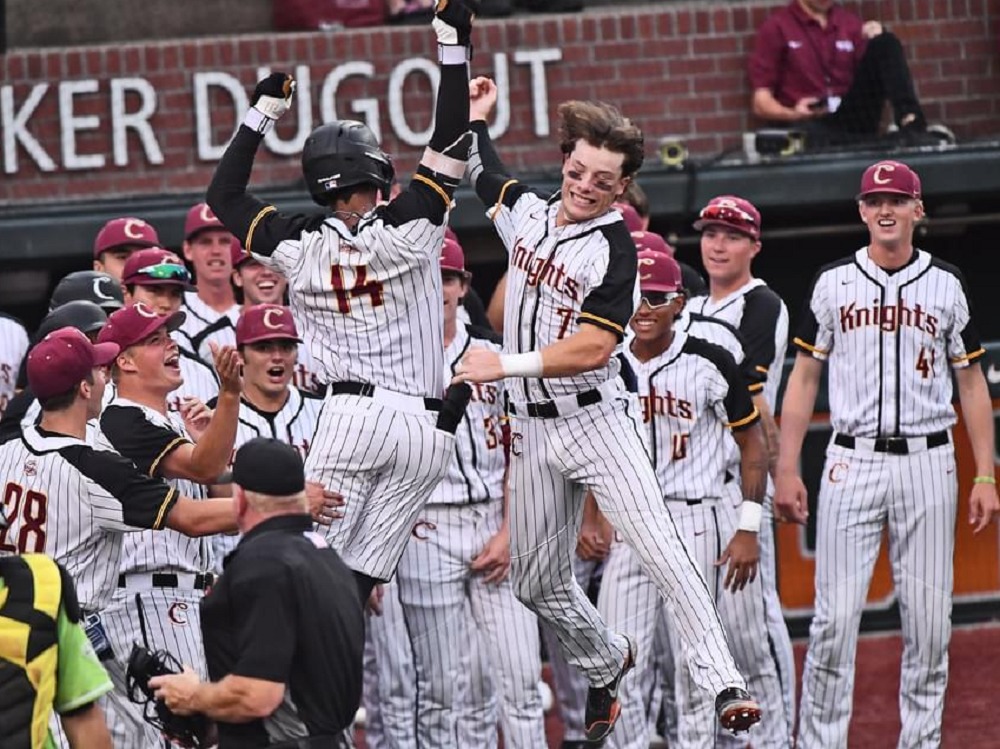 Knights Look to Cap Magical Season with 5th Straight League Title
Tuesday, August 10, Corvallis, Ore. – After a year's hiatus with the 2020 West Coast League season cancelled due to COVID-19 measures, the four-time defending WCL champs have come roaring back in 2021. Come back they have, capturing both the first half and second half South titles and posting the league's top overall mark at 35-9 heading into their regular-season series finale at Goss Stadium with their longtime rival the Bend Elks.
The team has been consistent and resilient winning at a clip of .800 this summer. With a sweep of the red-hot Elks (24-21) they could set a new league winning percentage record of .812. The Knights hold the current league multi-divisional mark of .791 set in 2009 (38-10).
Corvallis has won 13 of 15 series in 2021 and swept 8 of those series. They lost their opening series to Yakima Valley at Yakima County Stadium and to Bend at Vince Genna Stadium the end of June. The Pippins (28-17) earned the top playoff seed in the WCL North Divisional Series.
The Knights earned their 14th consecutive playoff berth and will host either Bend, Cowlitz, Portland or Ridgefield on Sunday, August 15 in game two of the WCL Divisional Series at Goss (6:35 pm start). The WCLDS opener will be at one of the aforementioned teams on Saturday, August 14.
This year's comeback has been a treat for Knights fans and has included 20 comeback wins with a few being when the club was down 4 or more runs.
Six-time WCL Coach of the Year Brooke Knight has referred to this season's squad as the comeback kids.
Corvallis has been led by a deep pitching staff that has posted a team ERA of 3.78, fourth best in the league. The Knights lead the WCL in strikeouts with 493 and saves with 20 with future Oregon State Beavers pitcher Braden Boisvert and Cal State San Bernardino right-hander Nathaniel Mendoza both registering 5 saves apiece.
The bullpen was anchored by rising sophomore righty Jake Vargas of Cal State Fullerton who is tied with Mendoza for the most team appearances with 15. Vargas is 5-0 with 2 saves and has struck out 44 over 32.1 innings pitch.
Unfortunately, the Knights lost Boisvert to injury and both Mendoza and Vargas are heading to school after the regular season. Other key pitching losses were rising junior righty Brock Townsend of Oregon State (3-0, 4.12 ERA) and rising sophomore southpaw Bradley Mullan of Gonzaga (3-0, 2.90 ERA).
Relievers Brett Gillis of Portland, Sean Wiese of George Fox, Chase Walter of Cal Poly, Connor Redmond of Montana State-Billings and Colton Meyer of Linfield will have to step up and fill the void. Over 5 appearances, Gillis has posted a 1.00 ERA and struck out 10 over 9 innings pitched while earning a win. Wiese has been steady all summer long making 12 relief appearances and striking out 37 and walking only 7 over 31.2 innings while recording 3 saves. And Walter has come on strong lately, turning in four consecutive quality relief outings where he struck out 14 and walked only 1 over 8.2 innings.
Redmond recently returned to action and has three years of post-season experience under his belt not to mention he's 1-0 with a save, has posted a 2.00 ERA and has struck out 14 and walked only 2 over 9 innings pitched. Meyer recorded the final out of the 2019 WCLCS and has posted a 3.05 ERA over 12 appearances out of the bullpen.
Young arms like future Gonzaga pitcher Nathan DeSchryver and Sam Stuhr of Lower Columbia College, who will be a sophomore next spring at Oregon State, have pitched well and will add depth to the bullpen. DeSchryver has made 9 appearances and 3 starts, logged 18 innings and posted a 3.00 ERA. Stuhr is 1-0 with a 3.48 ERA and has recorded a save.
Corvallis Knights starting pitchers have been masterful with future Stanford pitcher Ty Uber, future southpaw Ethan Ross of San Jose State, rising sophomore righty Grant Taylor of Washington State and rising sophomore lefty Drew Dowd of Stanford leading the way.
Uber appeared 10 times, made 8 starts and is 4-0 with a 2.72 ERA. He's struck out 53 over 43 innings and opponents are only hitting .157 off the right-hander.
Ross has been electric, making 12 appearances and 7 starts while posting a 2.97 ERA. The former Washington State Cougar has struck out 45 over 33.1 innings pitched and is 3-1 with a save.
Taylor has made 7 starts and is 3-2 with a 4.21 ERA. He's struck out 46 over 36.1 innings pitched.
Dowd has made 7 appearances and 2 starts while posting an ERA of 2.07. The southpaw is 2-0 with a save and has struck out 20 over 17.1 innings pitched while walking only 6.
All four of the above have posted impressive WHIPs with Uber at 1.070, Dowd 1.100, Ross 1.110 and Taylor 1.320.
The offense is led by WCL batting leader Travis Bazzana, a rising frosh at Oregon State, and outfielder Nick Vogt, a rising sophomore at UC Santa Barbara. Bazzana leads the league in hitting with a .434 batting average and Vogt leads the Knights in stolen bases with 23. Nick is hitting .352 with a homer and 19 RBIs.
Bazzana is second on the team in RBIs with 26 to his future teammate at OSU, catcher/third baseman Tanner Smith who has collected 27 RBIs.
The dynamic left-handed hitting infielder from Sydney, Australia leads Corvallis in doubles with 15. And Bazzana is first in the league in runs with 43, hits with 76, total bases with 104, triples with 5 and slugging percentage at .594.
As a team offensively, the Knights lead the league in stolen bases with 101 and triples with 18.
During the post-season, the Corvallis infield will feature starting first baseman Kiko Romero of Central Arizona College (.234, 3 HR, 24 RBI), utility man Taison Corio of Cal Poly (.244, 3 HR), rising Portland frosh Spencer Scott at third base (.308, 6 doubles) and slick-fielding senior-to-be Riley Way of Lewis-Clark State (.226, 13 stolen bases) at shortstop.
The outfield loses Nate Nankil of Cal State Fullerton as he has to report back to school. Three-year vet Briley Knight of Portland (.273, 3 HR, 13 RBI) and rising sophomore Kyler Stancato of Washington State (.261, 13 stolen bases) will bring plus defense to the outfield and solid left-handed bats.
Smith is set to catch, and the bench will feature rising sophomore infielder Jake Hoskins of Linn-Benton CC and future LBCC two-way player Kaden Segel.
Corvallis probably won't know its WCLDS opponent until late Thursday. But whoever the opponent, the Knights are poised to give this comeback season their best shot and hopefully put an exclamation on things with an eighth WCL crown.
The Knights went 4-2 vs. both WCL North playoff teams, Bellingham and Yakima Valley. Corvallis went 6-0 versus Ridgefield, 5-1 against the Portland Pickles and 2-1 vs. the Cowlitz Black Bears.
The Elks and Knights face-off at Goss Stadium tonight through Thursday. Wednesday's and Thursday's start times were pushed to 7:35 pm because of an excessive heat warning. Bend is the only WCL club with a winning record against Corvallis.