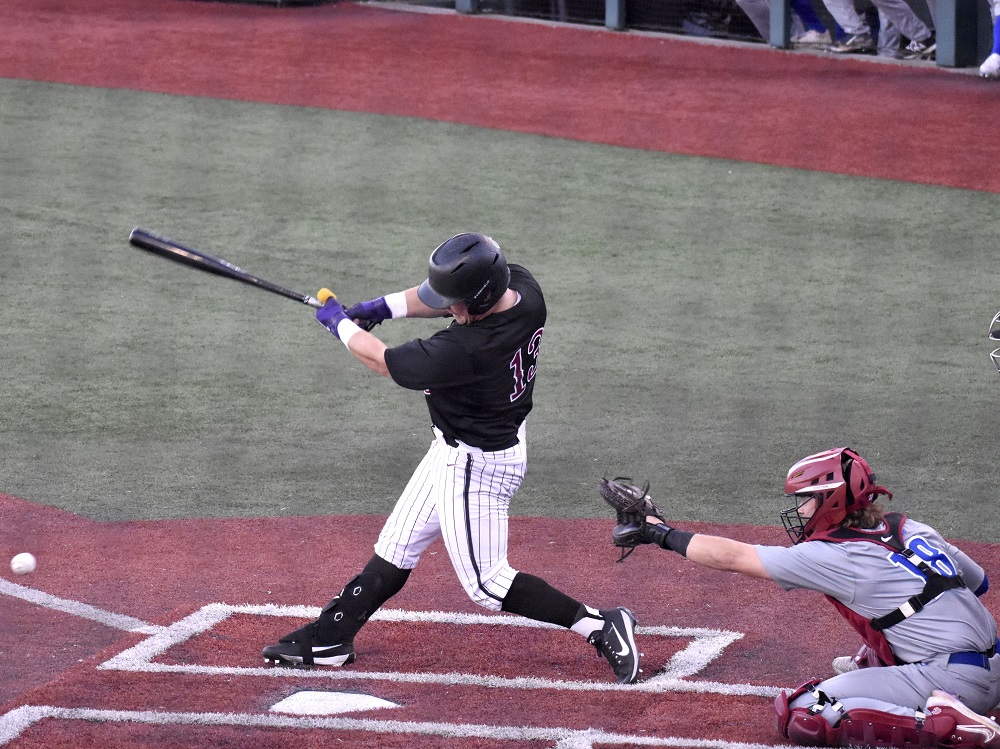 Knights pummel Elks 12-0, close in on top seed for WCL playoffs
Tuesday, August 2, Corvallis, Ore. – Kaden Segel was brilliant for six innings and the Knights crushed Bend 12-0 to move to the verge of clinching the West Coast League's best record and top seed in the upcoming playoffs.
A rising sophomore at Linn-Benton Community College, the righthander from Portland's Grant High School allowed just one hit and face only one batter beyond the six-inning minimum in a season-best performance.
He struck out four, walked one, and retired the final 10 batters he faced in order, aided by an inning-ending 5-4-3 DP to end the third, the only frame in which he allowed an Elk to reach base. He threw 46 strikes in 66 pitches and lowered his ERA from 2.16 to a WCL-best 1.83.
Segel (4-1) had pitched five innings in four different starts this summer, the last time on July 26 in a 9-1 victory against the Portland Pickles.
Briley Knight (Portland, pictured above) went 5-for-6 with a double, a run, two RBIs and a stolen base. It was his fourth multi-hit effort in the last six games, a stretch in which he's raised his average from .250 to .346. He is hitting .591 (13-22) in that span, with nine RBIs.
Catcher Ryan Stafford (Cal Poly) drove in three runs, doubled and singled. Right fielder Logan Johnstone was 3-for-4 with a double, two RBIs and four runs from the leadoff spot. Second baseman Mason Le (CSU Northridge) had three hits, two runs and an RBI.
Newcomer Victor Quinn (Oregon State) touched 97 MPH in one instance, hovered in the 95 or 96 MPH range on his other pitches while throwing a scoreless inning in his Knights debut. Will Clark (Pacific U.) finished up with a perfect eighth and ninth innings.
It was the 17 th straight win for the Knights (39-13 all, 37-12 WCL, 19-4 second half) against all competition and their 15th in a row in league play. They have not lost since a 5-4, 10-inning setback at Wenatchee on July 15.
The series continues at 6:35 p.m. Wednesday and Thursday. San Jose State lefty Ethan Ross (2-1, 3.14) goes on Wednesday and Portland righty Joey Gartrell (1-0, 1.36) goes on Thursday.
Tuesday's crowd of 1,730 raised the season total to 47,730 in 27 dates. That's an average of 1,768 per outing.
The Knights clinched their 15th consecutive postseason berth on July 7 by winning the South Division's first-half championship by two games over Ridgefield. They will be the No. 1 seed in the opening round of the South Division playoffs.
The playoffs begin on Aug. 9 with the best-of-3 first round. Corvallis will open the home portion of the postseason with Game 2 on Aug. 10. If necessary, Game 3 will be at Goss Stadium on Aug. 11.