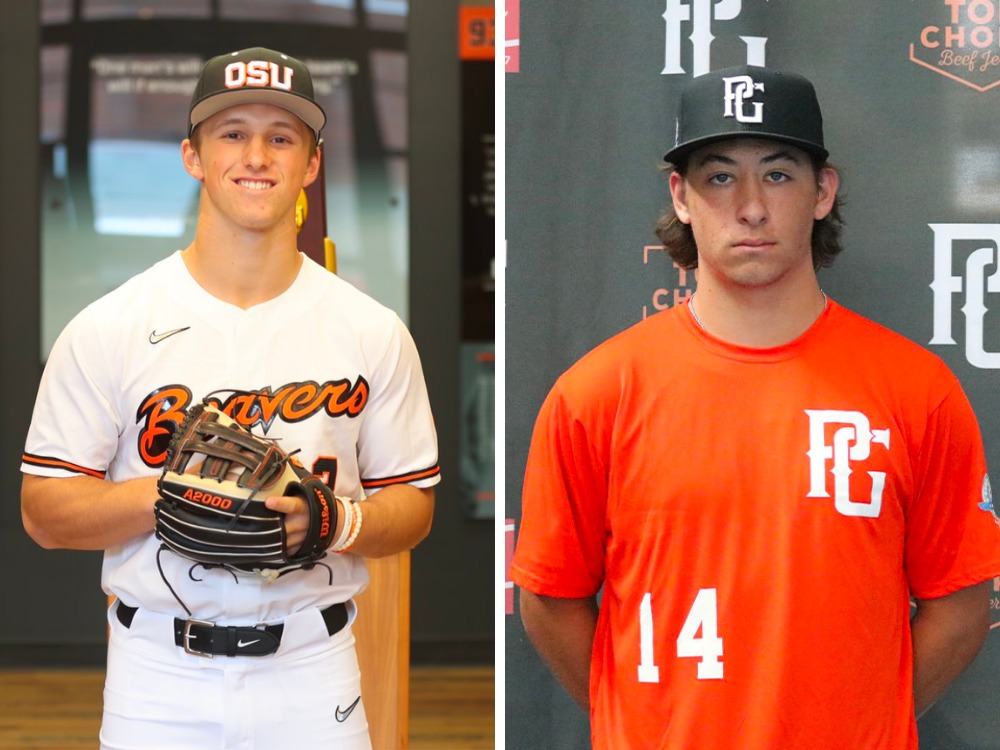 Knights add two future OSU Beavers for 2022
Wednesday, March 16, Corvallis, Ore. – Two future Oregon State Beavers will get their first experience at Goss Stadium this summer with the Corvallis Knights.
Incoming OSU freshmen Ely Kennel and Tyler Gough have signed with the Knights for the 2022 season, head coach Brooke Knight announced Wednesday. They will join the Beavers for the 2022-23 academic year.
Kennel is a 5-foot-11, 195-pounder from Monmouth, Ore., who is a senior at Santiam Christian High School in Adair Village. He is a middle infielder who bats left.
He was the Oregon 3A Player of the Year in 2021, when he hit .478, with two doubles, two triples, six homers and 18 RBIs, with 19 stolen bases. He was also first-team all-state as a freshman; his sophomore season was cancelled by Covid-19.
A prospective business administration major, his favorite movie is Tommy Boy. He enjoys fishing, waterskiing, snow skiing, ping pong, and foosball ; he also favors Psyche (TV show) and the New York Mets.
"Ely is about as competitive as they come and thrives in any situation," OSU coach Mitch Canham said. "He has an incredible head on his shoulders, uplifts all others around him, and knows how to win.
"We all have been so incredibly impressed by his growth over the past few years, but are even more excited about how high his ceiling is. Already being so close to campus, you can see in his eyes how bad he wants to win here."
Kennel also played football at SC and quarterbacked the Eagles to the 3A state championship in 2019 as a sophomore. He stopped playing football after that season to concentrate on baseball.
Gough (pronounced "Goff") is a 6-2, 205-pound right-handed pitcher from Perris, Calif., who is a senior at JSerra Catholic High School in San Juan Capistrano. He played at Heritage High School in nearby Menifee before transferring to JSerra. He also played for the 2019 USA U-16 National Development Team.
"Tyler is an athletic right-hander with a power arm who gets after it in the weight room," Canham said. "He is an intelligent player with the elite ability to really spin the baseball and command four pitches.
"Having seen him compete over the years and dominate some of the best competition, we are excited to see his passionate pitching abilities out on the field in a Beaver uniform. Due to his work ethic and high character, there is no doubt Tyler has a very bright future ahead of him both on and off the field."
He is a prospective kinesiology major who would like to be a physical therapist when his playing career ends. A San Diego Padres fan who enjoys reading, his favorites are A Silent Voice (movie) and Avatar: The Last Airbender (TV show).
The Knights begin the 2022 season on May 26 with their annual Science, Engineering & Art Day, presented by Paventy & Brown Orthodontics, at Goss Stadium against the NW Star Nighthawks. Their WCL opener is June 3 at Yakima Valley; their WCL home opener is June 17 vs. Yakima Valley.