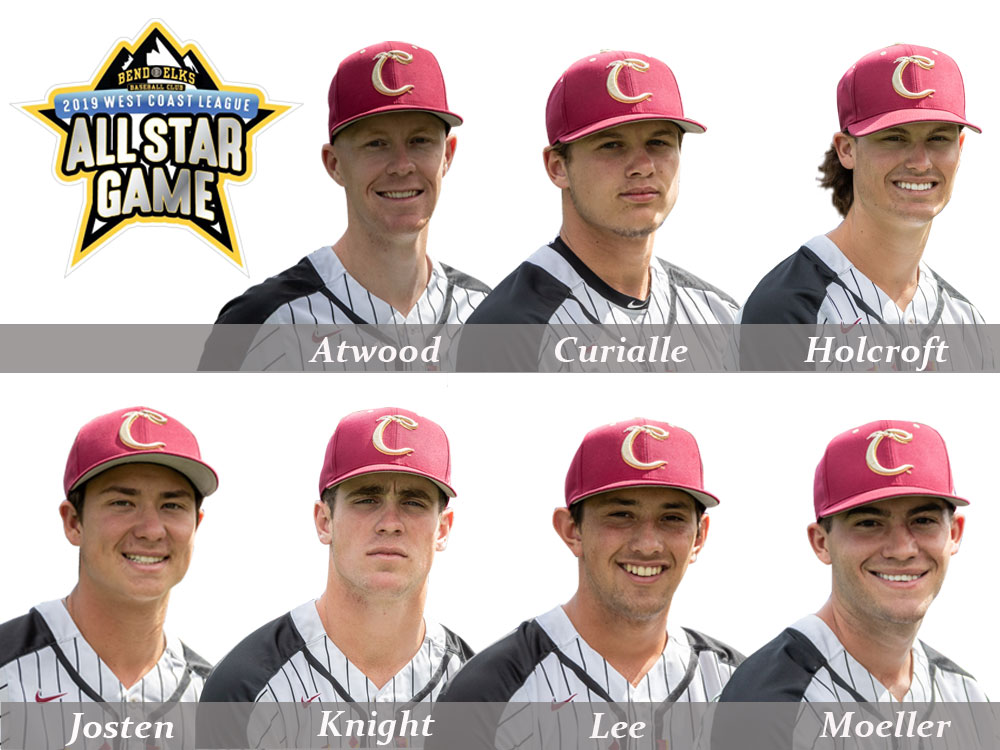 Seven Knights Selected to Participate in 2019 WCL All-Star Game
First-half WCL South champion Corvallis will be the most represented team at the 2019 West Coast League All-Star Game in Bend, Oregon next Tuesday with 7 all-stars.
The North and South All-Star Game rosters were announced this morning by WCL commissioner Rob Neyer.
The Knights representation includes six position players – infielders Brooks Lee of Cal Poly and Michael Curialle of UCLA; outfielders Jake Holcroft of Portland and Briley Knight of Utah; catcher Zack Moeller of Utah; and utility man Andy Atwood of Texas Rio Grande Valley – and southpaw Tim Josten of Cal State Fullerton.
The aforementioned have led Corvallis to a 25-7 league record and 32-7 overall mark. Heading towards the All-Star break, the Knights lead the WCL in hitting with a .308 team batting average and have posted the league's lowest ERA at 2.77.
Josten represents a pitching staff that also has allowed the least hits (225) and home runs (6) in the WCL. Tim, a rising junior, is 3-1 with a 2.92 ERA and has struck out 25 and walked only 7 over 27.2 innings pitched this summer.
Sophomore-to-be slugger Briley Knight leads the WCL in RBIs with 29, total bases with 72, doubles with 11 and extra base hits with 18; and is currently hitting .365 with a team-leading 5 home runs.
Incoming freshman Brooks Lee leads the Knights in batting with a .440 average and has collected 10 doubles and 16 RBIs while playing a stellar shortstop.
Freshman outfielder Jake Holcroft leads the WCL in hits with 50 and runs scored with 37; and he's second in the league in both RBIs (25) and batting average (.382). Jake is also third in the WCL in stolen bases with 15.
Senior-to-be Andy Atwood leads the WCL in triples with 5 and at bats with 138. His 45 hits, 63 total bases and 13 extra base hits are good for second best in the league. Andy is hitting .326 with 8 doubles, 30 runs scored and 19 RBIs.
Incoming frosh infielder Michael Curialle is hitting .329 with 3 home runs and his 21 RBIs tie him for fourth best in the WCL.
Senior-to-be catcher Zack Moeller is batting .352 over 54 at bats with 4 doubles, 2 homers and 9 RBIs while doing an outstanding job managing the league's top pitching staff through the first-half of the season.
The WCL All-Star Game, hosted by the Bend Elks, is set for Tuesday, July 23 at Vince Genna Stadium. First pitch is 6:35 pm.
To check out the complete WCL All-Star Game rosters, please click here.
The day prior to the All-Star Game, the West Coast League Home Run Derby will take place at 6:30 pm on Monday, July 22 at Vince Genna Stadium. The league's Home Run Derby participants will be announced later in the week.