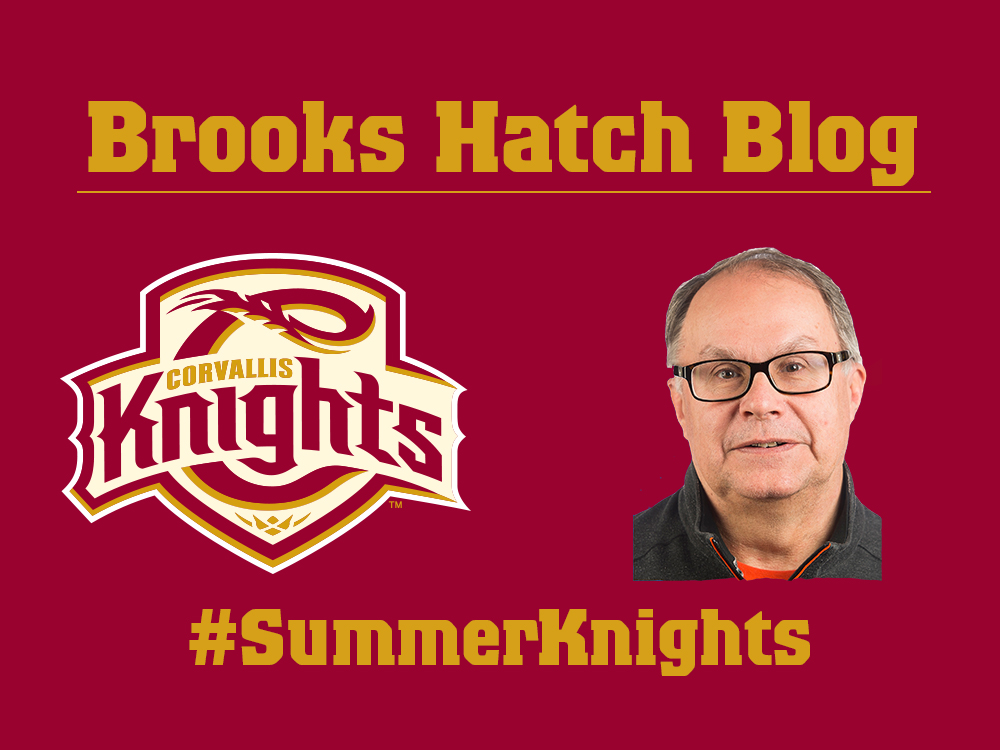 Brooks Hatch Blog: Knights begin final homestand on Friday
Happy Wednesday, everyone, from the world-wide headquarters (WWHQ) of the Corvallis Knights, your 2016-2017 and 2018 West Coast League champions!
————–
Our final homestand of the regular season begins at 6:30 Friday with Heresco Chiropractic Baseball Giveaway Night. The first 500 fans through the gate for that night's game against Wenatchee will receive a free baseball. Utah's David Watson (4-1, 4.57) will start for the Knights.
Saturday is Pioneer Fireworks Night, starting at 7:05 p.m. Our third and final fireworks display of the summer will follow that night's game with the AppleSox. LBCC righty Eric Hill (1-0. 2.94) gets the ball for the Knights.
Sunday's 3 p.m. regular-season finale is Wilson Motors Day. Free tickets are available at Wilson Motors, corner Fifth Street and Buchanan Avenue in Corvallis.
We defeated Bellingham 5-4 on Tuesday night in the opener of our final regular-season road series. Game 2 is set for 6:30 p.m. Wednesday at Bellingham; Corban's Jackson Arnsdorf (5-1, 1.43) will start for the Knights.
The series concludes at 6:30 p.m. Thursday; Abbott Haffar of UC Riverside (1-0, 1.80) is our scheduled starter.
Our last home game, on Aug. 1, drew a crowd of 2,088 and raised the season total to 47,311 in 29 openings, an average of 1,631 per date. That's an increase of 5,058 over last year though a corresponding number of dates.
————–
We clinched the first-half South Division title on July 6, earning an automatic playoff berth and home-field advantage in the best-of-3 divisional round, which begins on Aug. 13. The best-of-3 Championship Series begins on Aug. 17.
Our first home playoff game will be Wednesday, Aug. 14. We will host Game 3 on Aug. 15, if necessary. Playoff tickets are available by clicking here.
The Championship Series starts on Aug. 17 and resumes on 19, following a travel day. A Game 3, if needed, will be Aug. 20. The team with the best regular-season record will earn home-field advantage.
The Knights have qualified for the playoffs every season since the current divisional postseason format began in 2007. We have won six championships, the last three in a row.
————–
The Arizona Diamondbacks sent pitcher Matt Andriese (2009) to the California League's Visalia Rawhide on injury rehab. The former UC Riverside star has been on the injured list since July 20 with a bruised foot. Matt was the 2009 WCL Pitcher of the Year.
————–
Bowling Green (A Midwest, Rays) designated hitter Jordan Qsar (2017) was 2-for-4 with an RBI in a 6-1 win over Lansing on Tuesday night to earn Corvallis Knights Minor League Player of the Day honors. He played at Pepperdine.
Honorable mention goes to:
Lynchburg (A Carolina, Indians) outfielder Steven Kwan (2015) was 1-for-5 with two RBIs in an 8-4 win over Salem. He played at Oregon State.
Augusta (A South Atlantic, Giants) pitcher Ryan Walker (2015) had two strikeouts in two scoreless innings and lowered his ERA to 3.12 in an 8-3 loss to Hickory. He played at Washington State.
————–
Our 2019 regular season is almost done but there are still at least four more home games, starting with Friday's 6:30 p.m. encounter with Wenatchee.
Our final Fireworks game on Saturday will start at 7:05 p.m. Sunday's regular-season finale starts at 3 p.m.
Reserve the best seats in the house for the 2019 season now by emailing [email protected] or by calling (541) 752-5656. Our entertainment schedule is available by clicking here.
Here's the remainder of the 2019 schedule:
AUGUST: 9-11: Wenatchee. 14: WCL South Division playoffs, Game 2. 15: WCL South Division playoffs, Game 3 (if necessary).
————–
Some news from elsewhere in the West Coast League:
The West Coast League's Moss Adams Player and Pitcher of the Week for July 29-Aug. 4 were Lewis-Clark State infielder Brock Ephan of the Walla Walla Sweets and Baylor pitcher Branson Wilson of the Victoria HarbourCats. For more details, please click here.
————–
That's all for today. See you again next Wednesday!