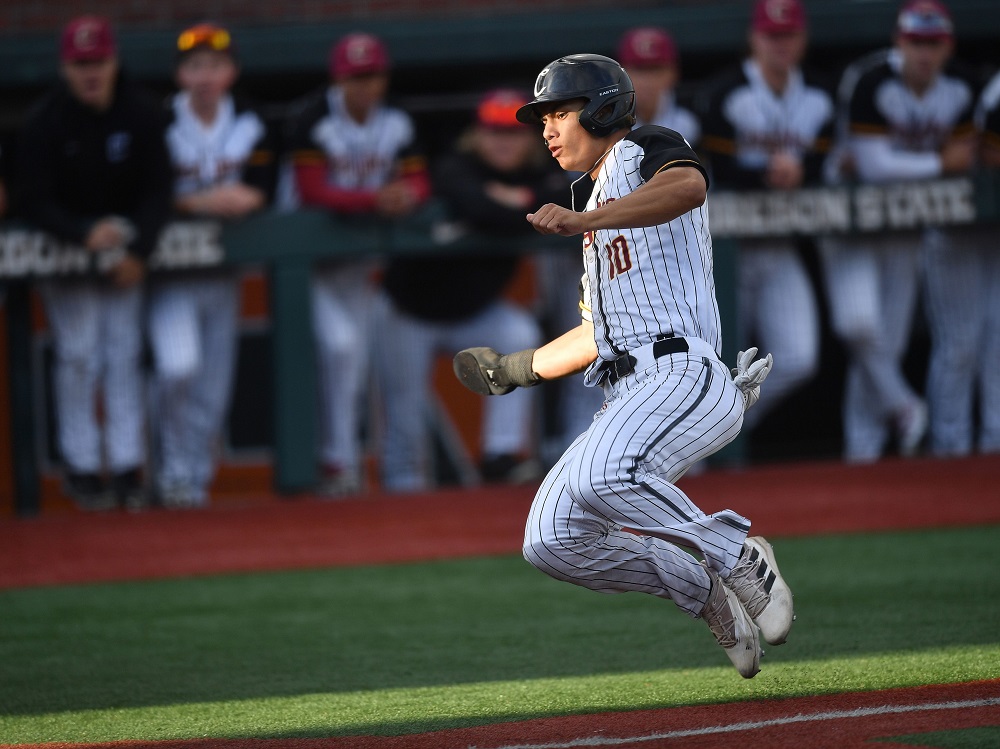 Impressive debut for Keljo in 3-0 setback to Bells in series finale
Sunday, June 26, Corvallis, Ore.  – Bellingham blanked Corvallis 3-0  before a sun-baked Goss Stadium crowd of 1,630 to claim the rubber game of a series matching the West Coast League's two divisional leaders.
The Bells (15-5 WCL) capitalized on some first-inning wildness by Knights starter Nathan DeSchryver (Gonzaga) to grab a 2-0 advantage. They added a third run in the second inning to compete the scoring.
The Knights (12-4 all, 12-3 WCL) had only three hits and advanced just four runners into scoring position. Jonah Advincula's (Redlands, pictured above) leadoff double in the fourth inning was their lone extra-base hit. Kiko Romero (Arizona in 2023) and Titus Dumitru (Linn-Benton CC) singled for the Knights other hits.
Corvallis remained in first place in the South Division by one game over Bend (14-7), which lost 5-4 at Cowlitz. Corvallis had a four-game advantage in the loss column, however.
Normally a smooth-fielding first baseman, Romero caught the final eight innings, replacing starter Tyler Quinn, who left the game after the first inning. Romero handled the change with aplomb and threw out a would-be base-stealer to complete a strike-'em-out, throw-'em-out double play in the eighth inning.
Corvallis brought the tying run to the plate with two outs in the ninth after a leadoff walk and a two-out hit batsmen. But reliever Ryan Beitel got a force out at third to complete the shutout.
Future Oregon State lefty Nelson Keljo was the pitching standout for the Knights, booking 3.2 scoreless innings in his 2022 debut. He spaced four hits, struck out three and walked one. He is a graduate of Jesuit High School in Portland.
DeSchryver lasted 1/3 of an inning. After retiring the first batter, 15 of his next 16 pitches were balls, loading the bases and forcing reliever Neil Feist (El Camino College) to inherit a 3-0 count. He allowed a two-run single, then got two outs to limit the damage.
Brady Maylett (Utah) and Matt Ager (UCSB) each followed Keljo with a scoreless inning, helping the Knights remain within striking distance.
The Knights are idle Monday; they open a three-game home-and-home series with the new Springfield Drifters. Tuesday's game will be at the Hamlin Sports Complex in Springfield; the teams play at Goss Stadium on Wednesday and then return to Springfield on Thursday. All three games begin at 6:35 p.m.
Corvallis then hosts the Port Angeles Lefties on July 1-3. The series finale is the annual Oregon State Credit Union Fireworks Night contest, which begins at 7:15 p.m.