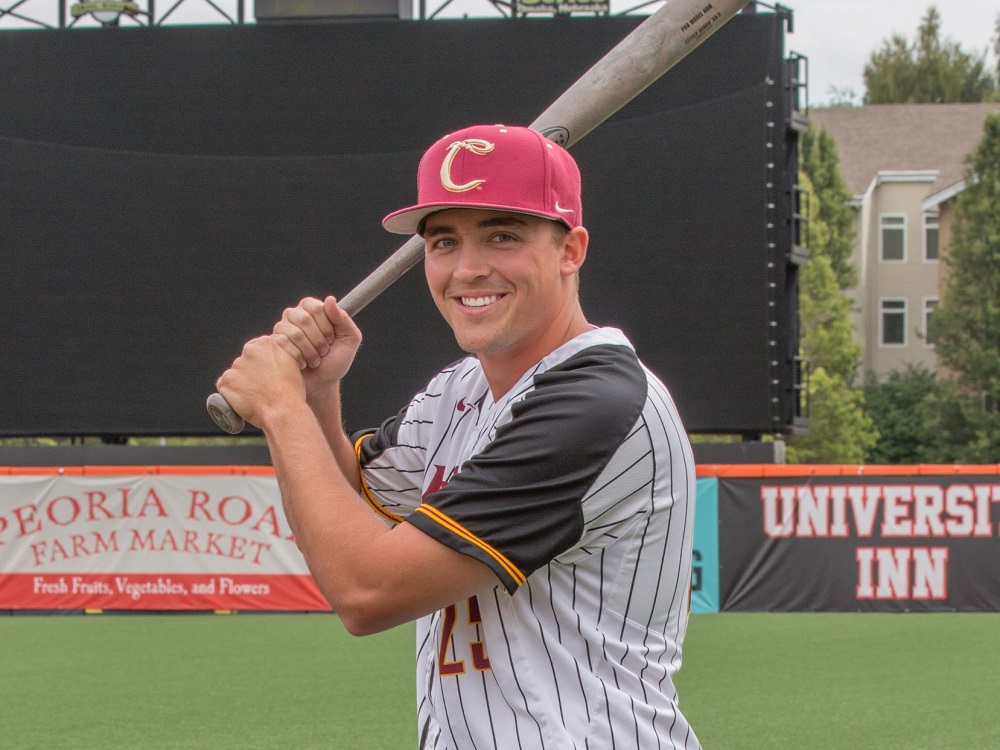 Homer By Feist Breaks Up Scoreless Tie, Leads Knights Over Pippins 2-0
The Knights clinched home-field advantage for the West Coast League Championship Series – if they advance that far – by blanking Yakima Valley 2-0 for their 17th consecutive home victory.
Right fielder Austin Feist (pictured, above) broke a scoreless tie with a seventh-inning homer and five pitchers combined for the Knights' first shutout since a 1-0 victory at Bend on June 22.
The Knights (40-19-1, 36-17 WCL, 20-6 second half) improved to 14-1 in their last 15 WCL games. They remained in first place in the South Division second-half pennant race, ahead of Portland.
Corvallis and Portland have qualified for the postseason playoffs. The Knights will host Portland at 6:30 p.m. Friday in Game 1 of the best-of-3 South Division playoff series. Game 2 and Game 3 (if necessary) will be at Portland on Saturday and Sunday.
Corvallis has 36 WCL wins with one game remaining; Bellingham has 35 total victories to lead the North Division playoff qualifiers. Portland would also have the home-field advantage in the finals.
A senior-to-be at St. Martin's, Feist crushed a 1-1 pitch well over the wall in left-center leading off the seventh to shatter the scoreless tie. He leads the Knights with seven homers and 39 RBIs in league action.
He has at least one RBI in 10 of his last 13 games and 17 in that span. He is hitting .415 (22-53) since July 22 and has raised his average by 50 points to .306 during his hot streak.
The Knights have not lost a home game since July 1. They have won six straight series since erasing a 5-0 deficit to top Portland 6-5 in Portland on July 23 in the rubber game of that key South Division series.
"I just credit it to the team chemistry," Feist said. "We are all so close and everybody has confidence and trust in each other."
DH Cole Hamilton (Linn-Benton CC) drove in an insurance run with a two-out single in the home eighth. He and Feist were the only Knights with two hits.
Starter Connor Redmond (Cal Poly) and relievers Aaron Shoup (St. Martin's), Cameron Haskell (Arizona), Abbott Haffar (UC Riverside) and Louie Crow (Cal Poly-Pomona in 2018-19) stymied the Pippins on seven hits, eliminating them from the playoffs.
Crow put the tying run on base with two outs in the ninth but got the final out on a soft line drive. He has a team-high four saves, three of which have come in August.
Wednesday's regular-season finale begins at 7:05 p.m. The projected starting pitcher for Corvallis is TBA.
Attendance for Tuesday's game was 1,934. Our total attendance this year stands at 44,187 for 30 dates, an average of 1,473 per opening.