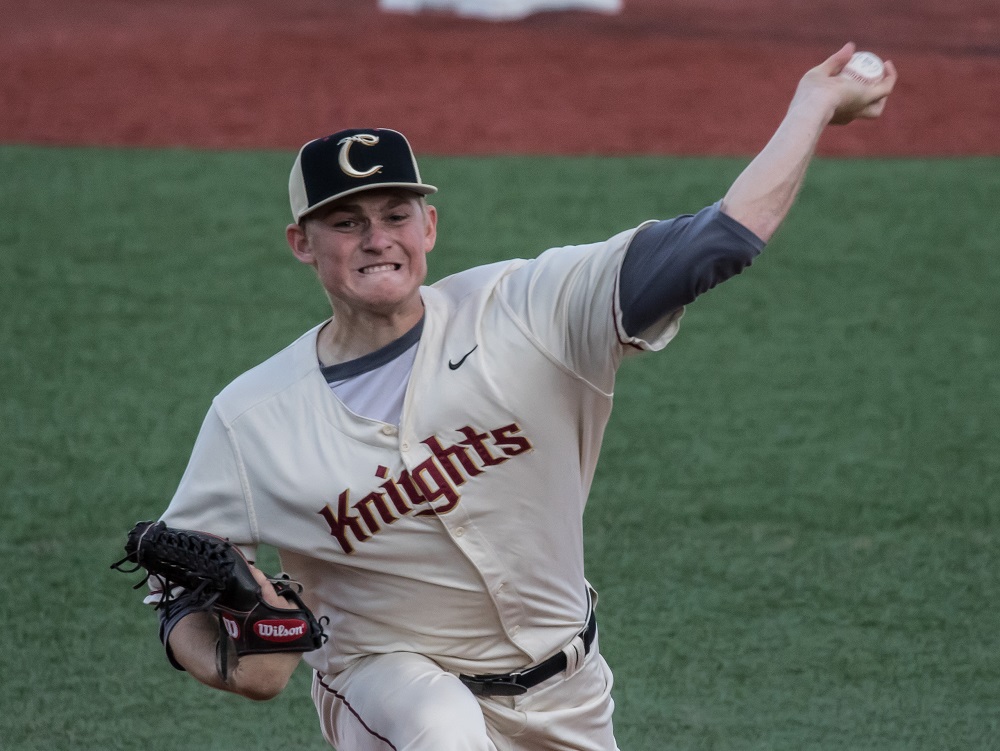 Eleven Current or Former Knights Selected in MLB Draft
Eleven current or former players for the Corvallis Knights were selected in the 2017 Major League Baseball June draft, which concluded yesterday.
Two alums were selected on Tuesday in rounds 3-10. Eight more players with Knights ties were chosen on Wednesday in rounds 11-40.
The highest-drafted Knight was Oregon State junior first baseman K.J. Harrison (2015), who went to Milwaukee in the third round as the 84th overall selection. He hit .444 (4-9) in two games with the Knights before joining Team USA.
Left-hander Ryley Widell (pictured) of Central Arizona College went to the Minnesota Twins in the seventh round as the 190th overall pick. He was 3-1, 2.17 in 13 games, with 46 strikeouts in 41.1 innings following his freshman season at Washington State. He earned honorable-mention all-WCL honors, was ranked 27th on Perfect Game's list of top 30 WCL pro prospects and earned a championship ring for the 2016 Corvallis Knights.
On Wednesday, catcher Andy Cosgrove of North Carolina State (2015), outfielder Kevin Watson Jr. of Beaverton High School (2017), first baseman Roman Garcia of San Diego (2016), pitcher Slater Lee of Cal Poly (2015), shortstop Clay Fisher of UC Santa Barbara (2015), infielder Chad Stevens of Gig Harbor (Wash.) High School (2017); and left-handed pitchers Austin Crowson of Lane CC, (2017), , Cameron Bishop of UC Irvine (2015-16) and Kolby Somers of Liberty High School (2017) were chosen.
Cosgrove went to Minnesota in the 17th round as the 496th selection. He started his college career at Washington, and then transferred to Santa Barbara City College and North Carolina State. He hit .284 (19-64) in 29 games, with no homers and four RBIs for Corvallis.
Watson went to Arizona in the 18th round as the 532nd overall pick. An Oregon State signee, he was first-team all-Metro League and was selected to play in the Daimler Oregon All-Star Series at Goss Stadium later this month. Kevin debuted with Corvallis last night and singled in his first at bat.
Garcia went to Houston in the 19th round as the 571st overall pick. He was honorable-mention all-West Coast League last summer. He hit .287 (50-174) in 46 games, with two homers and 23 RBIs, then hit .381 in five playoff games, with two doubles, a homer and six RBIs to lead the Knights to the WCL title.
Lee went to Oakland in the 24th round as the 711th overall pick. He was honorable-mention all-WCL, and ranked 30th on Perfect Game's 2015 list of WCL pro prospects. He was 2-1, 2.56 in nine games, with 37 strikeouts in 45.2 innings for the Knights.
Crowson went to the New York Yankees in the 26th round as the 782nd pick. A Northwest Athletic Conference all-star at Lane CC, the Monroe, Ore., native has signed with Nevada-Reno for the 2018 season. Austin took a no-hitter into the 7th at Bellingham on June 10.
Bishop was second-team all-WCL in 2016, and was the ranked No. 1 by Perfect Game and No. 2 by Baseball America on their lists of WCL pro prospects. He was also named the top pro prospect at the WCL All-Star Game. He was 1-3, 1.45 in seven games, with 43 strikeouts in 31 innings last summer for the Knights, his second season in Corvallis.
Fisher went to Cincinnati in the 27th round as the 797th overall pick. He was ranked No. 29 on Perfect Game's 2015 WCL pro prospects list. He hit .230 (35-151) in 40 games, with 14 RBIs for the Knights.
An Oregon signee, Somers went to Seattle in the 38th round as the 1,143rd overall pick. He will also play in the Oregon All-Star Series and is scheduled to report to Corvallis on June 26.
A Portland signee, Stevens went to San Diego in the 40th round as the 1,188th selection. He was a Narrows League 4A all-star and debuted for the Knights in Bellingham on June 10.