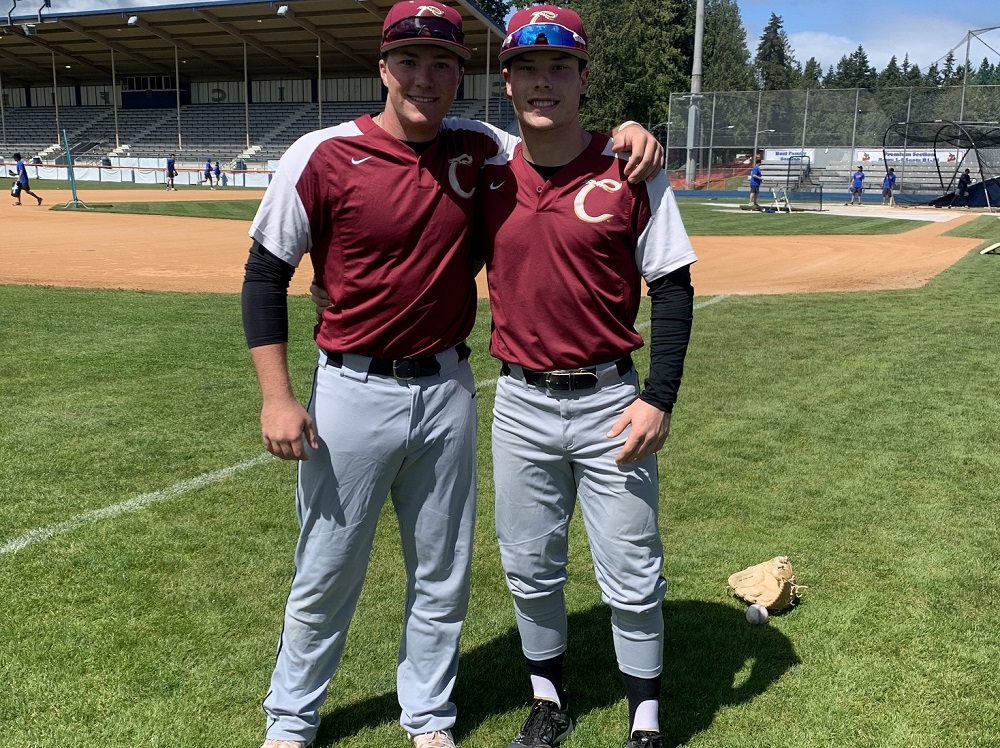 Corvallis Edges Walla Walla 5-3 to Take Road Series
Wednesday, June 16, Walla Walla, Wash. – The Corvallis Knights earned their second series win of the season with a tight 5-3 victory over the Walla Walla Sweets at Borleske Stadium.
Tied 3-3, Corvallis pushed across two runs in the top of the ninth and reliever Nathaniel Mendoza of Cal State San Bernardino pitched a scoreless bottom of the inning to earn his first save.
The Knights ninth-inning rally started with WCL batting leader Travis Bazzana laying down a perfect drag bunt for a single. After Taison Corio of Cal Poly flied out to center, redshirt freshman outfielder Thomas Dukart of Oregon State singled to right. That brought up slugger Braden Boisvert who proceeded to deliver a game-winning RBI single to center scoring his future Beaver teammate Bazzana.
Another future Oregon State baller, catcher Tanner Smith, followed Boisvert's hit with a RBI single of his own to center.
Walla Walla had tied things up in the bottom of the eighth off reliever Brock Townsend of Oregon State. Brock's first pitch as a Knight was lined to center for a single. Corvallis outfielder Nick Vogt made a diving try and had to leave the game with an injury following the play. After a walk, the Sweets tied things up with a RBI single to right. But Townsend would stiffen and strand two runners by striking out the next three Walla Walla batters.
Townsend picked up the win. Starter Connor Redmond of Montana State-Billings tossed four solid innings allowing two runs. The four-year Knight was replaced by lefty Ethan Ross to start the bottom of the 5th.
Ross was masterful, twirling three scoreless innings and striking out 7 batters while only allowing one hit and one walk.
Smith, Dukart and designated hitter Jacob Weiss of University of the Pacific all collected two hits apiece. Knights returnee Jake Harvey of Cal State Fullerton made his 2021 debut at third base and delivered a RBI single in the second in his first plate appearance of the summer.
With the win, Corvallis improves its record to 6-2 and extends its win streak to 5 games.
The series finale is set for Thursday, June 16 at 6:35 pm. The Knights probable starting pitcher is frosh right-hander Grant Taylor of Washington State.
The Knights return home on Friday as they welcome the Cowlitz Black Bears to Goss Stadium for a three-game set. June 18 is the WCL home opener for Corvallis.
To check out tonight's game box score, click here.