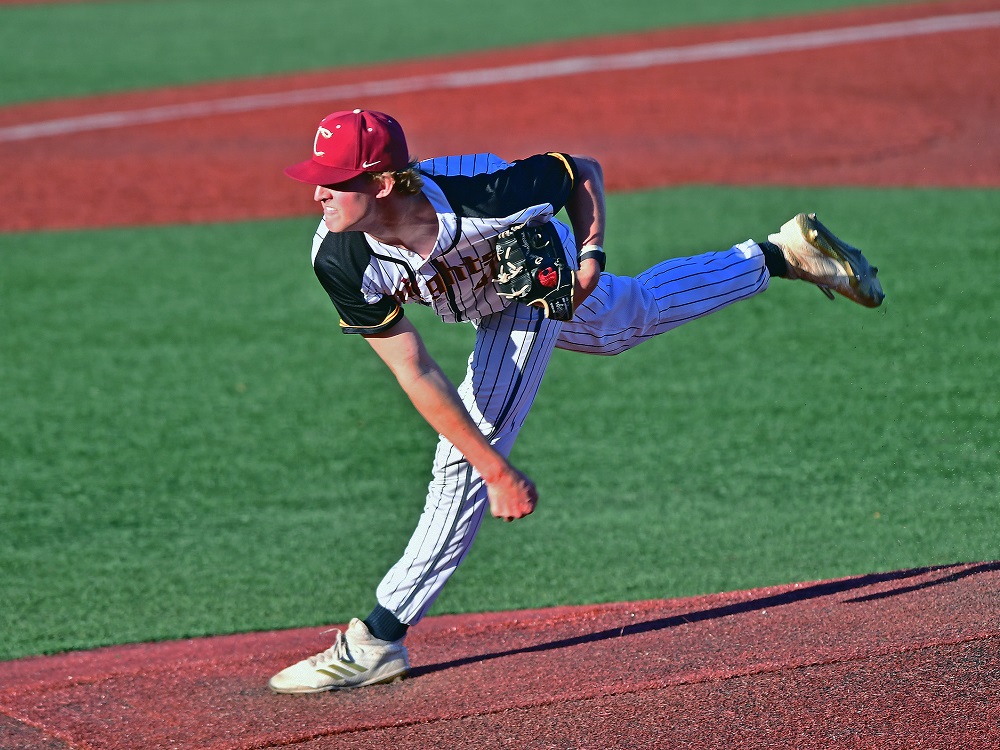 Corvallis routs Walla Walla 16-3 to extend win streak to 12
Friday, July 29, Walla Walla, Wash. – In nearly 110 degree temps, Corvallis stayed sizzling hot as the Knights routed the Walla Walla Sweets 16-3 to extend their West Coast League win streak to 12 games.
Thursday night at Goss Stadium, Corvallis banged out 15 hits as a team. Tonight, on the road, the Knights bested that figure by collecting 20 hits.
Knights starter and winning pitcher Duke Brotherton of Washington State (pictured) was brilliant only allowing one run over six frames while striking out 10. Position player Titus Dumitru of Linn-Benton CC pitched the final two innings of game only giving up one run.
The offense was led by the red-hot hitting Tyler Quinn of Pacific who went 3-for-7 with a double and RBI. Outfielder Brady Lavoie, a future San Diego State Aztec, designated hitter Briley Knight of Portland and Oregon State commit Ely Kennel all knocked in 3 runs. Second baseman Kennel recorded three hits.
Catcher Tanner Smith of Oregon State homered for the fifth time this week and outfielders Ethan Loveless of Portland and Logan Johnstone of Gonzaga and shortstop Spencer Scott of Portland all collected two hits. Johnstone doubled and drove in two runs.
With the victory, Corvallis improved its WCL overall mark to 34-12 and second-half record to 16-4.
Game two of the series Saturday at Borleske Stadium will start at 7:35 pm, one hour later than the contest's regularly scheduled time because of excessive heat.
To check out tonight's box score, click here.