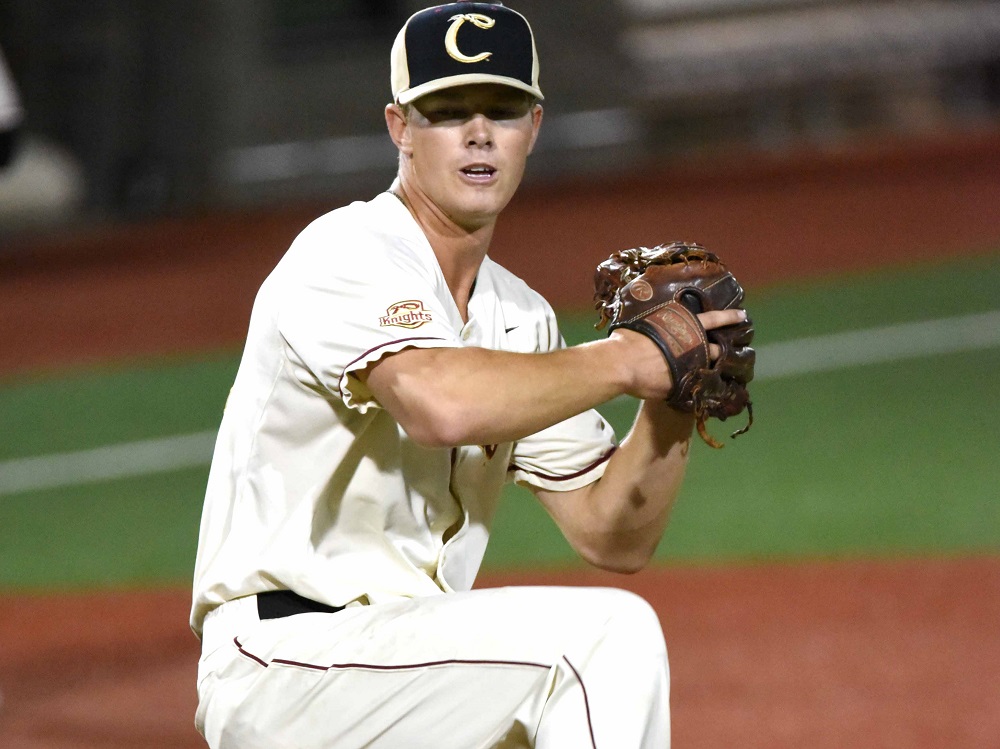 Corvallis Knights Aim for First Repeat in 2017
The Corvallis Knights enter the 2017 season as defending West Coast League champions with aspirations of repeating, which would be a team first. The winningest club since the WCL's inception has won four league titles, but has never gone back-to-back.
Head coach Brooke Knight has assembled a team that he hopes not only reaches the post-season for the eleventh consecutive season, but finds a way to repeat as champs.
"We've built our club around pitching and defense, and it looks like we'll be able to run a bit," said Knight. "The WCL is super competitive so it's going to be a dog fight to get back to the championship series, but we welcome the challenge and can't wait to get the season started."
The Knights open their season at Cowlitz June 2-4 and follow that with two more road series before opening up league play at Goss Stadium vs. the new Port Angeles Lefties on Wednesday, June 14.
Speaking of Lefties, the Knights pitching staff, like last season, is loaded with southpaws including returnee junior closer Chase Kaplan of Kansas (pictured with Knights in 2016) and sophomore starting pitcher Hazahel Quijada of UC Riverside (3-5 W/L, 6.19 ERA, 44 IP).
"Our pitching depth is a strength," said Knight. "Being stocked up with left-handers really gives us a competitive advantage and we expect both Chase and Haz to shine this summer."
Corvallis opens up this weekend vs. the Cowlitz Black Bears at Lower Columbia's David Story Field with three southpaws slated as its probable starters.
Lefty Cason Cunningham of Linfield, the Northwest Conference Player of the Year, gets the Knights opening day start this Friday while 2016 frosh All-American Ross Massey of Tulane goes on Saturday and junior Jordan Horak of Portland starts on Sunday.
Knight's projected starting rotation includes lefties Cunningham, Massey and Quijada; and right-handers Louis Crow of San Diego (3-2 W/L, 3.67 ERA, 49 IP), Cole Spear of UC Irvine (4-6 W/L, 6.71 ERA, 56.1 IP) and Trenton Toplikar of UC Riverside (2-3 W/L, 7.42 ERA, 30.1 IP).
The veteran skipper has loads of bullpen depth and a slew of options as spot starters including returnee southpaw Jacob Fricke of Western Oregon, as well as left-handers Horak, Miles Glazier of UC Irvine, Austin Crowson of Lane CC, Tanner Cantwell of Treasure Valley CC, Cole Johnson of Pacific Lutheran and University of Oregon commit Kolby Somers.
Returning right-handers Tanner Howell of Dixie State and Cameron Richman of Portland likely will contribute as they did last year in middle relief and as set up men.
They are joined by newcomer right-handers Trevor Wells of Linn-Benton CC, Connor Redmond of Cal Poly, San Jose State commit Nick Morales and Cal Poly commit Darren Nelson. Redmond, Morales and Nelson are all candidates for spot starts and will likely be used in long relief while Wells, LBCC's closer this past spring, is set for late-inning duty.
Kaplan (3-0 W/L, 3.22 ERA, 22.1 IP) is set to fill the projected closer's role. He recorded a team-high 10 saves last summer. Newcomer junior right-hander Jordan Qsar of Pepperdine could also be a closing candidate.
Catching this summer's staff are a trio of solid back stops featuring returnee and second-team all-WCL selection Zak Taylor of #1-ranked Oregon State. Joining Taylor is Oregon State commit Troy Claunch of Vacaville High School and all-NWAC South sophomore Jace Duty of Chemeketa CC.
"We're very pleased to have Zak back," said Knight. "He'll provide leadership and a middle-of-the-order bat and we've heard nothing but great things about Troy and Jace and expect they will be key contributors."
The Knights are young in the infield. Returnee Matt Kelly of Portland, who led the Pilots in hitting this past spring (.292, 2 HR, 15 RBI), is the only upperclassman infielder. The junior-to-be, who started at shortstop as a sophomore at UP, is slated to play third base for Corvallis this summer.
Portland Pilots incoming frosh shortstop Chad Stevens of Gig Harbor High School is set to play short for the Knights, with Cal Poly frosh Jack Kuzma also an option up the middle. Kuzma will also see playing time at third.
Freshman left-handed hitter Tyler Malone of Oregon State is projected to start at second base for Corvallis while freshmen sluggers Gabe Matthews of Oregon (.282, 3 HR, 26 RBI) and Dillan Shrum of Nevada-Reno will share duties at first base. Matthews, a left-handed hitter, batted fourth for most of the season for the Ducks while right-handed hitting Shrum came on strong for the Wolfpack finishing the season hitting .317 with 2 HR, 17 RBIs and a team-leading OBP of .456.
"Our infield is young, but we like the make-up of this group and we also think they will hit," said Knight.
The Knights outfield features two three-year vets in L-C State's Emilio Alcantar and Oregon's Taylor Travess. Both are aggressive base runners and play good defense. They will lead a younger contingent of outfielders that includes future Oregon State Beavers left-handed hitter Kevin Watson, Jr. of Beaverton High School.
Newly signed senior-to-be outfielder/pitcher Jordan Qsar of Pepperdine – an all-WCC 2017 honorable mention selection – adds experience and a left-handed bat. He hit .269 with 11 doubles, 2 homers and 24 RBIs for the Waves.
Redshirt frosh Elliot Willy of Oregon State, who played with the Bend Elks last summer, is expected to bring leadership, a good glove and some pop to the team.
The outfield is rounded out by speedster Tyler Villaroman of San Francisco and Henry Cheney of Portland. Villaroman stole 16 bases as a frosh and is a prototypical center fielder while Cheney, also a freshman, is a corner outfielder that is currently dealing with hamstring injury that will keep him out of action for the team's first series in Cowlitz.
"We have a lot of exciting options in the outfield, and we have guys that will play good defense," said Knight. "We have kids coming in that will compete."
Brooke Knight, a four-time WCL Coach of the Year pick, will once again be assisted by associate head coach Connor Lambert of University of Utah. Lambert returns for his 8th season with the team. Youngjin Yoon returns for a second summer as an assistant, his first season in a full-time capacity, and recently added assistant Alex Bailey rounds out the coaching staff.
"We are in a good position to make a run at this," concluded Knight. "We have seasoned coaching staff in place, and several returning players on the squad. I think that will help us come together like we want considering this year's team is much younger than past clubs."
"Let's get this thing started."
Note: Stats in parens are for the player's spring 2017 season.