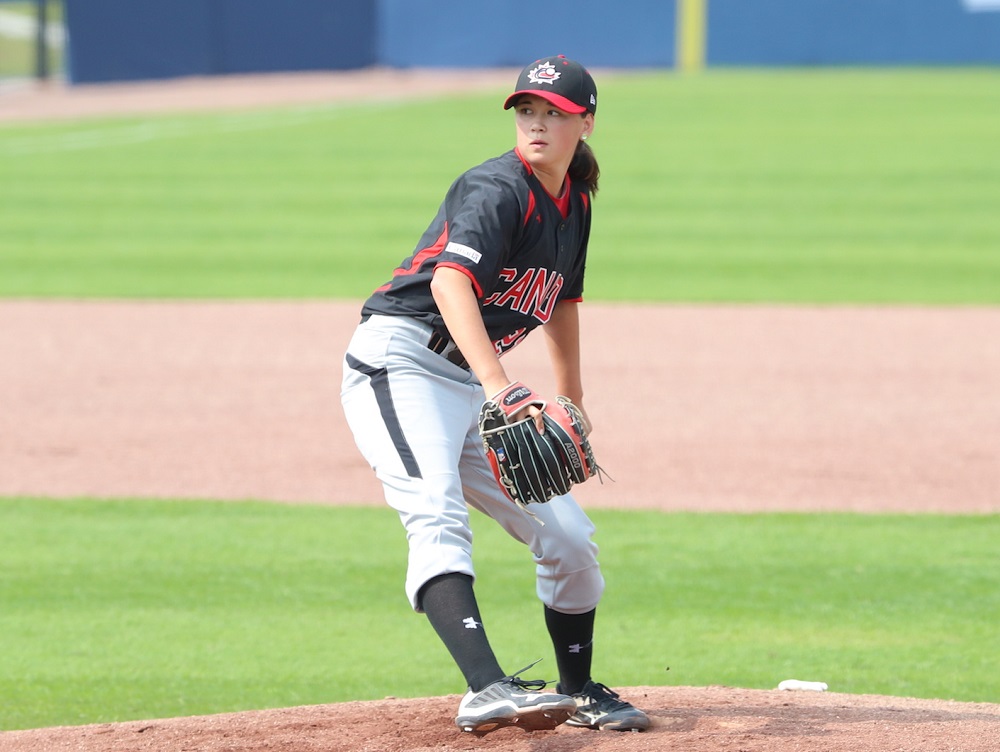 West Coast League 2017 Season Preview by Brooks Hatch
A new franchise, new head coaches, a female pitcher (Claire Eccles of Victoria, pictured) and a revamped division lineup are all on tap for the 2017 West Coast League season, which gets underway tonight when the new Port Angeles Lefties host Victoria in the first-ever WCL game at historic Civic Field.
The Lefties replace the Kitsap BlueJackets in the 11-team WCL, now in its 13th season as one of the premier summer college wood-bat circuits in the country. Otherwise, there were no franchise moves from 2016, when the WCL drew a record 332,922 fans for league games and thousands more for non-league contests.
The Corvallis Knights are the defending champions. They earned their fourth league title by defeating Bellingham 2-1 in a thrilling Championship Series. Corvallis swept Yakima Valley in the South Division playoff series to advance to the finals; Bellingham upset North Division winner Victoria, which had the best regular-season record at 40-14, to make the finals.
Port Angeles will join Bellingham, Victoria, Walla Walla, Kelowna and Wenatchee in the North Division. Corvallis, Yakima Valley, Bend, Cowlitz and Gresham will comprise the South Division.
The new Port Angeles franchise is owned by ex-Kitsap owner Matt Acker, Dean Reynolds and Jake Oppelt. The Lefties will play in historic Civic Field in downtown Port Angeles, which underwent extensive renovation in the offseason to bring the venue up to WCL standards.
"Port Angeles' location is beautiful and the weather is great," Acker said. "There is lots to do while at the same time having a small-town atmosphere so our players will really feel a part of the community."
The season will again be divided into two halves, with the winner of each half qualifying for the divisional playoffs. If the same team wins both halves, the club with the second-best overall record will advance to the postseason.
The annual All-Star Game is set for July 18 at Yakima County Stadium, hosted by the Pippins.
Here is a team-by-team look at the WCL this summer.
Corvallis
The Knights return six pitchers and four position players as they seek to defend their WCL crown. Corvallis has advanced to the Championship Series in eight of the 10 seasons since the WCL adopted divisional play in 2007.
Oregon State sophomore Zak Taylor, a second-team all-WCL catcher, is back, as are honorable-mention all-WCL selections Emilio Alcantar (Lewis-Clark State), Jacob Fricke (Western Oregon), Chase Kaplan (Kansas), Taylor Travess (Oregon) and Hazahel Quijada (UC Riverside).
Another key signee is left-handed pitcher Ross Massey of Tulane, the first player from the Green Wave to play for the Knights. He was 10-3 with a 2.29 ERA and 51 strikeouts in 90 innings as a freshman and earned Louisville Slugger/Collegiate Baseball Freshman All-American honors, was a second-team American Athletic Conference all-star, and an NCAA Oxford Regional all-star.
Corvallis also has their largest crop of incoming college freshmen ever, led by OSU signees Kevin Watson Jr. and Troy Claunch and Oregon signee Kolby Somers. They open the season at Cowlitz on June 2.
Gresham
There is new ownership in Gresham for its second year in the league. The GreyWolves were purchased by Scott and Misty Barchus in Dec., 2016, from Jerry and Lisa Walker.
The new owners have extensive ties to the franchise. Their son, Justin, is the team's head coach; son Jordan played for the GreyWolves and Scott was an assistant coach last summer.
The GreyWolves challenged for a playoff berth for much of the summer and finished 26-28 overall. Drew Curtis of Southern Illinois University will return for the 2017 season after hitting .227 at Gresham in 2016, with a homer and 18 RBIs.
They open the season at Bellingham on June 2.
Bend
Returnee George Mendazona of Oregon State leads the Bend Elks, who slipped to fourth place in the South Division in 2016 after capturing their first WCL championship in 2015.
An infielder, Mendazona hit .272 in 47 games for the Elks in 2016, with a homer and 20 RBIs.
Pitcher Kris Jackson (4-4, 3.16) returns as well. He was second on the team in innings (62) and third in strikeouts (41) last summer.
Also, Joe Casey, the son of Oregon State head coach Pat Casey, will play for the Elks. He redshirted at OSU in 2017 after earning 5A all-state honors in 2016 as a senior at Crescent Valley High School in Corvallis.
The Elks host Walla Walla on June 5 in their opener.
Cowlitz
Grady Tweit returns for his third season as head coach at Cowlitz.
Returnees Andy Armstrong (Oregon State) Nico Tellache (Oregon) and Nyles Nygaard (Western Oregon) will be among the team's leaders this summer.
A middle infielder, Armstrong had two homers and 10 RBIs and played in the WCL All-Star Game last summer.
Tellache is a lefty pitcher who was 2-2, 2.73 in 13 games, holding opponents to a .182 batting average. Nygaard is a utility player whose 2016 summer season was cut short by injuries. He had a homer and seven RBIs in 14 games.
Cowlitz hosts Corvallis on June 2 in its opener.
Yakima Valley
Former Pippins' player Beau Kerns (2014) rejoins the club as the pitching coach. He succeeds former major-leaguer Bob Wells, who is stepping aside after three seasons because of increased responsibilities at his full-time job.
Marcus McKimmy will remain as head coach for his fourth season. Returnees Jaime Cortes and Eric Hull round out the staff.
Returnee Jordan Bocko of UC Irvine will anchor the pitching staff. He was 0-1, 1.65, with 10 strikeouts in 16 innings, in a four-game 2016 season that was cut short by a hand injury.
Also of interest for the Pippins is pitcher Jonah DiPoto of UC San Diego. His father is Jerry DiPoto, a former major-league pitcher and the general manager of the Seattle Mariners.
The Pippins host Victoria on June 2 in their opener.
Bellingham
Defending North Division playoff champion Bellingham has a new coach. Seattle University Director of Operations Greg Goetz will succeed Mike Gange, who took an assistant coaching position at Pacific University this past September.
The Bells have been one of the WCL's most successful franchises of late. They captured their first WCL crown in 2014, and lost to Corvallis in the 2016 Championship Series.
Among the signees for 2017 are left-handed pitcher Jake Mulholland of Oregon State, a key member of the No. 1-ranked Beavers' pitching staff. Outfielder Shane Hanon of Marshall, the WCL's 2016 batting champion (.331), heads an impressive list of returnees from a 32-22 team.
Bellingham has appeared in the WCLCS two of the last three seasons. The Bells host Gresham on June 2 in their opener.
Victoria
The HarbourCats, who had the best record (40-14) and the highest attendance (60,466) in 2016, made big news on two fronts in the offseason.
First, they signed former major leaguer Brian McRae to a two-year contract as their new head coach. The son of ex-major league manager Hal McRae, Brian had a 10-year MLB career with the Royals, Cubs, Mets, Blue Jays and Rockies. He succeeds Graig Merritt, the 2016 WCL Coach of the Year.
They also signed left-handed pitcher Claire Eccles, a softball player at the University of British Columbia. A knuckleball specialist, she is one of the top pitchers for the Baseball Canada Women's National Team and has pitched in two Women's Baseball World Cups and the 2015 Pan-Am Games.
"This is a little crazy," Eccles said. "I think women can play in baseball, but it's just something that's new. There's a lot of young girls out there who wanna play ball.
"Hopefully this is a chance for more women to play in baseball, and for all the younger girls hopefully in the future will get a similar opportunity."
Victoria visits Port Angeles on June 1 in its opener.
Port Angeles
Port Angeles will be coached Zach Miller, an assistant at Tacoma Community College. He pitched at Washington State, Green River CC, and at Western Oregon from 2007-11 and was the head coach at Central High School in Independence, Ore., from 2012-16 before going to TCC.
Miller will be assisted by hitting/defense coach Brandon Templer of Grays Harbor College and bullpen coach Damon Porter, formerly an assistant with the BlueJackets and at Edmonds College.
One of the Lefties' top signings is University of Portland catcher Dutton Elske, the 2016 Oregon 6A Player of the Year at Lakeridge High School. He was a three-time Three Rivers League all-star and played in the Reser's Oregon All-Star Series at Goss Stadium.
They also signed 2015 Kitsap star Alex Junior of Tennessee Tech. He scored 23 runs and had nine steals for the BlueJackets that summer. The Lefties host Victoria on June 1 in their opener.
Wenatchee
The Wenatchee AppleSox also have a new skipper. Yakima Valley CC head coach Kyle Krustangel will succeed A.J. Proszek and attempt to reverse a three-year slide that has seen the AppleSox, a longtime WCL powerhouse, tumble into the North Division basement.
Wenatchee should have an older roster this season after being one of the youngest teams in the WCL the past two summers, top-heavy with incoming college freshmen. It expects to have eight rising seniors and 15 others with previous college experience.
"We intentionally targeted an older roster this season," Krustangel said. "We want to be a strong team of leaders and guys who can help each other; the wealth of experience coming in can help us accomplish that.
"Any time you can lock up Division I pitching, with experience, you're doing it the right way. [We will] finalize our full-time roster with continued support from Nevada, and new relationships with Concordia, Northern Colorado, and UC San Diego."
Wenatchee travels to Walla Walla on June 2 for its season-opener.
Kelowna
Bryan Donohue returns for his second year as manager at Kelowna, aided by pitching coach Michael Bennett and assistant coach Scott Stone. The Falcons slipped to 25-29 last season after advancing to the WCL Championship Series in 2015.
"We are much older as a whole than last year and have much more talent that has already produced at a higher level," said Donahue, the head coach at Mt. Hood CC during the school year. "Our first game counts, so I want guys that already have the innings and at-bats to be ready to go right away.
"We are going to have a lot more team speed than last year. In this league, if you want to win the whole thing, you are going to have to go through some good arms to get there.  Having the ability to [steal] bases to get into scoring position is huge.
"I want to be a team that constantly puts pressure on and causes problems for opposing defenses and pitchers."
Kelowna hosts Port Angeles on June 2 in its season-opener.
Walla Walla
Frank Mutz, the head coach at Chaminade College Preparatory High School in Southern California during the school year, is back for his third summer with the Sweets. They were 30-24 in 2016 and just missed their first playoff berth since 2013. He is 57-56 in all games.
Three WSU Cougars should be mainstays for the Sweets: Third baseman Shane Matheny, outfielder J.J. Hancock and infielder Danny Sinatro. Sinatro is the son of former 10-year major-leaguer/Seattle Mariners' bullpen coach Matt Sinatro, and was selected by Cleveland in the 40th round of the 2016 MLB draft.
Walla Walla will also have an East Coast flavor, with two signees from the University of Richmond and one each from Emory, Brown and Harvard. The Sweets host Wenatchee on June 2 in their opener