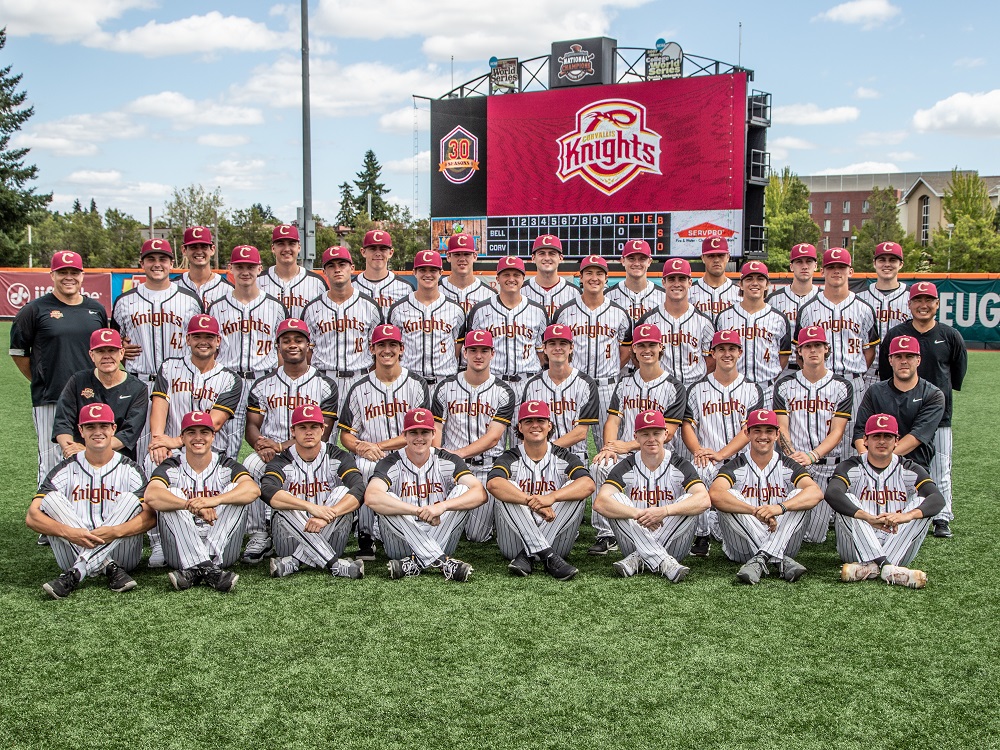 Corvallis Captures WCL South First-Half Title
The Corvallis Knights finished the first half of the West Coast League season by winning 15 straight WCL games; sweeping Yakima Valley and Ridgefield twice and the Portland Pickles. Corvallis started the season 0-3, losing three games at Walla Walla, before overtaking the Sweets by going 21-3 the rest of the way.
Including non-league games, the Knights have won 17 straight. The record win streak for the franchise is 18, set in 2009. The 2009 Knights club featured four future big leaguers including pitchers Matt Andriese (UCR), Tyler Anderson (UO) and Sam Gaviglio (OSU); and catcher Andrew Susac (OSU).
Corvallis is 21-6 in the WCL and 27-6 overall.
The Knights have relied on outstanding pitching, solid defense and lots of hitting. The staff ERA is 2.79, which is the lowest mark in the WCL. The team batting average is a league best .303. And the club's fielding percentage of .967 is fourth best in the WCL. The Knights have also hit a league-leading 60 doubles.
Several Knights hitters sizzled in the first half including future Cal Poly shortstop Brooks Lee who hit .522 with 4 doubles, 1 homer and 11 RBIs for the week of July 1-7. For the summer, Lee is hitting .434 with 8 doubles, 5 stolen bases, a homer and 14 RBIs.
Redshirt frosh Jake Holcroft of University of Portland is hitting .370 and has swiped 13 bags. Both marks are third best in the WCL. His 40 hits is tied for the lead in the WCL. And he's second in the league in runs scored with 29 and at bats with 108.
Rising sophomore utility man Briley Knight of Utah leads the league in RBIs with 21 and is hitting .355 with 3 homers. Knight leads the league in extra base hits with 14 and his .581 slugging percentage is tops in the WCL. He is second in the league in on base percentage at .475, walks with 20, total bases with 54 and is tied for the WCL lead in doubles with 10.
Redshirt senior-to-be utility man Andy Atwood of Texas Rio Grande Valley leads the West Coast League in at bats with 115 and in triples with 4. Atwood is batting .304 with 12 RBIs.
Rising sophomore first baseman Tracye Tammaro of University of Portland leads the WCL in hit-by-pitch with 6 and is second in the league in homers with 4.
The Knights have shined on the mound and featured tremendous pitching depth. Jackson Arnsdorf (19.2 IP, 1.83 ERA) of Corban and Tevita Gerber (26.2 IP, 3.37 ERA) of Dixie State have both won 4 games, tying for league best in victories. Timothy Josten (24.2 IP, 2.91 ERA) of Cal State Fullerton and Brodie Cooper-Vassalakis of Grand Canyon (22 IP, 2.86 ERA) have both recorded three wins.
Closers Alex Williams of Stanford and Connor Knutson of Portland have been outstanding. Both have not allowed runs, with Knutson registering two saves while Williams has recorded 3 saves over 6 appearances and 8.1 innings pitched while walking no one and striking out 13.
Lefty starter Chase Watkins of Cal Poly is 2-0 and has not allowed a run over 14 innings while walking only 2 and striking out 18. Future Gonzaga Bulldog William Kempner has not allowed an earned run over 6 relief appearances and 11.2 innings pitched while walking four and striking out 16.
Corvallis opens second-half play tonight at Port Angeles as they take on the Lefties at Civic Field. First pitch is set for 6:35 pm.
The Knights will have homefield advantage during the WCL South Divisional Series with games set for Goss Stadium on August 14 and August 15 (if necessary). This will be the Corvallis Knights 13th straight post-season appearance.