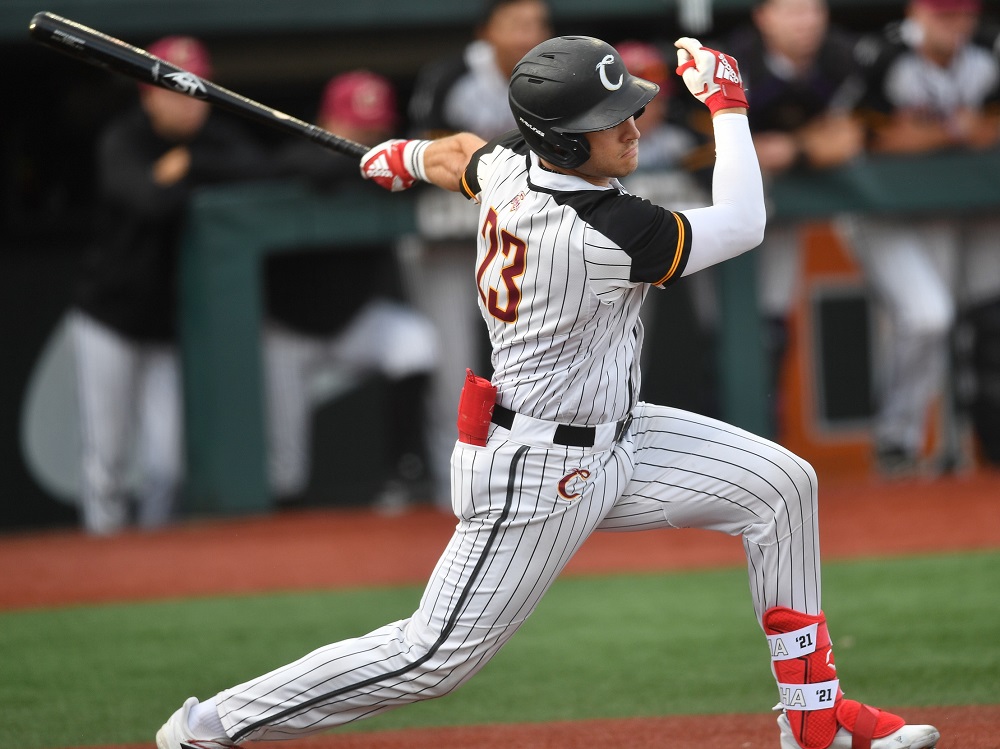 Corvallis extends win streak, beats Springfield 9-4 at Goss
Tuesday, July 26, Corvallis, Ore. – On a sizzling day with temperatures nearly reaching 100 degrees, the red-hot Corvallis Knights ambushed their Interstate 5 rivals the Springfield Drifters by scoring 4 runs in the first and two more in the second on their way to a 9-4 victory at Goss Stadium before a crowd of 1,410.
The expansion Drifters took the first series between the clubs in late June, but Corvallis is now 2-0 versus Springfield at its home park.
With the win, the Knights extended their WCL win streak to 9 and overall streak to 10 games. Corvallis sits in first place in the second-half South standings with a 13-4 record. The Knights overall West Coast League mark improved to 31-12.
Corvallis was led offensively by future San Diego State slugging outfielder Brady Lavoie (pictured) who went 2-for-4 with a double and 3 RBIs. Catcher Ryan Stafford of Cal Poly also collected 3 RBIs and left fielder Briley Knight of Portland went 2-for-4 with 2 RBIs.
Springfield mounted a rally in the top of the sixth off winning Knights pitcher Neil Feist of El Camino College but only tallied one run thanks to two outstanding plays by Lavoie in right field which both resulted in outfield assists.
Reliever Kaleb Kantola of Lipscomb closed out the game by retiring all six batters he faced over two innings. Starter Joey Gartrell of Portland tossed four solid innings allowing only one earned run while walking none and striking out 5.
The Knights WCL winning streak features a win at Wenatchee, victory at Portland, sweep of Cowlitz at Goss, sweep of Portland at Goss and tonight's series opening win over the Drifters.
Game two of the series is scheduled at Springfield at the Hamlin Sports Complex with a first pitch of 6:35 pm. The Corvallis probable starting pitcher is Nathan DeSchryver of Gonzaga.
Corvallis returns home for the series finale on Thursday before heading to Walla Walla for a three-game series July 29-31.
Click here for tonight's box score.