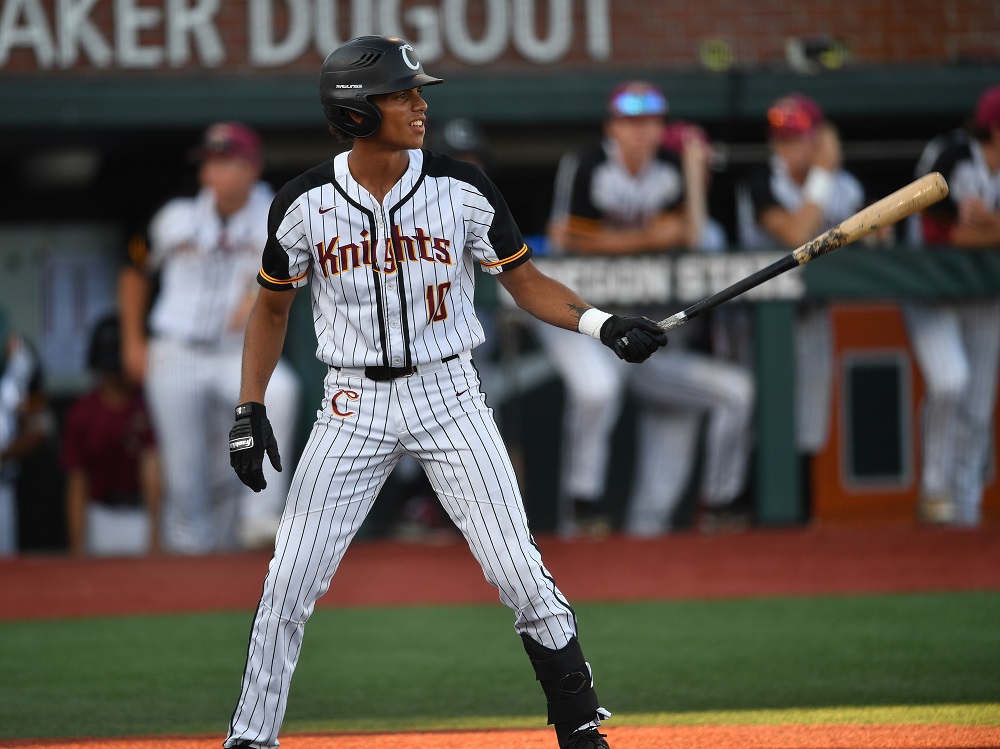 Comeback kids sweep Raptors, Riley Way blasts three-run game-winning homer
Sunday, August 8, Ridgefield, Wash. – Down 3-0 late to the Ridgefield Raptors at Ridgefield Outdoor Recreation Complex, rising sophomore outfielder Kyler Stancato of Washington State delivered a sixth-inning two-out RBI single to put Corvallis on the board after first baseman Kiko Romero of Central Arizona had singled with two outs and third baseman Tanner Smith (Oregon State) drew a walk.
Rising senior shortstop Riley Way of Lewis-Clark State (pictured) then proceeded to erase the Raptors lead by slamming a two-out opposite field game-winning three-run home run. Suddenly, the comeback kids were at it, again.
Up 4-3, starting pitcher Sam Stuhr, a future Oregon State Beaver, struck out the side in the bottom half of the frame. Stuhr, who turned 19 on Sunday, tossed six solid innings allowing only one earned run while walking one and striking out 6.
The right-hander from NE Portland would earn the win as relievers Chase Walter of Cal Poly and future Gonzaga righty Nathan DeSchryver blanked Ridgefield over the final three innings. Walter pitched two scoreless frames and struck out 3.
WCL batting leader Travis Bazzana (Oregon State) collected two hits, including a two-run double in the ninth. Romero and Stancato also had two knocks apiece.
With the win, Corvallis clinched the second-half WCL South championship, winning both the first and second halves. The Knights sweep improved their league record to 36-9, overall mark to 45-11 and all-time record vs. Ridgefield to 12-0. Corvallis has now swept 8 series this season.
The Knights return home Tuesday, August 10 to face their longtime rival the Bend Elks who are currently riding a five-game win streak. Corvallis looks to extend their current 7-game win streak. First pitch is set for 6:35 pm at Goss Stadium.