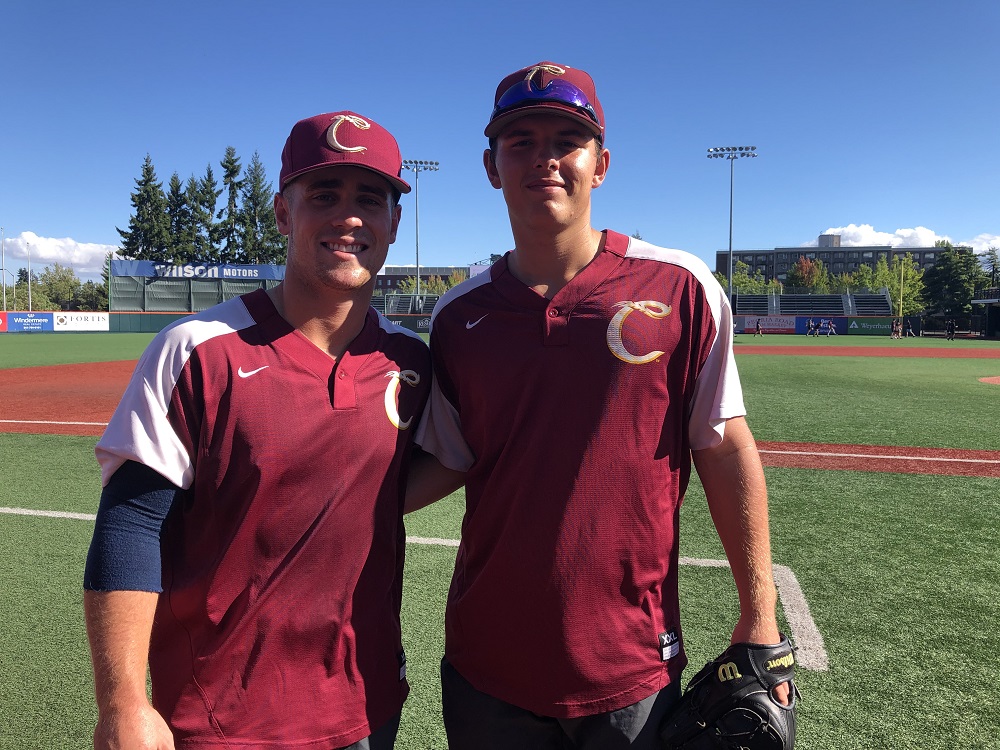 Corvallis wins 7-2 at Ridgefield, captures WCL series
Saturday, August 7, Ridgefield, Wash. – Corvallis scored early on its way to a series-winning 7-2 victory at Ridgefield.
The Knights plated two runs in the first inning. West Coast League batting leader Travis Bazzana got things started with a double to lead-off the game. He later scored on a passed ball. Center fielder Briley Knight of University of Portland knocked in the inning's second run with a RBI single to right.
Corvallis added three more runs in the third. First baseman Kaden Segel, a Linn-Benton CC commit, delivered a two-out, two-run bases loaded single and a batter later Bazzana walked with the bases loaded to give the Knights a 5-0 lead. Knight and Segel (pictured, above) grew up around the Corvallis Knights as kids and played together for the first time, Segel's first league start as a position player.
Future San Jose State southpaw and Knights starter Ethan Ross threw three innings allowing only one unearned run. Corvallis relievers kept the Raptors grounded for the final six innings. Colton Meyer of Linfield pitched two innings, allowing one run. Rising sophomore Jake Vargas of Cal State Fullerton twirled two scoreless frames, struck out 5 and was credited with the win. Sean Wiese of George Fox struck out the side in the 8th, and Nate Mendoza of Cal State San Bernardino tossed a scoreless final inning.
Bazzana went 2-for-2 with three walks and two stolen bases. The rising frosh at Oregon State raised his league-leading average to .435.
Designated hitter Nick Vogt of UC Santa Barbara bumped the Knights advantage to 7-2 with a two-out, two-run triple in the eighth inning.
With the win, Corvallis improved to 35-9 in the WCL and 44-11 overall while extending its win streak to six games. The series victory was the Knights 13th of the summer.
The two WCL South teams finish their series Sunday at 1:05 pm at the Ridgefield Outdoor Recreation Complex. Future Oregon State right-hander Sam Stuhr is the probable starter for Corvallis. Stuhr pitched last spring at Lower Columbia College.