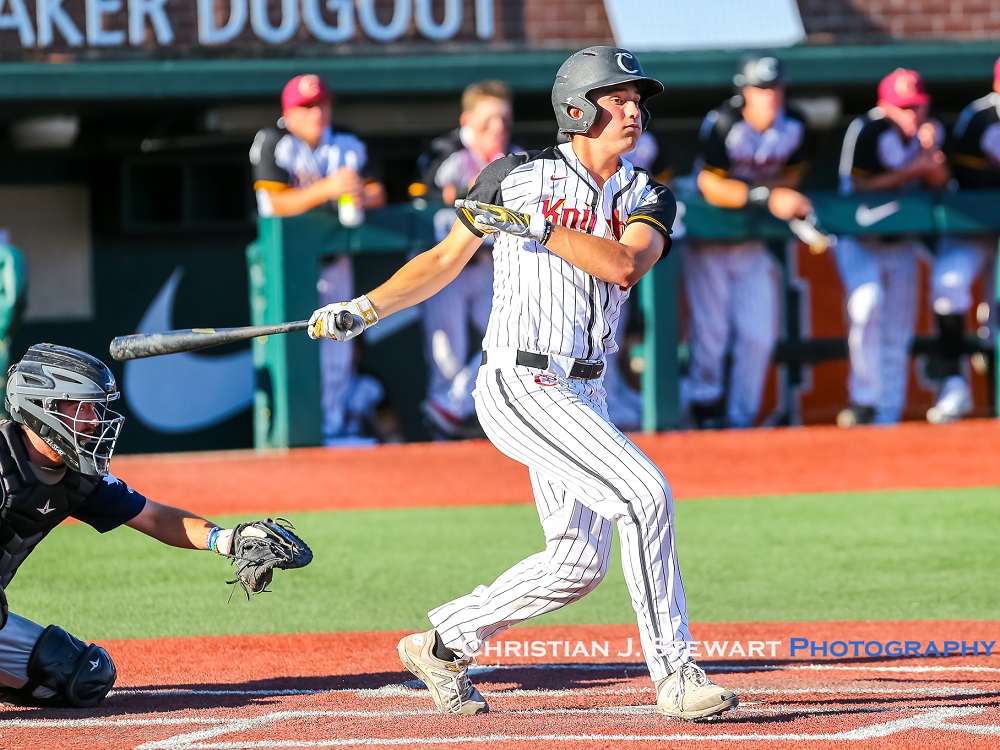 Alumnus Brooks Lee of Cal Poly Drafted by Twins in First Round; 8 Knights Selected Over Three Days
Tuesday, July 19, Corvallis, Ore. – Former Corvallis Knights shortstop Brooks Lee of Cal Poly (2019) was selected by the Minnesota Twins as the No. 8 overall pick of the 2022 Major League Baseball draft on Sunday.
Eight current or former Knights were selected in the 20-round, three-day undertaking, which concluded Tuesday afternoon in Los Angeles.
Lee is the third-highest drafted Knight in franchise history. Oregon State catcher Adley Rutschman (2016) was taken by Baltimore as the top selection in the 2019 draft; OSU second baseman Nick Madrigal (2015), now with the Chicago Cubs, was picked fourth by the Chicago White Sox in 2018.
Also selected were:
*Gonzaga right-handed pitcher William Kempner, a teammate of Lee's on the 2019 champions, was selected by the San Francisco Giants in the third round as the 106th overall pick.
*UC Santa Barbara outfielder Nick Vogt, a mainstay on the 2021 WCL champions, was selected in the seventh round by San Diego with the 210th overall pick.
*Right-handed pitcher Brett Gillis of the University of Portland, a top reliever on the 2021 championship staff, went to Houston in the ninth round as the 283rd overall selection.
*Stanford righty Alex Williams (2019), the 2022 Pacific-12 Conference pitcher of the Year, went to Miami in the 11th round as the 322nd overall selection.
*Long Beach State righty Marques Johnson (2019), who played for Corvallis after his freshman year at Riverside CC, went to Boston in the 11th round as the 339th overall pick.
*UCLA infielder Michael Curialle (2019) went to St. Louis in the 12th round as the 367th overall selection.
*Right-handed pitcher Matt Scott, a member of the 2022 Knights and a Stanford signee from Redding, Conn. He went to Texas in the 20th round as the 589th overall choice.
The switch-hitting Lee earned the West Coast League's Top Prospect honor in 2019 after hitting .342 with 30 RBIs and playing sterling defense. He was also first-team all-WCL and helped the Knights capture the WCL Championship and earn Perfect Game's National Summer College Team of the Year honor.
Ranked by MLB.com as the No. 37 overall prospect entering the 2019 draft, Lee didn't sign after being selected by the San Francisco Giants, instead he elected to play for his father Larry Lee at Cal Poly, a longtime partner school of the Knights.
He earned the Brooks Wallace Award as the nation's top collegiate shortstop and numerous All-America honors in 2022. Lee hit .357 with 15 homers and 55 RBIs and was named the Big West Conference Field Player of the Year.
Lee was also selected to the Knights 2010-2019 All-Decade team.
"Brooks is obviously a unique talent," Knights head coach Brooke Knight said. "His approach at the plate is advanced beyond his peers, and he couples that with a real knack to barrel the baseball.
"Defensively, he understands the tempo of the game and always seems to have his feet in the right place. Most importantly, his elite baseball aptitude is an 80 grade across the board. He's a true student of the game and has been mentored by the best, his father."
Lee becomes the fourth highest-drafted player in WCL history, following Rutschman, California's Andrew Vaughn (No. 3 overall in 2019) and Madrigal.  This marks the sixth straight year featuring at least one former WCL player selected in the first round.
"One of the great pleasures of my job is seeing all the tremendous young talent in our league," WCL commissioner Rob Neyer said. "But even among that talent, Brooks absolutely stood out when I saw him in the summer of 2019.
"I wasn't smart enough to know he'd be drafted No. 8 someday. But I knew he was among the best young players I'll ever be lucky enough to see up close."
Lee is the latest in a long line of Cal Poly/Knights players to be drafted.
He joins Slater Lee (drafted 2017), Justin Calomeni (2016), Peter Van Gansen (2015), Casey Bloomquist (2015), Nick Torres (2014), Jimmy Allen (2014), Chase Johnson (2013), Mitch Haniger (2012), Adam Melker (2010), Eric Massingham (2009), Jared Eskew (2009), DJ Gentile (2009), Kevin Castner (2008) and Brent Morel (2008) on that list.
Other Cal Poly/Knights are former MLB pitcher Bud Norris (2006) of the Aloha Knights; David Armendariz (2014), who played at Cal Poly from 2011-13 before transferring to Cal Poly Pomona for his final year, and Chase Watkins (2021), who played for the Knights after his freshman year at Cal Poly before transferring to Oregon State.
A San Jose native, Kempner was 2-1, 3.00 in eight appearances, all starts, for Gonzaga in 2022. He had 48 strikeouts in 30 innings pitched. For his GU career he was 4-4, 3.59 in 19 games, with one save and 43 strikeouts in 57.2 innings.
Vogt is from Woodland, Calif. He hit .376 in 50 total games for the 2021 Knights, with four homers and 38 RBIs, and a robust .429 in the playoffs, with eight RBIs in five games. He was a first-team all-WCL selection.
Vogt hit .317 in 52 games for the Gauchos in 2022, with seven homers and 49 RBIs. He was a lifetime .282 hitter in 105 games, with eight homers and 59 RBIs for UCSB.
Gillis, from Everett, Wash., was named the West Coast Conference Player of the Year following a spectacular season which saw him go 9-2 with a 2.24 ERA and 115 strikeouts in 84.1 innings. He had one complete game, a shutout of UC Riverside.
He played for the Knights following his redshirt sophomore year at Portland and was 2-0 with a 1.45 ERA in 10 games for the 2021 Knights, with 29 strikeouts in 18.2 innings. He did not allow more than one run in any appearance.
A Castro Valley, Calif., native, Williams earned Pacific-12 Conference Pitcher of the Year honors by going 8-1 with a 1.98 ERA in 15 games, with 84 strikeouts in 91 innings. He had two complete games, and one shutout while helping the Cardinal win the Pac-12 regular-season and tournament championships and advance to the NCAA tournament.
Williams appeared in seven games for the 2019 Knights following his freshman season at Stanford and was 1-0 with an 0.96 ERA. He had three saves, struck out 13 and allowed only five hits in 9.1 innings.
Johnson joined the Knights for the 2019 stretch drive from Riverside CC and had three saves in eight regular-season appearances. He was 0-0, 3.07 overall in 10 games, with 12 strikeouts in 11.2 innings.
The Hemet, Calif., native subsequently transferred to Long Beach State for his 2021 and 2022 seasons. He was 1-1, 3.25 in 14 games in 2022, with 51 strikeouts in 44.1 innings.
A Capistrano Valley, Calif., native, Curialle played for Corvallis before his freshman season at UCLA and hit .267 in 44 games, with three homers and 30 RBIs. He led UCLA in batting in 2022 with a .319 average, and hit five homers, collected 41 RBIs and stole 9 bases in 10 attempts.
Scott is 1-0, 6.23 in four appearances this summer, with seven strikeouts in 8.2 innings.