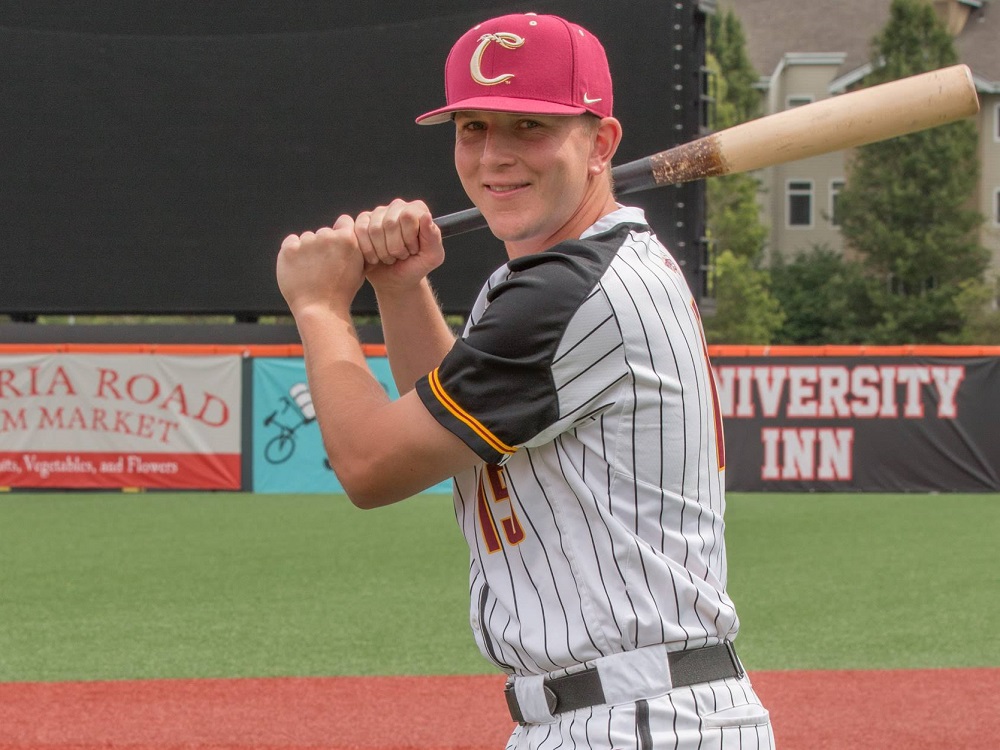 Brooks Hatch Blog: Taylor Has Solid Season With Gateway
Happy Wednesday, everyone, from the world-wide headquarters (WWHQ) of the Corvallis Knights, your 2016, 2017, 2018 and 2019 West Coast League champions!
————–
Former Knights' first baseman/third baseman/catcher Zak Taylor (2016-18, pictured, above) spent this past summer playing for the Gateway (Mo.) Grizzlies in the independent Frontier League following his final season at Oregon State.
The Sherwood native played catcher for Gateway and hit .246 (50-203) in 59 games, with two homers and 19 RBIs.
Zak played on five championship teams in college. The 2018 Beavers were national champions; the 2017 Beavers were Pacific-12 Conference champions, and the Knights won the WCL title all three years he played for us.
————–
Nine Knights were named to the West Coast Conference's Commissioner's Honor Roll, which recognizes student-athletes with at least a 3.0 grade-point average.
Student-athletes received Gold Honors for having a GPA between 3.75 and 4.00, Silver Honors for 3.50 to 3.74 and Bronze Honors for 3.00 to 3.49. The honored Knights were:
GOLD: Chris Clements, Portland (3.83, management communications).
SILVER: Stephen Lund, Gonzaga (3.56, undeclared); Chad Stevens, Portland (3.67, business administration); Tyler Villaroman, San Francisco (3.65, business administration).
BRONZE: Jake Holcroft, Portland (3.44, business administration); Matt Kelly, Portland (3.41, entreprenuership & innovation management); Cameron Richman, Portland (3.38, entreprenuership & innovation management); Cody Hawken, Portland (3.31, environmental science); Nick Yovetich, San Francisco (3.10, undeclared); Daniel Slominski, San Francisco (3.00, physics).
————–
Former Aloha Knights' pitcher Marc Rzepczynski (2006) was released by the Arizona Diamondbacks on Aug. 25 after spending the season at Reno in the triple-A Pacific Coast League.
Zep was 2-3, 5.02 in 44 games with the Aces, with a save and 35 strikeouts in 43 innings. He did not appear in a major-league game this past season for the first time since 2008.
Marc is a 10-year MLB veteran who has played for Toronto, St. Louis, Cleveland, San Diego, Oakland, Washington and Seattle. He is 14-27, 3.89 in 506 career games, with two saves and 409 strikeouts.
Marc played at UC Riverside. He was selected by Toronto in the fifth round of the 2007 MLB draft.
————–
Twelve Knights are/have been on MLB rosters this season: Arizona pitcher Jimmie Sherfy (2011); Colorado pitcher DJ Johnson (2008-09); Mets pitcher Stephen Nogosek (2013); Los Angeles Dodgers/Tampa Bay catcher Rocky Gale (2007, 2009); Chicago White Sox pitcher Josh Osich (2008); Colorado pitcher Tyler Anderson (2009); Detroit pitcher Matt Boyd (2010); Seattle outfielder Mitch Haniger (2010); Tampa Bay infielder Matt Duffy (2010); Chicago White Sox pitcher Jace Fry (2011); Toronto pitcher Sam Gaviglio (2009), and Arizona pitcher Matt Andriese (2009).
————–
The Knights set a franchise record for total attendance this season by drawing 59,357 fans to Goss Stadium in 36 regular-season and playoff games.
We averaged 1,721 fans per regular-season game, and 1,071 fans for the four playoff games. Thanks to the best fans in the West Coast League.
————–
That's all for today. See you again on Sept. 25!