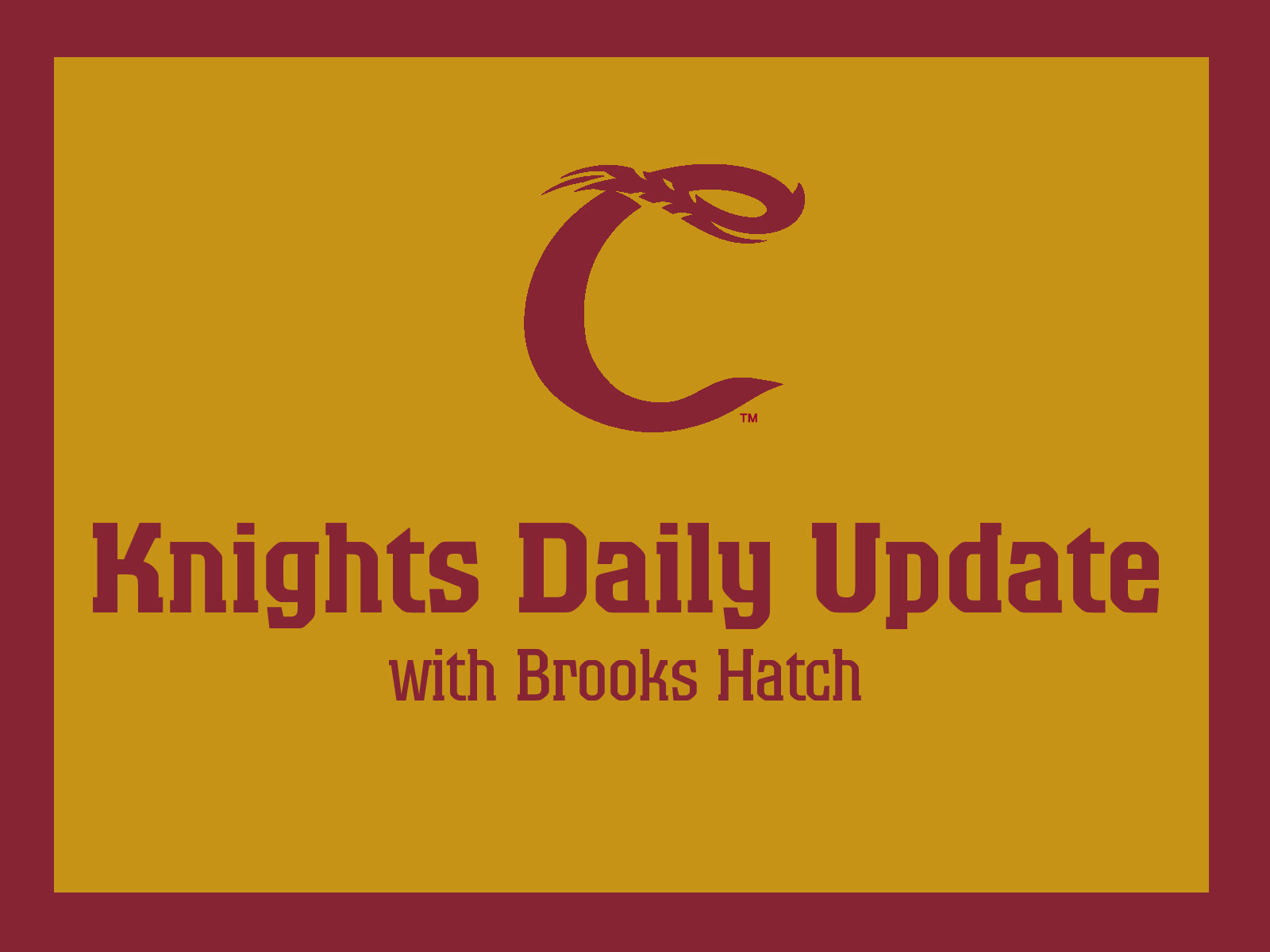 Brooks Hatch Blog: Knights Add Corban's Dom Baker to Pitching Staff
Happy Monday, everyone, from the world-wide headquarters (WWHQ) of the Corvallis Knights, your 2016 West Coast League champions!
—————
We open a three-game series at Wenatchee on Tuesday night. It's our final road series of the regular season.
Cal Poly sophomore Connor Redmond (1-2, 3.00) is our scheduled starter for the Knights. UC Riverside junior Trenton Toplikar (2-0, 5.95) goes on Wednesday night; Oregon State redshirt freshman Dakota Donovan (1-1, 5.21) starts on Thursday. All three games begin at 7:05 p.m.
We then close out the regular season by hosting Yakima Valley this Friday through Sunday. We have promotions planned for each night.
Friday is our Salute to OSU Baseball, and our Brooke Knight Bobblehead Night, presented by Coral Construction. The first 500 fans receive a bobblehead of our popular head coach. It is also a Fred Meyer Family Friday. Families can get vouchers at Fred Meyer stores in Corvallis and Albany to be redeemed for four reserved seats, four soft drinks, four hot dogs and four popcorns for only $44.
Saturday is Pioneer Fireworks Night, our third and final fireworks show of the summer.
Sunday is Wilson Motors Buyout the Ballpark Night and Hilton Garden Inn Fan Appreciation Night. Get your free ticket at Wilson Motors, on the corner of 5th Street and Buchanan Avenue. Also, Junior Knights Club members get in free.
The playoffs begin Aug. 8. Tickets for our WCL Divisional Series home playoff game set for Wednesday, Aug. 9, are now available. The WCL playoffs are powered by Pioneer. For tickets, click here; for more information, click here.
—————
We have bolstered our pitching staff for the final stretch of the West Coast League regular season and upcoming playoffs.
Rising Corban University senior right-hander Dom Baker rejoined the team on July 29 after spending much of the summer with the Salem Capitols of the Oregon Collegiate Baseball League. Baker began the season with the Knights as a 10-day signee, but was released in mid-June.
The Jerome, Idaho, native made his first appearance since returning on July 29 and threw a scoreless inning against the Oregon College Baseball League all-stars. He is now 0-0 with a 1.23 ERA in six appearances, with nine strikeouts in 7.1 innings.
His longest stint in his previous stay with the Knights was three innings in an 11-2 loss at Bend on June 11. He allowed one run and had three strikeouts.
While pitching for the Capitols, Baker allowed one run in 6.1 innings, had five strikeouts and was the loser in a 5-4 Knights' victory at Goss Stadium on July 25. He was 2-1, 1.29 in OCBL action, with 18 strikeouts in 14 innings.
Baker fills a vacancy in the pitching staff created by the recent departure of lefty Ross Massey. The rising junior at Tulane had to return to Louisiana to attend a family matter, and will not be back for the balance of the season.
The Baton Rouge native was 1-1, 4.90 in six games, with 16 strikeouts in 29.1 innings. He won his last start, at Port Angeles on July 15.
—————
What a week for Detroit pitcher Matt Boyd, a 2010 alum. First, his wife, Ashley, gave birth to their first child on July 27, a daughter named Meira Joy Boyd. Then, Boyd was his third game in a row since being recalled from triple-A Toledo with a 5-3 decision over the Astros on July 29.
Congrats to Matt, who played at Oregon State.
—————
Saturday night's game with the Oregon Collegiate Baseball League all-stars drew a crowd of 1,685. That raised our season attendance to 41,903 in 29 dates, an average of 1,445 per opening. We are 728 fans behind last year's attendance through a corresponding number of home dates.
—————
Elizabethton (R Appalachian, Twins) pitcher Ryley Widell (2016) had six strikeouts and allowed only two hits in four innings in a 9-1 win over Kingsport on Sunday to earn Corvallis Knights Minor League Player of the Day honors. He started but did not get the win because he did not pitch five innings. Ryley played at Washington State and at Arizona Central JC. Elizabethton catcher Andy Cosgrove (2014) hit his first professional homer.
Honorable mention goes to:
Montgomery (AA Southern, Rays) first baseman Dalton Kelly (2014) was 2-for-4 with an RBI in a 6-3 loss to Chattanooga, raising his average to .352. He played at UC Santa Barbara.
Lake County (A Midwest, Indians) catcher Logan Ice (2014) was 2-for-4 with two RBIs and a double in a 9-6 loss to West Michigan. He played at OSU.
Reno (AAA Pacific Coast, Diamondbacks) closer Jimmie Sherfy pitched a scoreless ninth, struck out two and earned his 16th save in a 6-4 win over Memphis. He played at Oregon.
Lancaster (A California, Rockies) catcher Chris Rabago (2012-13) was 2-for-4 with two doubles in a 9-8 loss to San Jose. He played at UC Irvine.
Helena (R Pioneer, Brewers) first baseman KJ Harrison (2015) was 3-for-5 with a run and two RBIs in an 8-1 win over Missoula. He played at OSU.
Jupiter (A Florida State, Marlins) pitcher Ben (Wetzler) Holmes had one strikeout in 1.2 scoreless innings in a 6-5 win over Lakeland. He also played at OSU.
—————
That's all for today. Have a great day, see you back here on Tuesday and back at Goss Stadium on Friday.