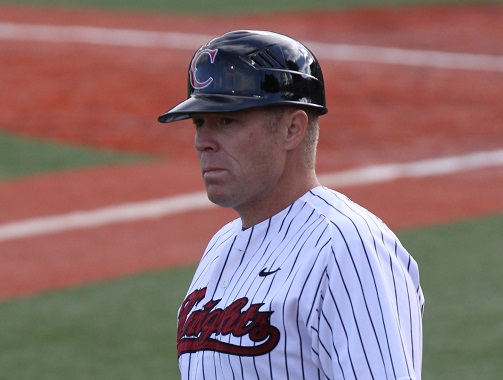 Brooks Hatch Blog: Brooke Knight in Contention for Baseball Australia Job
Happy Friday, everyone, from the world-wide headquarters (WWHQ) of the Corvallis Knights, your 2016-2017 West Coast League champions!
————–
Knights' manager Brooke Knight (pictured, above) has emerged as a serious candidate for the field manager's position with Team Australia Baseball, that country's national team.
Knight has a successful coaching history in Australia, having directed the Perth Heat to the 2011and 2012 Australian Baseball League championships. He also had a successful stint with the ABL's Adelaide Bite in 2014-15.
Team Australia hopes to have its new manager in place as early as possible in 2018 so it can begin to prepare for the upcoming 2019 Premier 12, Olympic qualification, 2020 Tokyo Olympics and 2021 World Baseball Classic events scheduled over the next three years.
"To even be mentioned in the discussion is quite an honor," said Knight, a Corvallis native who graduated from Crescent Valley High School before playing at Linfield, Oregon State and Western Oregon and in the minor leagues in the Milwaukee and Pittsburgh organizations.
"I've always had a passion for Australia and the community that encompasses Australian baseball. There are some real opportunities for Australia to continue to elevate its game, to liaison better with professional Australian-born talent, and to grow the game further at the grass-roots level."
For more on that emerging story, please click here.
————–
Alum Nick Madrigal (2015), a junior middle infielder at Oregon State, was named a first-team preseason All-American by the Collegiate Baseball website earlier this week.
Madrigal was named the Pacific-12 Conference Player and Defensive Player of the Year in 2017, when he hit a team-leading .380 with 20 doubles, two triples, four home runs and 40 RBIs.
He also was 16-for-20 on stolen bases and had a .979 fielding percentage.
Congrats to Nick, who was our 2015 MVP prior to his freshman season at OSU.
————–
The Lake Erie Crushers of the independent Frontier League have exercised their 2018 contract option on infielder Cody Lenahan (2013). The former University of Portland standout hit .227 (70-309) in 84 games with the team in 2017, with 11 homers and 50 RBIs. The Crushers are based in Avon, Ohio.
————–
Our 2018 season tickets are now on sale! You can save $10 when you renew or purchase new tickets by Dec. 31. For more details or to order your tickets online, please click here.
Tickets may also be purchased by calling us at 541-752-5656 or by visiting our office at 4th Street and Jefferson Avenue in downtown Corvallis. See you at the ballpark in 2018!
————-
That's all for today. Have a great weekend. We'll take Tuesday off for Christmas, and see you next Friday.