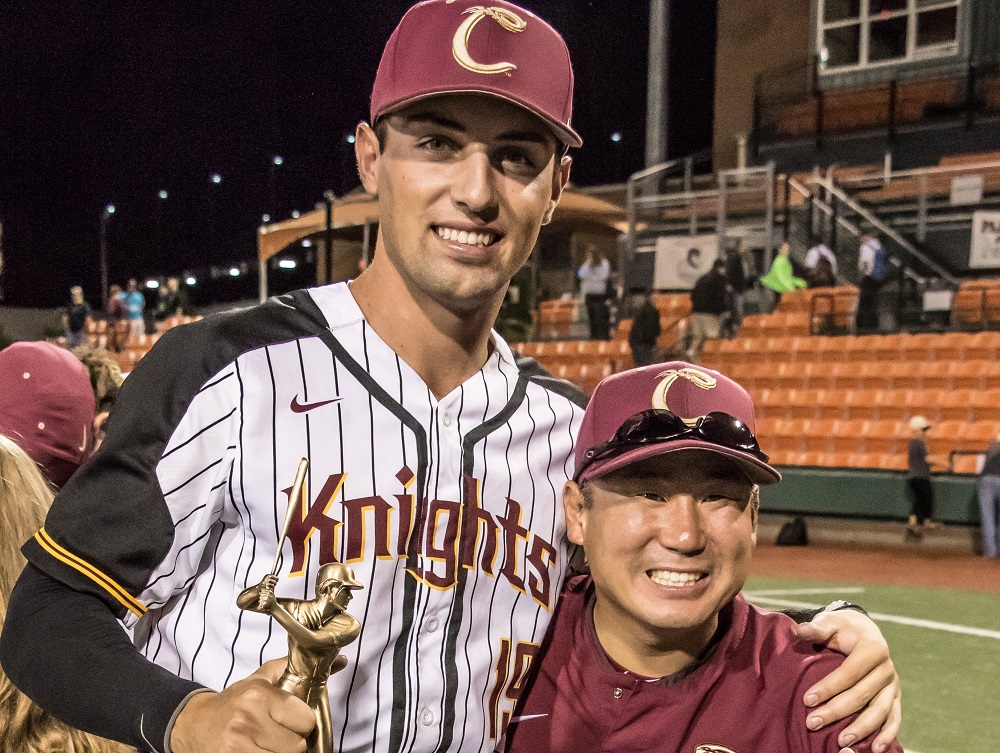 Brooks Hatch Blog: Alums Qsar, Kreuter Earn Player of the Week Honors
Happy Tuesday, everyone, from the world-wide headquarters (WWHQ) of the Corvallis Knights, your 2016-2017 West Coast League champions! Our May 30 opener with the Portland Sea Dogs is just 36 days away, so get ready for another great summer of Knights' baseball!
————–
Alum Jordan Qsar (2017, pictured above) of Pepperdine, the MVP of our 2017 WCL championship team and a first-team WCL all-star, earned West Coast Conference Player of the Week honors for April 16-22.
The junior outfielder led the Waves to a 4-0 week, hitting .412 (10-for-17) with 10 RBIs, a home run, a triple, two doubles and five runs scored. He slugged .824 and had an OPS of 1.268.
Qsar collected a hit in all four games and was 3-for-4 with two doubles, a triple, four RBIs and three runs in a series-opening win over San Diego. Qsar also had at least one RBI in three of the four games. He also recorded his fifth save of the season in the series finale against San Diego, pitching a scoreless final 1.2 innings.
Incoming Knights Eli Morse and Beau Brundage of Portland were nominated for WCC Pitcher and Player of the Week, but were not selected.
————–
Alum Cole Kreuter (2015-16) of UC Irvine was named the Big West Conference Field Player of the Week for April 16-22. The senior second baseman hit .357 (5-14), with seven RBIs, a .929 slugging percentage and three runs as the Anteaters went 4-0 with a win at UCLA and a series sweep of Cal State Northridge.
He hit a two-run homer against UCLA, had at least one hit in every game against Northridge, and blasted his second career grand slam in the April 22 finale. He also participated in a double play in each game.
Cal Poly's Darren Nelson (2017-18) was nominated for Pitcher of the Week but was not selected.
————–
Alum Tyler Malone (2017), who homered in every game of Oregon State's series sweep of Oregon, was nominated for Pac-12 Player of the Week but was not selected. Malone has homered in five consecutive games entering this weekend's home series with Arizona State.
————–
Hartford (AA Eastern Rockies) catcher Chris Rabago (2012-13) was 2-for-5 with a double and two RBIs in a 4-3 win over Portland on Monday night to earn Corvallis Knights Minor League Player of the Day honors. He played at UC Irvine.
Honorable mention went to:
*Reno closer Jimmie Sherfy pitched a scoreless ninth inning for his second save in a 4-3 win over Fresno. He played at Oregon.
*Albuquerque (AAA Pacific Coast, Colorado) pitcher DJ Johnson (2008-09) pitched a scoreless ninth inning and had two strikeouts to earn his second save in a 12-9 win at Salt Lake. He played at Mt. Hood CC.
*Montgomery (AA Southern, Rays) first baseman Dalton Kelly (2014) was 1-for-4 with a run, a double and two RBIs in a 5-4 loss to Biloxi. He played at UC Santa Barbara.
————–
Our 2018 season tickets are now on sale! For more details or to order your tickets online, please click here. Tickets may also be purchased by calling us at 541-752-5656 or by visiting our office at 4th Street and Jefferson Avenue in downtown Corvallis. See you at the ballpark in 2018!
We also have three fireworks nights and tons of other promotions planned for this summer. Our entire promotional schedule is also available, by clicking here.
————–
The Bellingham Bells have signed right-handed pitcher Nick Hull, a Grand Canyon freshman, for the 2018 season. He is from Bothell, Wash. Please click here for more on that story, from Our Sports Central.
————–
That's all for today. Have a great week, and we will see you on Friday.