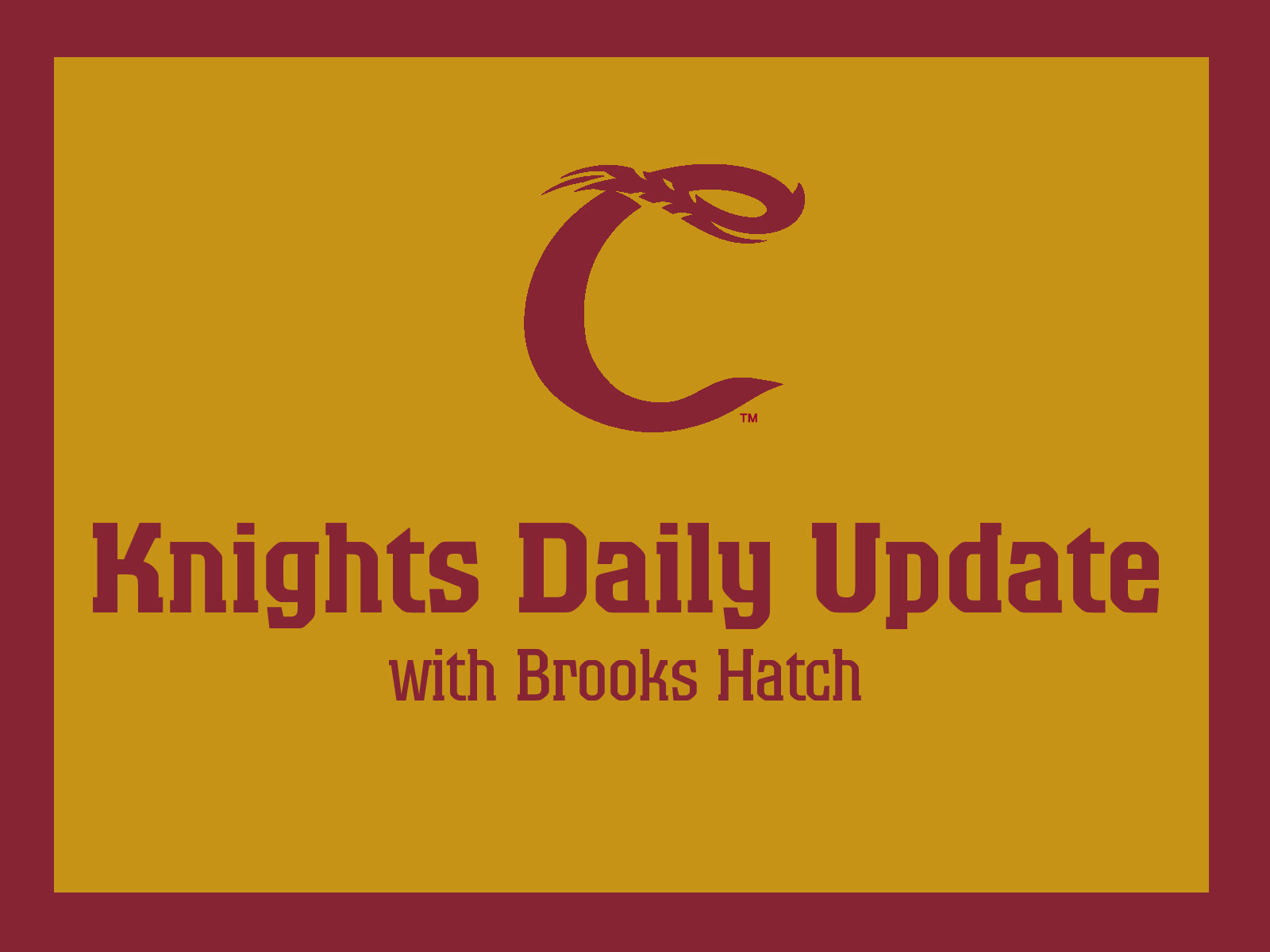 Brooks Hatch Blog: Alums Nate Esposito, Caleb Whalen Promoted
Happy Friday, everyone, from the world-wide headquarters (WWHQ) of the Corvallis Knights, your 2016 West Coast League champions!
—————
The Knights and Wenatchee split our makeup doubleheader on a hot, smoky night at Goss Stadium on Thursday. The AppleSox won the opener 10-7; we won the nightcap, 6-3.
We are now just two wins away from clinching home-field advantage throughout the upcoming West Coast League playoffs.
We will complete the home portion of the regular season by hosting Yakima Valley tonight through Sunday. We have promotions planned for each night.
Tonight is our Salute to OSU Baseball, and our Brooke Knight Bobblehead Night, presented by Coral Construction. The first 500 fans receive a bobblehead of our popular head coach. It is also a Fred Meyer Family Friday. Families can get vouchers at Fred Meyer stores in Corvallis and Albany to be redeemed for four reserved seats, four soft drinks, four hot dogs and four popcorns for only $44.
Saturday is Pioneer Fireworks Night, our third and final fireworks show of the summer. Please note the 7:05 p.m. starting time.
Sunday is Wilson Motors Buyout the Ballpark Night and Hilton Garden Inn Fan Appreciation Night. Get your free ticket at Wilson Motors, on the corner of 5th Street and Buchanan Avenue. Also, Junior Knights Club members get in free.
We may have one final game, a makeup contest at Wenatchee on Monday night, if it impacts the South Division pennant race. We'll know by Sunday night if we must make the trip up to the Wenatchee Valley.
The playoffs begin Tuesday. Tickets for our WCL Divisional Series home playoff game set for next Wednesday are now available. The WCL playoffs are powered by Pioneer. For tickets, click here; for more information, click here.
—————
Some alumni news to report.
The Kansas City Royals have promoted catcher Nate Esposito (2012) to Omaha in the triple-A Pacific Coast League. He had been at Lakewood of the advanced-A Carolina League. Nate played at Oregon State and at Concordia.
The Milwaukee Brewers have promoted outfielder Caleb Whalen (2012) to Carolina of the advanced-A Carolina League. He had been playing at Wisconsin in the low-A Midwest League. Caleb played at the University of Portland.
The Chicago White Sox have released pitcher Max Beatty (2010-12). He played at high-A Winston-Salem for much of the season and had a cup of coffee with triple-A Charlotte, where he won a game. He was  2-4, 4.66 in 12 games at Winston-Salem, with 34 strikeouts in 46.1 innings.
—————
Last night's doubleheader was not a regularly-scheduled game and thus won't count toward our season attendance. We figured about 250 fans too advantage of the special $1 tickets, not bad at all considering the late notice and the 100-degree heatwave.
Our July 29 game with the Oregon Collegiate Baseball League all-stars drew a crowd of 1,685. That raised our season attendance to 41,903 in 29 dates, an average of 1,445 per opening. We are 728 fans behind last year's attendance through a corresponding number of home dates.
—————
Time to update the stats of our alums in affiliated baseball. We did the position players on Thursday; today we update the pitchers.
CAMERON BISHOP (A Aberdeen, New York-Penn): The lefty from UC Irvine (2015-16) is 0-0, 0.00 in two games, with eight strikeouts in 6.2 innings.
CASEY BLOOMQUIST (A Myrtle Beach, Cubs): The righty from Cal Poly (2013) is 3-4, 6.63 in 24 games, with two saves and 46 strikeouts in 58.1 innings.
NICK DURON (A Lowell, Red Sox): The righty from Clark CC (2014) is 2-3, 3.86 in eight games, with 19 strikeouts in 32.2 innings.
TREVOR FRANK (A Lake Elsinore, Padres): The righty from UC Riverside (2012) is 3-1, 3.89 in 33 games, with seven saves and 51 strikeouts in 41.2 innings.
JACE FRY (AA Birmingham, White Sox): The lefty from Oregon State (2011) is 0-1, 3.34 in 26 games, with three saves and 42 strikeouts in 35 innings.
SAM GAVIGLIO (AAA Tacoma, Mariners): The righty from Oregon State (2009) is 3-4, 3.26 in eight games, with 31 strikeouts in 49.2 innings.
TED HAMMOND (A Everett, Mariners): The righty from Seattle U (2015) is 0-0, 6.00 in 13 games, with 13 strikeouts in 18 innings.
BEN (Wetzler) HOLMES (A Jupiter, Marlins): The lefty from Oregon State (2011) is 0-5, 4.17 in 26 games, with 46 strikeouts in 58.1 innings.
CHASE JOHNSON (AAA Sacramento, Giants): The righty from Cal Poly (2011) is 0-2, 4.35 in six games, with nine strikeouts in 10.1 innings. He is on the 7-day disabled list.
DJ JOHNSON (AA Hartford, Rockies): The lefty from Mt. Hood CC (2008-09) is 1-1, 3.00 in 35 games, with three saves and 40 strikeouts in 51 innings.
SLATER LEE (ARL ATHLETICS): The righty from Cal Poly (2015) is 1-0, 4.50 in eight games, with a save and 13 strikeouts in 12 innings.
GREG MAHLE (AA Mobile, Angels): The lefty from UC Santa Barbara (2012) is 4-0, 3.71 in 20 games, with four saves and 24 strikeouts in 26.2 innings.
STEPHEN NOGOSEK (A St. Lucie, Mets): The righty from Oregon (2013) is 0-0, 0.00 in one game, with a strikeout in one inning. He was traded by Boston to the Mets last week.
JIMMIE SHERFY (AAA Reno, Diamondbacks): The righty from Oregon (2011) is 2-0, 1.99 in 36 games, with 16 saves and 52 strikeouts in 40.2 innings.
AUSTIN SODDERS (A Lakeland, Tigers): The lefty from Riverside CC (2014) is 1-3, 1.16 in seven games, with 33 strikeouts in 46.2 innings.
RYLEY WIDELL (R Elizabethton, Twins): The lefty from Washington State (2016) is 0-0, 0.90 in three games, with 12 strikeouts in 10 innings.
—————
Lakeland (A Florida State, Tigers) pitcher Austin Sodders (2014) allowed two runs and three hits, had four strikeouts over eight innings and got the victory in a 5-2 win over Daytona to earn Corvallis Knights Minor League Player of the Day honors. He played at Riverside CC and at UC Riverside.
Honorable mention goes to:
Lancaster (A California, Rockies) catcher Chris Rabago (2012-13) was 2-for-4 with an RBI in a 5-2 win over Rancho Cucamonga. He played at UC Irvine.
St. Lucie (A Florida State, Mets) reliever Stephen Nogosek (2013) got a hold and had one strikeout in a scoreless inning in a 6-2 win over Tampa. It was his first game with the Mets, who acquired him in a trade with Boston earlier this week. He played at Oregon.
Birmingham (AA Southern, White Sox) pitcher Jace Fry (2011) had his third save with 1.1 innings of scoreless relief in a 5-2 win over Pensacola. He struck out two. Jace played at Oregon State.
Helena (R Pioneer, Brewers) first baseman KJ Harrison (2015) was 2-for-4 with a homer, a double, two runs and two RBIs in a 5-2 win over Grand Junction. He played at OSU.
—————
That's all for today. Have a great weekend, and we'll see you back here on Monday and at Goss Stadium on Wednesday for our playoff openers.