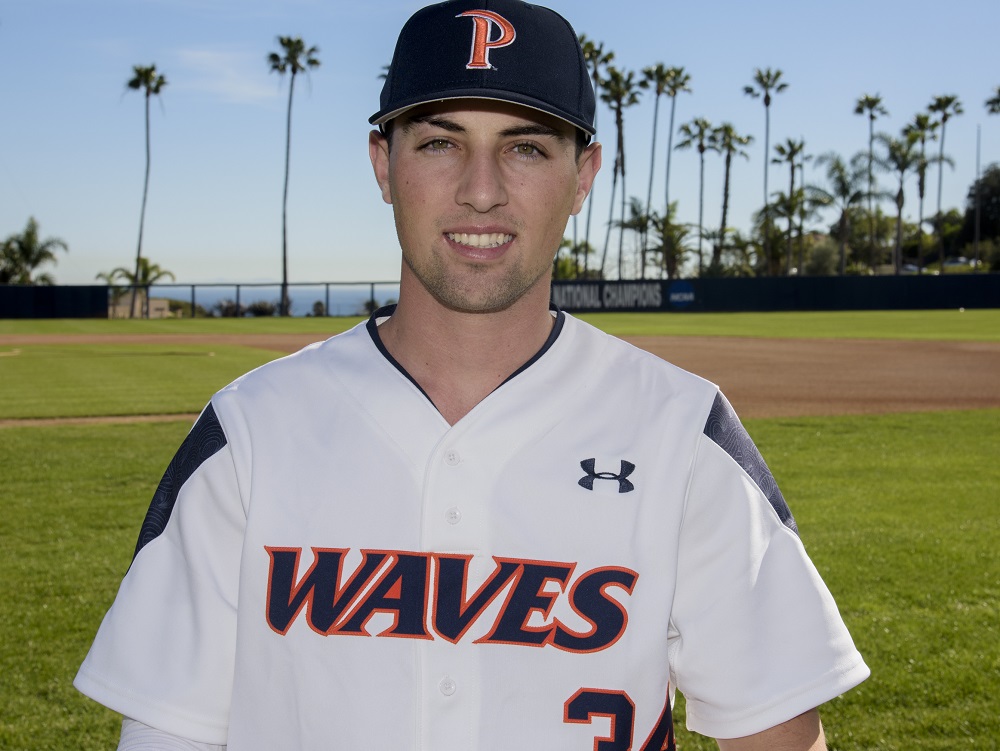 Brooks Hatch Blog: 2017 MVP Jordan Qsar Named First-Team All-American
Happy Friday, everyone, from the world-wide headquarters (WWHQ) of the Corvallis Knights, your 2016-2017 West Coast League champions!
————–
Lots of honors for former/future Knights to announce!
Pepperdine utility Jordan Qsar (pictured, above), our 2017 MVP and the 2018 West Coast Conference Player of the Year, earned first-team All-American honors from Collegiate Baseball. Click here for more on that story.
Catcher/first baseman Adley Rutschman (2016) of Oregon State was named a second-team All-American by Baseball America and a third-team All-American by Collegiate Baseball. He also was a first-team Pac-12 all-star, and on the all-defensive team.
OSU second baseman Nick Madrigal (2015) was named a third-team All-American by Baseball America and a first-team Pac-12 all-star and a member of the all-defensive team.
OSU outfielder Steven Kwan (2015) was named a first-team Pac-12 all-star. We're not sure how he didn't make the all-defensive team, too, but somehow he didn't. Please click here for All-American news, and here for all-Pac-12 news on OSU's post-season honorees.
Washington catcher Nick Kahle (2016) was a first-team Pac-12 all-star; Stanford pitcher Brendan Beck (2018) earned honorable mention.
Congrats to all for a job well done!
————–
Three alums were honored by the Big West Conference.
Infielder Clay Fisher (2015) of UC Santa Barbara was first-team all-league. Infielder Cole Kreuter (2015-16) of UC Irvine was second-team all-league, and UC Riverside pitcher Trenton Toplikar earned honorable mention.
Congrats to all three for a job well done!
————–
A franchise-record crowd of 3,581 jammed Goss Stadium on Wednesday for our  seventh annual Science, Engineering & Art Day game against the Portland Sea Dogs.
It was the earliest opening day in team history. The old attendance record of 3,506 was set on July 3, 2009, in a Fireworks Night game against the Bend Elks.
We now head to Arcata, Calif., for a three-game series against the Humboldt Crabs, starting at 7 p.m. Friday. Game 2 is set for 7 p.m. Saturday; the series concludes at 12:30 p.m. on Sunday.
There will be no radio coverage. You can follow the game online at the West Coast League site by clicking here.
————–
Our 2018 season and single-game tickets are now on sale! For more details or to order your tickets online, please click here. Tickets may also be purchased by calling us at 541-752-5656 or by visiting our office at 4th Street and Jefferson Avenue in downtown Corvallis. See you at the ballpark in 2018!
We also have three fireworks nights and tons of other promotions planned for this summer. Our entire promotional schedule is also available, by clicking here.
————–
New West Coast League commissioner Rob Neyer announced the league is partnering with Moss Adams, a leading accounting & consulting firm with deep roots in the Pacific Northwest.
Moss Adams will act as the league's official accounting firm beginning this upcoming season. Also, the West Coast League's Player of the Week honor will be announced as the Moss Adams Player of the Week.
The league chooses a position player and pitcher each week for Player of the Week honors based on performance and announces its selections on each Monday during the season.
For more details, please click here.
————–
Montgomery (AA Southern, Rays) first baseman Dalton Kelly (2014) was 2-for-3 with a double, two RBIs and two walks in a 14-8 loss to Jacksonville on Thursday night to earn Corvallis Knights Minor League Player of the Day honors. Dalton played at UC Santa Barbara.
Honorable mention goes to:
San Antonio (AA Texas, Padres) second baseman Peter Van Gansen (2013) was 2-for-4 with a double and an RBI in a 6-0 win over Tulsa. He played at Cal Poly.
St. Lucie (A Florida State, Mets) reliever Stephen Nogosek (2013) pitched two scoreless, hitless innings, struck out one and earned his fourth hold in a 3-2 win over Jupiter. He played at Oregon.
Oklahoma City (AAA Pacific Coast, Dodgers) catcher Rocky Gale (2007, 2009) was 1-for-4 with a run and an RBI in a 9-6 win over Omaha. He played at Portland.
————–
That's all for today. Have a great weekend, Go Beavers, and we will see you on Tuesday.