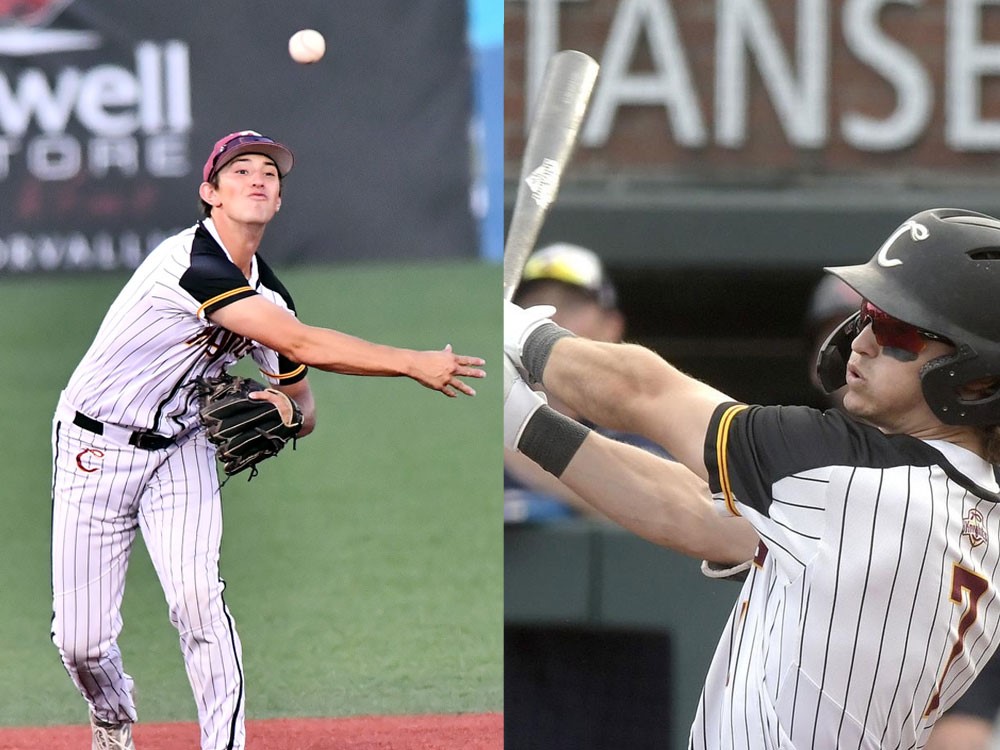 Alums Jake Holcroft and Brooks Lee named projected Player of the Year in their respective conferences
Corvallis, Ore., Saturday, January 23, 2021 – Corvallis Knights alumnus Jake Holcroft of University of Portland was named the projected Player of the Year of the West Coast Conference by Collegiate Baseball Newspaper (Jan. 6, 2021 issue), and his 2019 summer teammate Brooks Lee of Cal Poly was CBN editor Lou Pavlovich's pick as the projected Big West Player of the Year.
Both players starred for the 2019 West Coast League champions and Perfect Game Summer Collegiate Team of the Year – the Corvallis Knights.
Holcroft set a single-season WCL hits record (82), captured the league's batting crown (.368) and earned first-team all-WCL honors. Lee was also a first-team all-league selection, and he was named the West Coast League's top prospect.
Jake and Brooks were both slated to play in the Cape Cod League last summer, but with its cancellation because of COVID-19 they made the best of things. Jake stayed in Portland and led the West Linn Knights (coached by Corvallis skipper Brooke Knight) to a Wild Wild West League title. The WWWL was a first-year, four-team summer collegiate league that was created by the Portland Pickles to allow area players to play ball during the pandemic. All games were played at North Marion High School and Jake was named the league's MVP.
Coming off an injury that limited Brooks freshman year to a couple pinch-hitting appearances, Lee landed a spot with the Willmar Stingers of the Northwoods League, and hit. 345 with 7 doubles, 4 home runs and 35 RBIs. He opened his 2020 summer season with a 19-game hitting streak.
Last spring, Holcroft stayed sizzling, hitting .484 with 7 doubles, 2 triples and 2 home runs over 16 games before the Pilots season was cut short due to COVID-19. His 30 hits were second most in NCAA DI baseball, and his batting average ranked him third in the nation. He was named a Freshman All-American by Collegiate Baseball Newspaper.
Lee, who was selected in the 35th round of the 2019 MLB draft by San Francisco, was ranked the #3 overall player amongst draft-eligible four-year schools by Baseball America. Brooks, a switch-hitting shortstop, will be a redshirt freshman this spring. Holcroft, a left-handed hitting outfielder, will be a redshirt COVID freshman in 2021.
We were lucky enough to catch-up with Brooks and Jake this past week. We shared excitement for the upcoming season with both former Knights, and got some cool insight on things. Check out our interview below, first Brooks and then Jake.
Brooks Lee
KNIGHTS: How are you feeling and what has you most excited about the upcoming season and Stangs?
BROOKS: I have been feeling great and been preparing for the upcoming season both physically and mentally. I feel that we have a deeper bullpen and better starting pitching this year with the addition of better defenders. I believe we will hit just fine over the course of the season starting games off hot with our first couple of batters who get on base very often.
KNIGHTS: What do you like more, surfing or baseball? And how are the two similar for you?
BROOKS: I love surfing and I always will, but baseball has my heart by a long shot. I can't imagine doing anything else. Surfing helps me with upper body strength and endurance and being calm in situations by helping my breathing. Both bring me so much joy, but I tend to compete with myself in surfing as I do in baseball because I want to get better but sometimes it's better just to relax and enjoy it.
KNIGHTS: What was your fondest memory of your 2019 summer in Corvallis?
BROOKS: My favorite memory was easily winning the WCL championship game at home and getting to dogpile and celebrate an amazing summer in high fashion. It was fun to be on a dominant team that not only played good but was very tight off the field. I have always been grateful for the memories from my 2019 summer with Corvallis!
KNIGHTS: What's up with all the goats at the Lee's place?
BROOKS: Originally those goats were mine. I got them for my 15th birthday. There was a goat on the corner of my neighborhood street that I would always visit when I drove by and pet. That sparked my mom to get me two pygmy goats which mean they are miniature. I bottle fed and took care of them for a few months before my mom took over because it was too time consuming. They are a crack up, always fighting each other and nipping at your clothes.
Jake Holcroft
KNIGHTS: What are your expectations for the 2021 spring season and what are the Pilots strengths?
JAKE: Our expectation is to win the WCC. We have everyone back from last year and I think our experience and depth will help us this season.
KNIGHTS: Looking back at summer 2019, estimate how many Yoon love poses you executed during games. And what does Yoony mean to the team?
JAKE: The Yoon pose after every double or triple is my favorite Knight tradition. I'm not sure how many I was able to execute out there but we loved having fun with it and putting a smile on Yoony's face. Yoon helps create an amazing team culture and environment. He meant a lot to our success and the energy of the team.
KNIGHTS: What was your fondest memory of your 2019 summer in Corvallis?
JAKE: Looking back, my best memory was the dogpile after the championship game. Couldn't think of any other way to finish out the long summer.
KNIGHTS: Who has better hair, you or Henry Cheney, and why? And, who is a better interview, Tracer (Tammaro) or Chad Chad (Stevens), and why?
JAKE: Henry's hair is hard to beat. He takes care of those locks like it's his baby. I'd go with Tracye as the best interviewer because you never know what to expect. He's "absolutelyelectric" with the camera on him.
Note- Cheney (2017), Tammaro (2018-2019) and Stevens (2017-2018) are all Corvallis Knights alums and current teammates of Jake Holcroft at University of Portland.