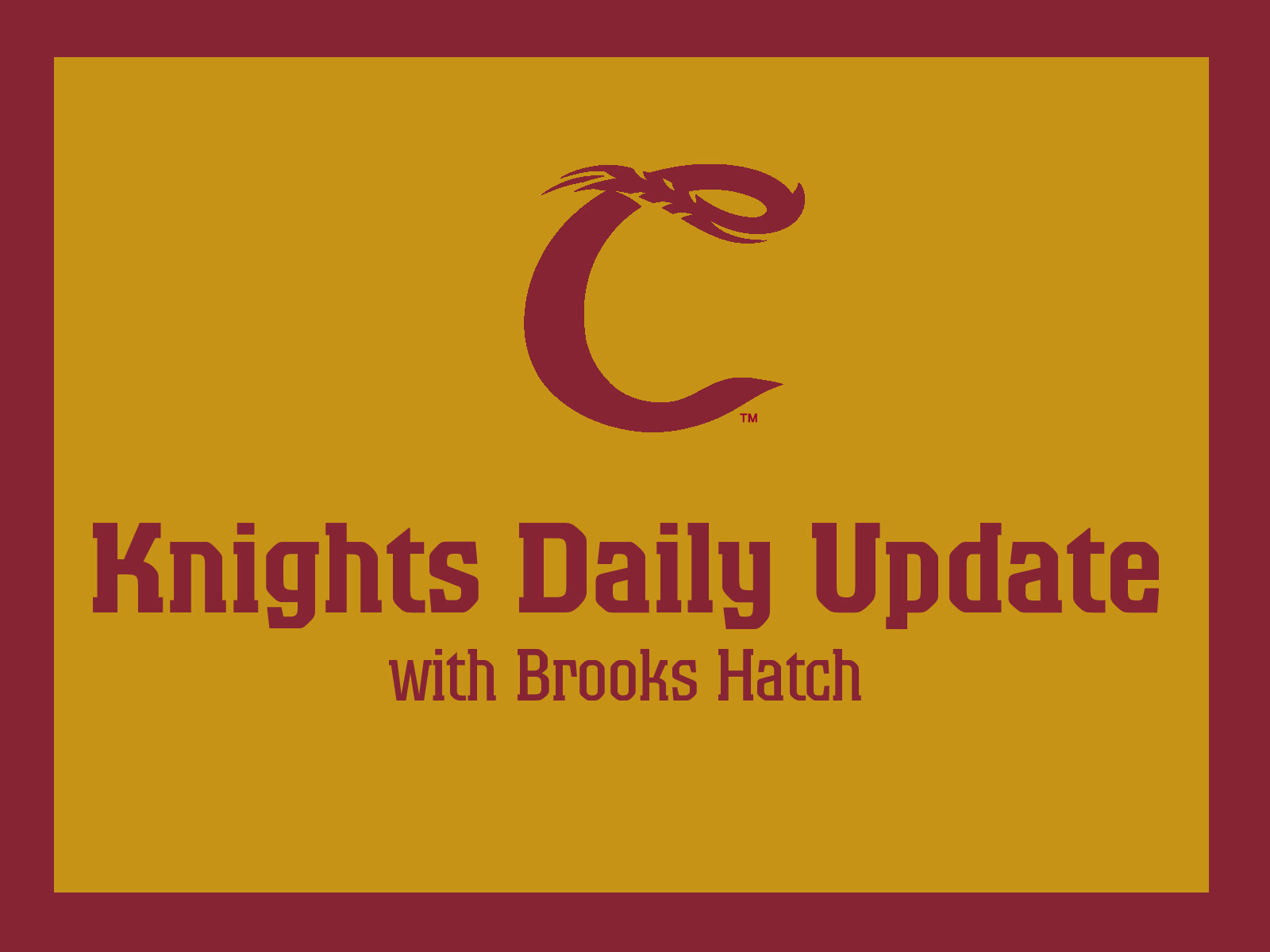 Brooks Hatch Blog: Knights Open Five-Game Homestand Tonight
Happy Tuesday, everyone, from the world-wide headquarters (WWHQ) of the Corvallis Knights, your 2016 West Coast League champions!
—————
The Knights fell 5-3 at Yakima Valley on Monday night in Game 3 of their South Division series. We headed home after the game and concluded a 9-game road trip with two series wins and a 4-5 record.
We're home at 6:40 tonight against the Salem Capitols of the Oregon Collegiate Baseball League in a nonconference game. We resume WCL action against Gresham on Wednesday through Friday, and conclude the five-game homestand on Saturday with a nonconference tilt against the OCBL all-stars.
Our starting pitchers are lefty Tanner Cantwell (0-1, 14.21) tonight; lefty Cason Cunningham (1-0, 1.68) on Wednesday; righty Dakota Donovan (1-1, 3.85) on Thursday; righty Cole Spear (2-1, 5.22) on Friday and lefty Ross Massey (1-1, 4.90) on Saturday.
We have lots of promotions planned.
Tonight is Les & Bobs T-Shirt Giveaway Night presented by SERVPRO. The first 250 fans get Knights t-shirts. It's also a 2 Towns Tuesday, with special discounts on hard cider.
Wednesday is Ladies Night, presented by Heresco Chiropractic. It's also a Wine Wednesdays & Senior Discount Night. Enjoy specially-priced pours of Spindrift wines, and $2 Senior (60+) general admission tickets. As part of our Ladies Night activities, join us for our first yoga session in the outfield from 5:30-6:15 p.m. Get access to pre-game yoga and the game for a special admission fee of $10.
Thursday is Holiday Inn Express Baseball Giveaway Night. The first 500 fans will receive a baseball. It is also a Thirsty Thursday; enjoy specially-priced beverages at the ballpark.
Friday is Les Schwab Portland Trail Blazers Night, presented by Washington Park Advisors. It's also a Fred Meyer Family Friday. Families can get vouchers at Fred Meyer stores in Corvallis and Albany to be redeemed on Fred Meyer Family Fridays for four reserved seats, four soft drinks, four hot dogs and four popcorns for only $44.
Saturday is Cap Night, presented by Alyrica Internet. The first 750 fans will receive Knights' caps.
See you at Goss!
—————
Tickets for our WCL Divisional Series home playoff game set for Wednesday, Aug. 9, are now available. The WCL playoffs are powered by Pioneer. For tickets, click here; for more information, click here.
—————
The Lake Erie Crushers of the independent Frontier League have placed third baseman Cody Lenahan (2013) on the 7-day disabled list. The Portland product is hitting .207 (37-179) in 47 games, with eight homers and 28 RBIs.
—————
San Antonio (AA Texas, Padres) outfielder Nick Torres (2012) was 3-for-5 with two runs, a homer and three RBIs in a 10-1 win over Corpus Christi on Monday night to earn Corvallis Knights Minor League Player of the Day honors. He played at Cal Poly.
Honorable mention goes to:
El Paso (AAA Pacific Coast, Padres) second baseman Peter Van Gansen (2013) was 3-for-4 with two runs and an RBI in a 14-6 win over Omaha. The Cal Poly product is hitting .429 since being promoted to triple-A.
El Paso (AAA Pacific Coast, Padres) catcher Rocky Gale (2007, 2009) was 2-for-3 with three runs in a 14-6 win over Omaha, raising his average to .297. He played at Portland.
Lake County (A Midwest, Indians) catcher Logan Ice (2014) was 4-for-4 with a run and two RBIs in an 8-6 win over Clinton. He played at Oregon State.
Elizabethton (R Appalachian, Twins) pitcher Ryley Widell (2016) allowed one run and had three strikeouts in a 15-4 win over Pulaski. He was not involved in the decision. Ryley played at Washington State and at Arizona Central JC.
—————
West Virginia redshirt freshman catcher Chase Illig of the Bellingham Bells and UC Santa Barbara freshman pitcher Chris Lincoln of the Walla Walla Sweets were named the West Coast League Player of the Week and Pitcher of the Week for the week of July 17-23.
Illig's week got started off with a bang by winning the West Coast League All-Star Game Home Run Derby at Yakima County Stadium on July 18. He then had five homers and 14 RBIs while going 9-for-19 (.474) over the rest of the week.
Lincoln tossed 6.2 electric innings against Corvallis at Borleske Stadium on July 19 to earn the win in the Sweets' 3-0 victory. The right-hander, selected in the 13th round of the 2016 MLB draft by Toronto, only allowed two hits and struck out 12.
Click here for more details.
—————
That's all for today. Have a great day, see you at the ballpark tonight and Wednesday night, and back here on Thursday.