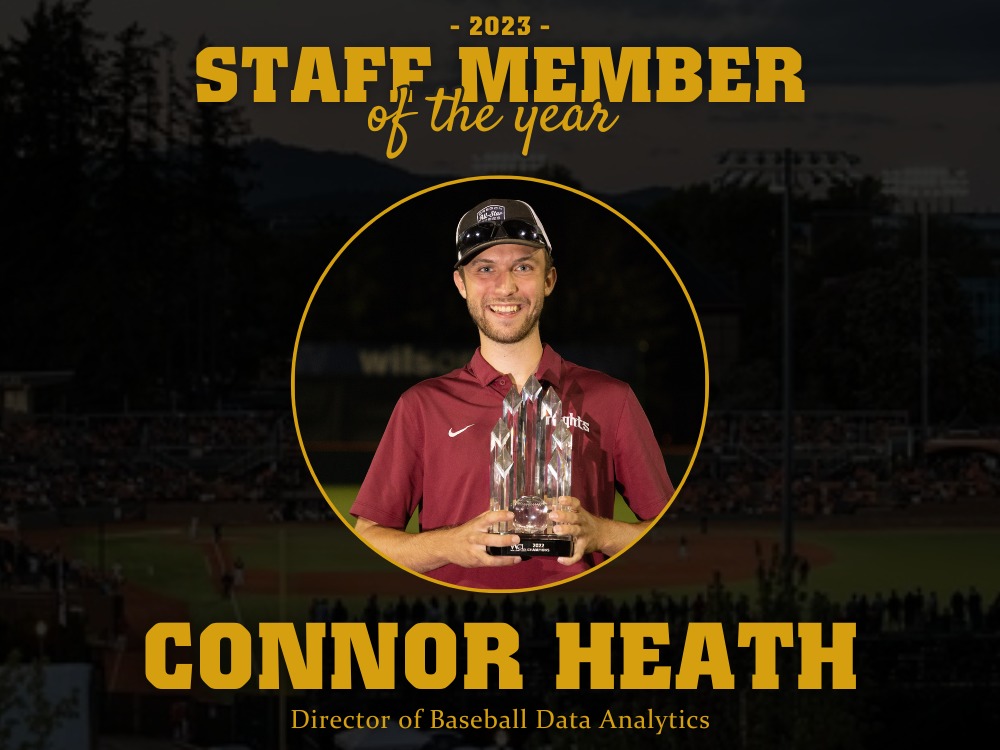 Connor Heath Named 2023 Staff Member of the Year
Tuesday, September 26, Corvallis, Ore. – Oregon State University student Connor Heath, the Corvallis Knights Director of Baseball Data Analytics, was named the club's 2023 Staff Member of the Year as voted on by the team's front office. A graduate of Grant High School in Northeast Portland, Heath joined the Knights in 2022 as an intern. He was promoted in 2023 and contracted to lead the Corvallis Knights data analytics department.
Heath has worked with the Oregon State Dam Analytics Squad over the last two school years. This past summer with Corvallis, he managed two data analytics interns, was the team's Pointstreak administrator and helped with office management and ticketing. In addition, he assisted the West Coast League with their weekly Trackman leaderboards.
His expertise was critical to the Knights success as Heath and his analytics teammates, Kai Nushida (Oregon State) and Caleb Mitchell (Oregon), were a big part of the club's championship run. Connor helped prepare for each series by delivering in-depth opposition scouting reports to the coaching staff.
"Connor was instrumental in the team's success and player development," said Knights skipper Brooke Knight. "He's a diligent worker who has a full understanding of how to take advantage of data and video to put his team and student-athletes in a position to advance. The guy was a difference maker and has a bright future."
Heath will be a senior at OSU and is majoring in mechanical engineering. This fall, he will begin his third season with the Dam Analytics Squad.
"We are incredibly proud of Connor and are completely unsurprised that he has earned this honor," raved OSU Baseball Director of Baseball Analytics and Advanced Scouting Brad Brown. "He is a tireless worker whose passion and intelligence for the game oozes from every project he touches. We are excited for Connor and his future and know that he will leave a positive lasting impression in Major League Baseball in the very manner he has at Oregon State Baseball and the Corvallis Knights."
At Grant, Heath was a four-year letterman in golf. As a big Seattle Mariners and Portland Beavers fan growing up, Connor took a liking to baseball and statistics. He also enjoys spending his free time golfing, hiking, running, and watching sports.
"We are incredibly proud of Connor," said Knights Baseball Club CEO Dan Segel. "His work ethic and attention to detail is impressive for a young person. He knows the game and relates with coaches and players. He made the Knights better, game-to-game, series-to-series. It's a thrill that he's receiving this honor as player development is our organization's top priority and Connor exemplifies that, and he makes it about the player and team first."
The organization's Staff Member of the Year Award is one of the club's highest honors. Previous winners were the late Jennifer Beaumont (2021), Derek Buchheit (2020 & 2022), Sarah Hoechlin (2019), Nicole Schroeder (2018), Jared Carr (2017), Melissa Sullivan (2016), Anna Seydel (2015), Brooks Hatch (2014), Lil' K and Mack the Knight (2013), Jeremy Ainsworth (2012), Bre Miller (2011), Doug Blair (2010), Brian Brooks (2009), Stro Strohmeyer (2008) and Holly Jones (2007).
This past season, Corvallis won its seventh consecutive West Coast League title.