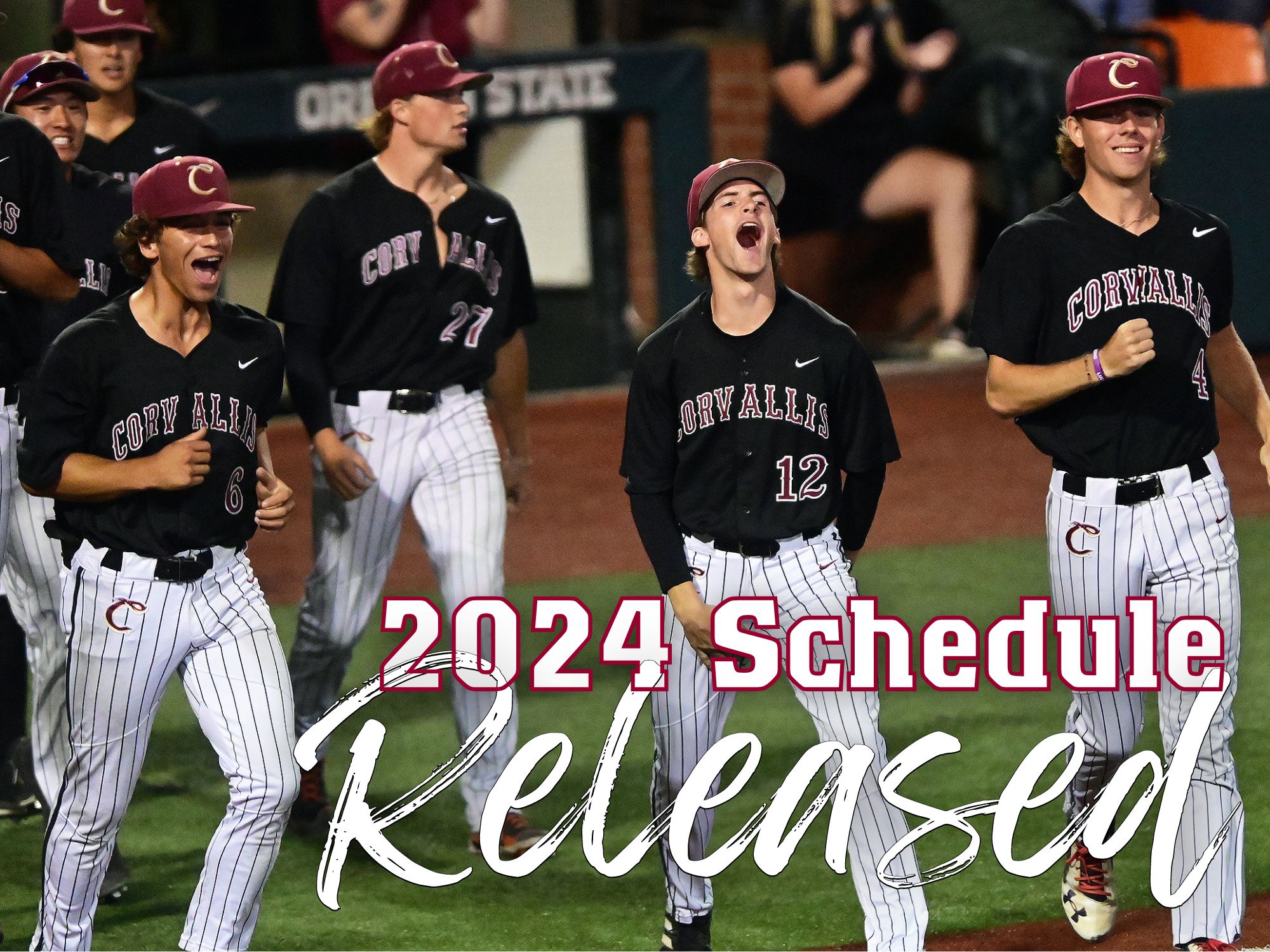 Corvallis Knights Unveil 2024 Schedule
Monday, November 13, Corvallis, Ore. – The seven-time defending West Coast League champion Corvallis Knights released their 2024 schedule today following the West Coast League's schedule announcement this past week.
This summer, OSU's Goss Stadium at Coleman Field will host 32 Corvallis Knights home games, as the ten-time West Coast League champions welcome eight WCL and three non-league opponents.
For the first time, Linn-Benton Community College in Albany will host a West Coast League contest as Corvallis and the Yakima Valley Pippins match-up on July 10th at Dick McClain Field. The start time is set for 5 pm.
The 2024 campaign opens with the Knights 11th annual Science, Engineering & Art Day presented by Paventy & Brown Orthodontics on Thursday, May 23 at 10 am. Corvallis will once again welcome elementary schools from the area and treat them to a wood-bat baseball game vs. the NW Star Nighthawks as well as feature interactive exhibits positioned inside and outside Goss Stadium for students to visit, discover and enjoy.
The hometown team's WCL home opener is set for Friday, June 14 vs. the Port Angeles Lefties.
This upcoming season, Corvallis will play 25 of its 60 games against clubs from Oregon (9 against Springfield, 9 against Bend, 6 against Portland, 1 against Albany's Mid Valley Southpaws American Legion team), which is a franchise high in the Corvallis era. The Knights will play 48 of its 54 league games against South Division foes.
Corvallis heads to Canada for the last series of the regular-season August 5-7 to take on the Victoria HarbourCats in a rematch of last summer's WCL Championship Game. The Knights and HarbourCats have faced off in the WCL finals three times over the past six seasons, with Corvallis edging the Cats each time.
The Knights 2024 schedule will also feature a full slate of promotions including two pyrotechnic displays, one on the team's annual Oregon State Credit Union July 3rd Fireworks Night; and a finale on Saturday, August 3.
To check out the complete West Coast League schedule, click here.
Corvallis Home Dates and Opponents:
May 23: NW Star Academy (SEA Day)
June 14-16: Port Angeles Lefties
June 18-20, 22: Springfield Drifters
June 25-27: Cowlitz Black Bears
June 28-29: Cascade Collegiate League
June 30: Mid Valley Southpaws
July 2-3: Ridgefield Raptors
July 10: Yakima Valley Pippins (at Linn-Benton CC)
July 11: Yakima Valley Pippins (doubleheader)
July 15-16: Springfield Drifters
July 18: NW Star Academy
July 19: Bend Elks
July 24: Ridgefield Raptors
July 26-28: Portland Pickles
July 29-31: Walla Walla Sweets
August 1: Cascade Collegiate League
August 3-4: Bend Elks
To check out the Knights complete 2024 schedule, click here.