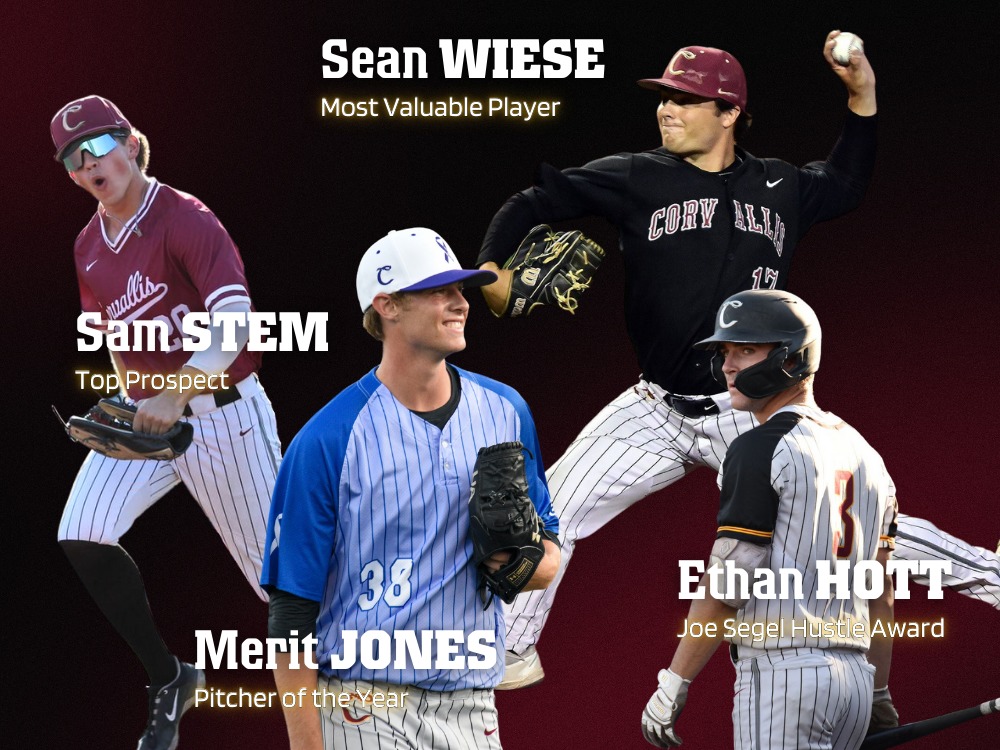 Corvallis Knights Announce Team Awards
Wednesday, August 23, Corvallis, Ore. – The West Coast League champion Corvallis Knights announced their annual team awards this morning as voted on by the coaching staff.
This season's MVP is pitcher Sean Wiese. The southpaw was stellar once again out of the bullpen, earning first-team all-WCL honors. The third-year Knight made 16 regular-season appearances, logged 35.1 innings and went 6-0 with two saves while posting a 2.80 ERA. In the post-season, Wiese closed out the Knights clinching home win versus Cowlitz, earning a save. He also closed out both the WCL South championship game and WCL title contest at Goss Stadium. Sean, who pitched last spring at Hawaii, also earned first-team all-WCL honors for Corvallis in 2022. Over three summers with Corvallis, Wiese has made 54 appearances and went 12-1 with 13 saves while striking out 108 and walking only 20 in 123 innings pitched.
Sean is headed to Arizona Christian this fall after pitching at George Fox from 2020-2022 and Hawaii in 2023.
Ace starter Merit Jones of Utah was the coaches selection for Top Pitcher. The rising sophomore was brilliant in the postseason, earning WCL Pitcher of the Week honors for August 7-14 for his two masterful starts. He did not give up a run in the playoffs, earned the win in the WCL championship game versus Victoria and struck out 15 over 11.2 innings. For the regular season, Merit posted a minuscule ERA of 1.45 over 9 appearances, 6 starts and 31 innings pitched and earned second-team all-WCL honors. At Utah this past spring, Jones made 17 appearances, 13 starts and logged 60 innings for the Utes.
This year's Joe Segel Hustle Award honoree was Ethan Hott of Stanford. The gritty outfielder led the Knights in stolen bases with 18 while hitting .281 for the summer. Ethan, who will be a sophomore, was sizzling in the playoffs, going 8-for-16 to earn WCL Player of the Week honors for August 7-14.
The coaches pick for Top Prospect was rising sophomore Sam Stem of Gonzaga. The outfielder from Erie, Colorado led the WCL in at bats with 220 and extra base hits with 23. He tied for the league lead in games played with 54, was second in total bases with 93, tied for second in runs scored with 37, tied for second in triples with 3 and was tied for third in hits with 59. Sam was a first-team all-WCL selection. This past spring at GU, the sweet swinging left-handed hitter earned all-WCC honorable mention honors and hit .317 with 10 doubles, 3 triples, 4 homers and 31 RBIs.
In West Coast League news, the Voice of the Knights – Mike Parker – was named the league's Broadcaster of the Year. Parker is the inaugural honoree.