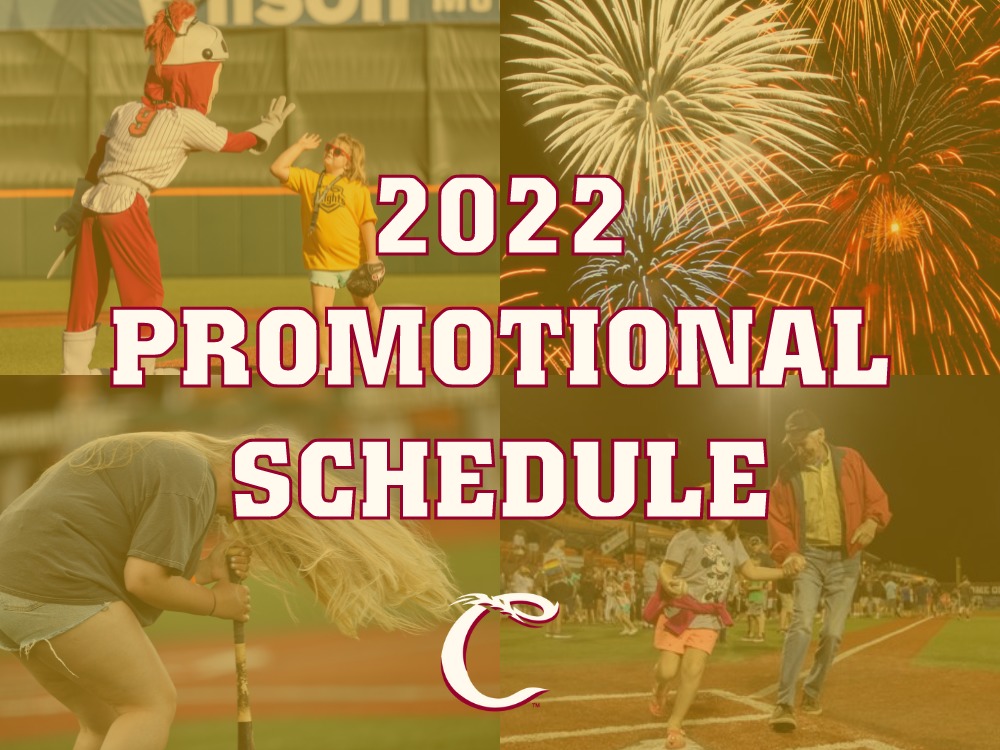 Knights announce 2022 promotional schedule
Friday, April 8, Corvallis, Ore. – Two long-standing traditional Fireworks Nights highlight the promotional schedule unveiled today by the Corvallis Knights for their 15th season as the Hometown Team at Goss Stadium.
The stars of the promotional show are rites of summer in Corvallis. The pyrotechnics start on July 3, when the Knights host the Port Angeles Lefties in the annual Oregon State Credit Union Fireworks Night. The regular-season ends with a bang with the August 6 Pioneer Connect and Samaritan Health Services Fireworks Night game against the Ridgefield Raptors.
Crowds of 3,000 or more are commonplace at both games, so fans are encouraged to order their tickets early so they're not left out.
Another marquee attraction is the July 22 Cap Giveaway Night, presented by Alyrica Networks. The first 750 fans will receive an adjustable Knights cap free of charge prior to the game against the Portland Pickles.
"Everyone can find something special at the ballpark this summer," Knights Director of Operations Derek Buchheit said. "We will make every night fun and full of surprises."
"We are concentrating on the promotions our fans have told us they enjoy the most, such as fireworks and giveaways."
Many of the 30 home dates have some sort of promotional tie-in, from giveaways of baseball-related paraphernalia to special reduced beverage prices on certain nights, or a combination of the aforementioned.
The fun starts on opening night, June 17 against the Yakima Valley Pippins in a rematch of the 2021 West Coast League Championship Series. The first 1,000 fans will receive a Knights Magnet Schedule, courtesy of Jessica Smith, Broker at Town & Country Realty.
Beverage specials feature 2 Towns Tuesdays (June 21, July 5, July 19, July 26, August 2); Nocking Point Wine Wednesdays (June 22, June 29, July 20, August 3) and Block 15 Thursdays (June 23, July 7, July 21, July 28, August 4).
The annual Knights Day Camp is set for July 25. Players and coaches will be on hand to provide instruction and other helpful baseball tips. More details will be available later this spring.
Other noteworthy promotions include:
Trading Card/Big League Chew Giveaway Night, on June 18, presented by Papé Material Handling and The Independence Hotel.
ALS Awareness Day on June 19, presented by Edward Jones-Tim Euhus.
LBCC Scholarship Giveaway Night on June 21, presented by the LBCC Foundation.
Cowbell Giveaway Night on June 24, presented by 99.9 KRKT.
Baseball Giveaway Night on June 25, presented by Heresco Chiropractic.
T-Shirt Giveaway Night on July 1, presented by Corvallis Custom.
Mini Bat Giveaway Night on July 2, presented by Starker Forests.
Military Appreciation Night is July 5, presented by Pioneer Connect, Garmin and 99.9 KRKT. All active military, Guard, Reserve and Veterans will be admitted free.
Strike Out Cancer Night on July 21.
Dash for Cash Night on July 23, presented by State Farm Agents of Corvallis and Philomath, with $1,000 up for grabs.
Wilson Motors Night on Aug. 4, with 1,000 free general admission tickets available at the longtime Corvallis automobile dealership.
For a complete list of the promotional schedule, see https://corvallisknights.com/schedule/promotions/
The Knights begin the 2022 season on May 26 with their annual Science, Engineering & Art Day, presented by Paventy & Brown Orthodontics, at Goss Stadium against the NW Star Nighthawks. Their WCL opener is June 3 at Yakima Valley; their WCL home opener is June 17 vs. Yakima Valley.