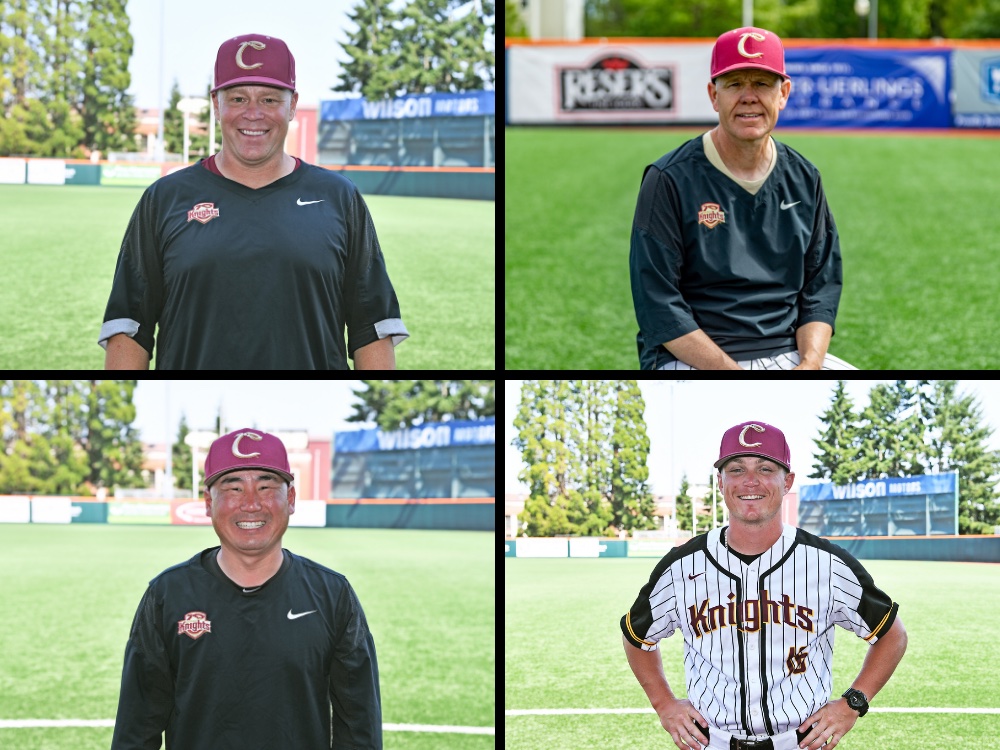 Knaggs' return bolsters championship staff
Tuesday, April 5, Corvallis, Ore. – The return of veteran associate head coach Ed Knaggs on a full-time basis has bolstered the top-flight coaching staff charged with directing the Corvallis Knights to their sixth consecutive West Coast League championship.
Knaggs, who was with the Knights on a part-time basis in the 2021 WCL title summer, joins incumbent manager Brooke Knight, fifth-year assistant Youngjin Yoon and second-year pitching coach Beau Kearns on the Knights leadership team.
"The return of Ed Knaggs is a real coup for us, and we couldn't be happier to have him back," said Knight, who shared West Coast League Coach of the Year honors with the former Wenatchee skipper in 2009.
"He's an experienced leader that believes in the fundamentals, treating players with respect, and showing up every day with purpose."
The staff is steeped with continuity and accomplishment.
"Maybe I'm a little biased, but I believe we might have the strongest coaching staff we've had in the history of our organization," Knight said. "I just happen to be fortunate enough to be able to steer the ship.
"It's a collective group of individuals that bring their own knowledge, energy and passion to the table. We can't wait to get things rolling again in 2022!"
Knight earned his seventh WCL Coach of the Year award last summer (2008, 2009, 2011, 2013, 2017, 2019, 2021) after directing the Knights to their fifth consecutive title and their eighth overall crown (2008, 2011, 2013, 2016, 2017, 2018, 2019, 2021).
He is the winningest coach in WCL history with a 570-242 (.702) mark. Knight has never posted a losing record and has guided the Knights into the WCL playoffs every summer since succeeding current Chicago Cubs executive Matt Dorey for the 2008 season.
Knaggs first joined the Knights for the 2018 season. He was the head coach of the WCL's Wenatchee AppleSox from 2001-14, posted a winning record every summer and led them to five WCL championships (2005, 2006, 2009, 2010, 2012) and two runner-up finishes (2008, 2013).
He also won five division championships and earned WCL Coach of the Year honors four times (2005, 2009, 2010, 2014) before retiring after the 2014 season. He coached 771 total games and was 300-172 (.636) in WCL regular-season contests. Wenatchee also won the 2003 Pacific International League title. That circuit was the precursor to the current WCL, which was formed in 2005.
More than 75 AppleSox earned first or second-team all-WCL honors during Knaggs' tenure. Three earned the WCL's Most Valuable Player award. At the time of his retirement, eight AppleSox had reached the major leagues.
A veteran of 10 seasons with the Lotti Giants in South Korea's equivalent of Major League Baseball, Yoon started with the Knights in 2016. He is presently the pitching coach at Bushnell University in Eugene.
He has worked in the United States since 2009, mentored by former Riverside Community College head coach Dennis Rogers, a longtime supporter of the Knights and the Southern California half of the pipeline that has sent RCC standouts Tommy Hanson, Chris Stewart, Richie Jimenez, Austin Sodders and others to the Knights over the years.
Yoon is a native of Busan, South Korea. His hybrid training philosophy merges the traditional American power-pitching approach with the detail-oriented, precision style prevalent in Southeast Asia.
He coached at RCC, Cal State-Bakersfield and Linn-Benton Community College before joining Bushnell's startup program in 2021.
"Youngjin fulfills another pillar for our club, and his unwavering enthusiasm and ability to create trust amongst our player group is unmatched," Knight said. "Yoony brings a unique and special dynamic."
Kearns joined the Knights for the 2021 season and compiled an outstanding staff that led the WCL in strikeouts (530), saves (20) and opponent's batting average (.211). Corvallis was second in opponent's slugging percentage (.305) and home runs allowed (21), and fourth in WHIP (1.36) and ERA (3.96).
A native of Lewiston, Idaho, Kearns played at Wenatchee Valley College and Lewis-Clark State. He was the MVP of the 2015 NAIA World Series, won by the Warriors, and then played in the independent Frontier League in 2015-16 before retiring from pro baseball.
"Beau is a gritty and savvy pitching coach who relates extraordinarily well to our players," Knight said. "He believes in the balance between new-school strategies and old-school moxie, and our players respond."
He played for Knaggs at Wenatchee in 2012-13, and at Yakima Valley in 2014. He was the pitching coach at Yakima Valley in 2017-19, and was the pitching coach at Umpqua Community College in Roseburg in 2020-21.
Kearns is currently a math teacher and head baseball coach at Central Valley High School in Spokane Valley, Wash.
The Knights begin the 2022 season on May 26 with their annual Science, Engineering & Art Day, presented by Paventy & Brown Orthodontics, at Goss Stadium against the NW Star Nighthawks. Their WCL opener is June 3 at Yakima Valley; their WCL home opener is June 17 vs. Yakima Valley.