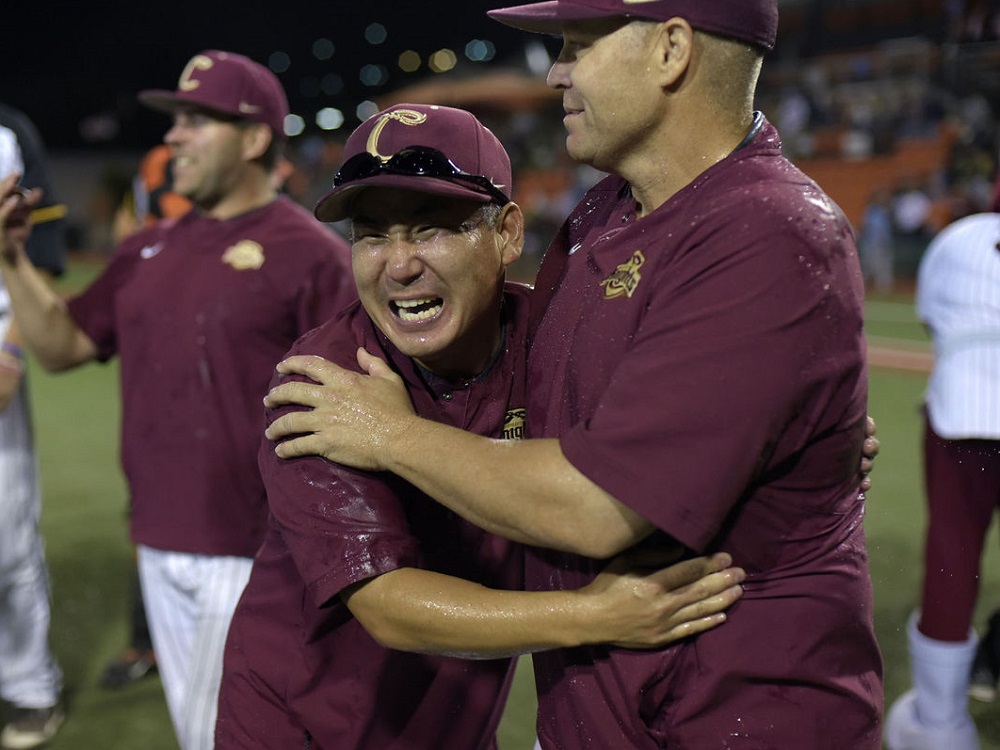 Knights Announce 2021 Coaching Staff
Corvallis, Ore., Wednesday, May 19 – The four-time reigning West Coast League champion Corvallis Knights announced their coaching staff for the 2021 season, and it features two new additions.
Longtime skipper and six-time WCL Coach of the Year Brooke Knight returns for his 13th summer with the team. After a cancelled 2020 season, he will reunite with uber popular assistant coach Youngjin Yoon.
Yoon is currently an assistant coach with Bushnell University (NAIA). Bushnell brought baseball back after a five decade hiatus. The Beacons first season is set for spring of 2022. Yoon has been an assistant with the Knights since 2016.
Knight and Yoon welcome first-year Knights coaches Beau Kerns and David Tillotson to the Corvallis staff.
Second-year Umpqua CC assistant baseball coach Beau Kerns joins the Knights as the team's new pitching coach. Beau has both pitched and coached in the West Coast League. He pitched for former Knights associate head coach Ed Knaggs in 2012 and 2013 for the Wenatchee AppleSox and spent his 2014 summer pitching for the Yakima Valley Pippins.
In 2012, Beau made 10 regular-season starts for the WCL champion AppleSox and went 4-2 with a 2.55 ERA. The following summer, he made 9 regular-season starts for Wenatchee and went 4-3 with a 2.89 ERA.
This is Kerns second stint as a pitching coach in the WCL as he was Yakima Valley's pitching coach for three seasons, 2017-2019. Following his collegiate playing career at Wenatchee Valley College and Lewis-Clark State College, he pitched in the independent professional baseball Frontier League (2015-2016).
A native of Lewiston, Idaho, Kerns won a NAIA title for his hometown Warriors in 2015, and earned World Series MVP honors.
David Tillotson joins the staff following his second spring as UC Santa Barbara's Director of Analytics, a title he's held since January, 2020. He first joined the Gauchos in the summer of 2019.
Before coming to Santa Barbara, Tillotson served as both a high school teacher and baseball coach for three years at Cleveland Central High School in Cleveland, Mississippi.
Tillotson attended the University of Washington from 2014-2016 where he earned his B.S. in general biology while also serving as an undergraduate manager and video coordinator for Husky Baseball.
Prior to UW, the Oak Harbor, Washington native played college baseball at Centralia College in Centralia, Washington.
"I've known Beau previously as a player and a coach, and have respected the way he has carried himself.  He's a rising prospect in the coaching ranks, and we are excited for him to join our family," said Knights head coach Brooke Knight. "Beau is gritty and passionate. Our players will love his energy.  David is going to bring a whole new element to our organization, and we are thrilled to have him on board as well.  His experience in the world of analytics will provide our player group, as well as our coaching staff, cutting-edge strategies and information.  Our game is changing rapidly, and David is going to be an integral part of our continued growth and development."
The reigning Perfect Game Summer Collegiate Team of the Year opens WCL play on Friday, June 4 at the Yakima Valley Pippins. The Knights 2021 home opener is Friday, June 18 vs. the Cowlitz Black Bears.