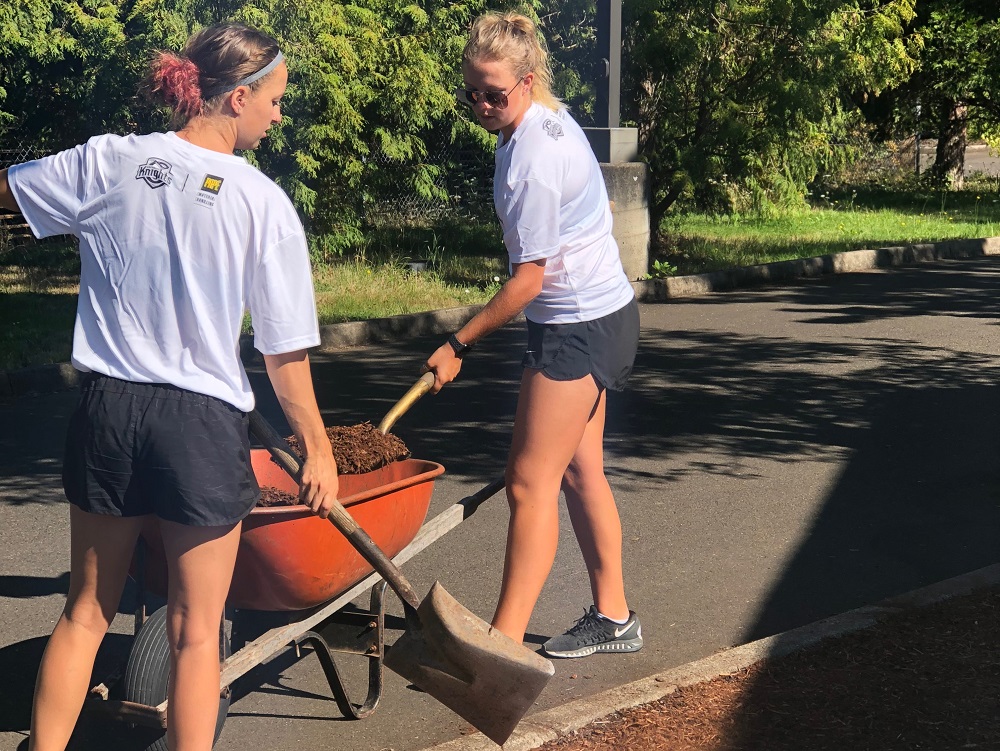 Knights and Papé Add Work Party to One Step Closer to Home Program
The Corvallis Knights staff along with Brand Marketing Specialist Kaley Corliss of Papé Material Handling spent yesterday morning working on several projects at Community Outreach as part of their One Step Closer to Home partner program in support of COI. From painting parking curbs, to re-striping the parking lot, to weeding, to moving bark mulch the Knights and Papé enjoyed a full morning of productive community service.
"Papé is proud to partner with the Corvallis Knights in support of our One Step Closer to Home initiative. Getting involved in our communities and making a direct impact is very important to Papé. We look forward to many more years of partnering with the Corvallis Knights," said Kaley Corliss of Papé Material Handling.
"We were thrilled with Kaley's and the Knights' effort. They really rolled up their sleeves and got a lot done," said COI Development Director Ben Danley. "We very much appreciate the help. It was just wonderful."
The Knights and Papé Material Handling have run a fun between-inning promotion now for three seasons titled Papé Material Handling Keeps You Moving One Step Closer to Home in Support of Community Outreach, Inc. where the Knights donate $10 to COI for every stolen base at OSU's Goss Stadium; and if the Knights win, they double their contribution. This season, the hometown team has nearly raised $1,000, which will be donated to COI at the end of the season.