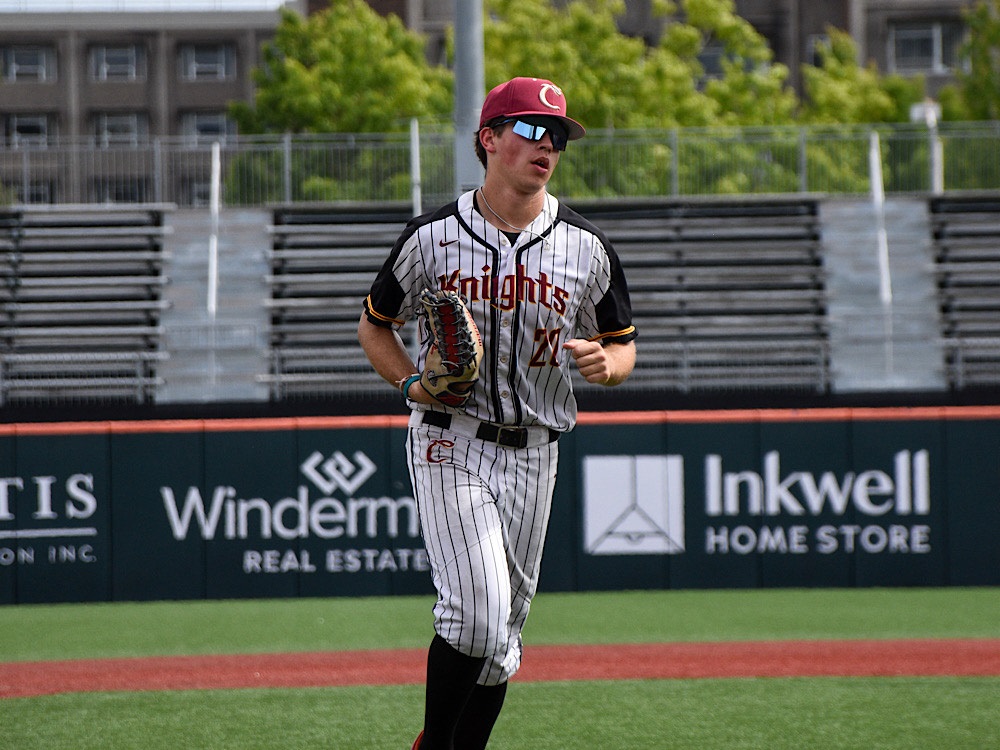 Stem leads Knights to 7-4 over Elks, closer to playoff berth
Friday, July 28, Bend, Ore.  – Corvallis moved another step closer to clinching its 16th consecutive playoff berth by defeating Bend 7-4 in a West Coast League game at Vince Genna Stadium.
Right fielder Sam Stem (Gonzaga, pictured above) doubled twice, tripled, singled, scored once and drove in a run to pace the Knights to their sixteenth win in their last 17 games overall and their 15th win in their last 16 WCL contests.
Corvallis (37-13, 33-13 WCL, 16-3 second half) remained 2.5 games ahead of second-place Cowlitz (14-6) in the South Division's second-half playoff race. They lowered their magic number to earn a postseason berth to two; any combination of Knights wins and Cowlitz losses adding up to two will clinch a postseason berth.
The Knights scored three times in the sixth inning to break a 2-2 tie. Two runs scored on a bases-loaded error and a third crossed on JC Ng's (Pomona-Pitzer) sacrifice fly.
Phoenix Call (UCLA) tripled and scored on Tyler Howard's (Portland) sacrifice fly to make it 6-2 in the eighth and Stem tripled and scored on a wild pitch to give the Knights a 7-3 lead in the ninth.
Stem had an RBI double and Ethan Hedges (USC) a sacrifice fly to score Corvallis's first two runs in the third inning.
Winning pitcher Kaden Segel (Portland) allowed three hits and one earned run in five innings to notch his third victory since joining the team earlier this month. Sean Wiese (Arizona Christian) earned a four-inning save, giving up a couple window-dressing runs in the final two innings.
The series continues at 6:35 p.m. Saturday. The Knights starter has not been announced; Oklahoma Wesleyan's Brady Little (0-0, 6.00) will start for the Elks.
Sunday's finale starts at 5:05 p.m. Seattle University's Tucker Grote (1-2, 1.71) will start for the Elks; Corvallis's starter is TBA.
The Knights are idle on Monday, then conclude the road portion of the regular season at Portland on Tuesday-Thursday. All three games begin at 7:05 p.m. at Walker Stadium.
The final home series of the season is set for Aug. 4-6 against the Ridgefield Raptors. The best-of-3 divisional round of the playoffs starts on Aug. 8.