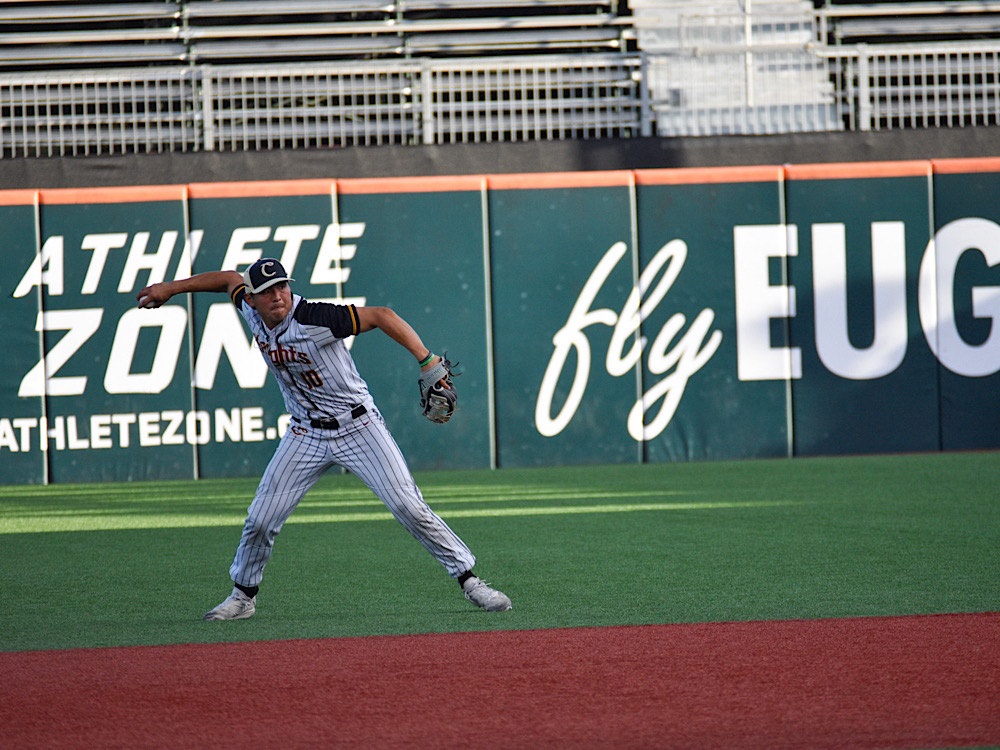 Hott's bases-loaded triple key hit in 8-2 victory over Pippins
Thursday, July 27, Corvallis, Ore.  – Corvallis exploded for six runs in the second inning and defeated Yakima Valley 8-2 in the rubber game of their West Coast League series.
The Knights (36-13, 32-13 WCL, 15-3 second half) remained 2.5 games ahead of second-place Cowlitz (13-6) in the South Division's second-half playoff race. They lowered their magic number to clinch their 16th straight playoff berth to three; any combination of Knights wins and Cowlitz losses adding up to three will clinch a postseason berth.
Corvallis rocked Yakima Valley ace Payton Graham for five hits and six runs in the second, delighting the Goss Stadium crowd of 2,058. An RBI single by Phoenix Call (UCLA) and a bases-loaded walk to Ty Yukumoto (Pacific) made it 2-0 and set the stage for Ethan Hott's (Stanford, pictured above) bases-clearing triple to the wall in left-center field that broke the game open.
Hott also walked three times and reached base safely in four of his five plate appearances. He was named the Washington Park Advisors Player of the Game.
Mason Le (Cal State Northridge) made it 6-0 with a sacrifice fly to right field. Le posted the seventh run in the fourth inning by scoring all the way from second base on an Anson Aroz (Oregon) groundout. Aroz tripled with two outs in the eighth inning and then scored the final run on Tate Shimao's (Cal Poly) single.
Starter Miles Gosztola (Gonzaga) went 4.1 innings, allowed two runs on six hits and had six strikeouts. He left with a 6-2 lead but did not go the necessary five innings to earn the victory.
Relievers Jonathan Stone (George Fox) and Cameron Rowe (Utah Valley) combined to retire 14 of the 15 batters they faced over the final 4.2 innings. Stone struck out two in 1.2 innings; Rowe allowed one hit and had one strikeout in a three-inning save.
Corvallis pitchers walked just one batter on Thursday after walking six and hitting four in a 5-4 loss on Tuesday and walking eight in a 5-4 win on Wednesday. As a result, Thursday's game was played in a brisk 2:24.
Corvallis starts its final road trip of the summer on Friday with a three-game series in Bend; Kaden Segel (2-0, 0.77) of Portland is Friday's scheduled starter. The Knights are idle on Monday, then play at Portland on Tuesday-Thursday.
The final home series of the season is set for Aug. 4-6 against the Ridgefield Raptors. The best-of-3 divisional round of the playoffs starts on Aug. 8.
Thursday's crowd of 2,058 raised the season total to 48,353 in 28 dates.
The Knights made several roster moves on Thursday. Pitcher Bransen Kuehl of Utah and Kaleb Woltz of Colorado Mesa both had to cut their summer seasons short due to injury. Kuehl was 1-0, 1.31 in 12 games, with 13 strikeouts and a save in 13.2 innings.
Skagit Valley CC pitcher Jackson Van Eyk has signed for the balance of the summer. A 6-foot-3, 210-pound righthander from Albany who played at Crescent Valley High in Corvallis, he was originally a 10-day signee before the season but did not appear in a game.