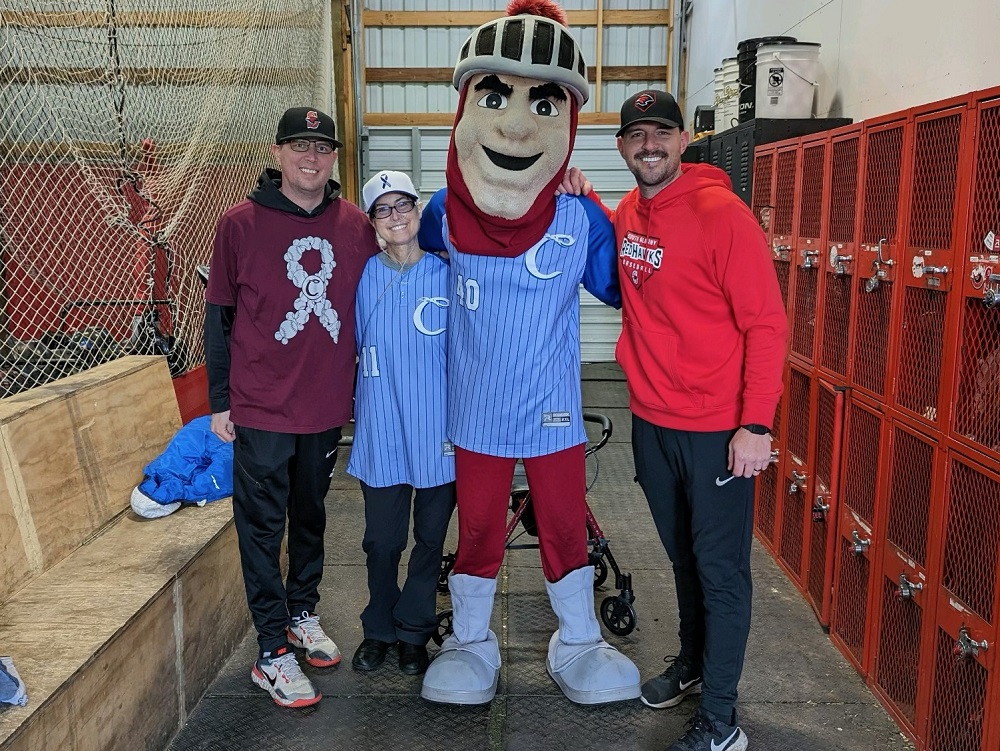 South Albany Youth Baseball and Knights Share Love of the Game at Fundraising Event
Monday, April 3, Albany, Ore. – Corvallis Knights alumnus Brad Kidd, the head baseball coach at South Albany High School, continues to grow baseball in the South Albany area with help from his friends, like Knights general manager Jennifer Beaumont, a graduate of South Albany High and Albany resident.
Jennifer, who is battling cancer, has gone to bat for her alma mater and hometown since starting with the Knights in 2017. As a result of her advocacy, Knights Baseball Club made a $7,500 donation to South Albany Youth Baseball at the end of last year.
"The Knights and Jennifer have been great for baseball in Albany," said Brad Kidd who pitched for Knights in their inaugural 2007 season in Corvallis. "Their recent contribution creates opportunities, from enhancing fields to reducing costs for players to participate. We appreciate their long-term partnership and everything they do to enrich our community."
Yesterday, Jennifer, Mack the Knight and team interns participated in South Albany Youth Baseball's Throw, Hit and Pitch-A-Thon fundraising event where kids got to throw the ball as far as they could, hit it as far as they could, and pitch it as fast as they could.
In honor of Jennifer Beaumont's cancer fight, she unveiled the Corvallis Knights new "courage" specialty jersey and hat at the event. The Knights will first wear these uniforms in their Friday, June 23rd non-league game versus the Cascade Collegiate League all-stars, which is Strikeout Cancer Night at OSU's Goss Stadium, presented by Pioneer Connect.
"Though I would have renamed yesterday's event the Sun, Rain and Hail-A-Thon, despite the crazy spring weather, the coaches, staff, parents and player volunteers did an excellent job keeping everyone engaged and the event flowing," said Jennifer Beaumont. "We want baseball to be accessible for everyone, and South Albany Youth Baseball is living it. They are making it happen."
100% of the funds raised on Sunday will be used for field improvements, facility maintenance, and new equipment.
Prizes were earned for top pledge collectors.
"Coach Kidd and Beth Henkel have done a wonderful job growing the game in South Albany," said Knights Baseball Club CEO Dan Segel. "Their Throw, Hit and Pitch-A-Thon is creative, engaging and a great way to start a season. We are proud partners."