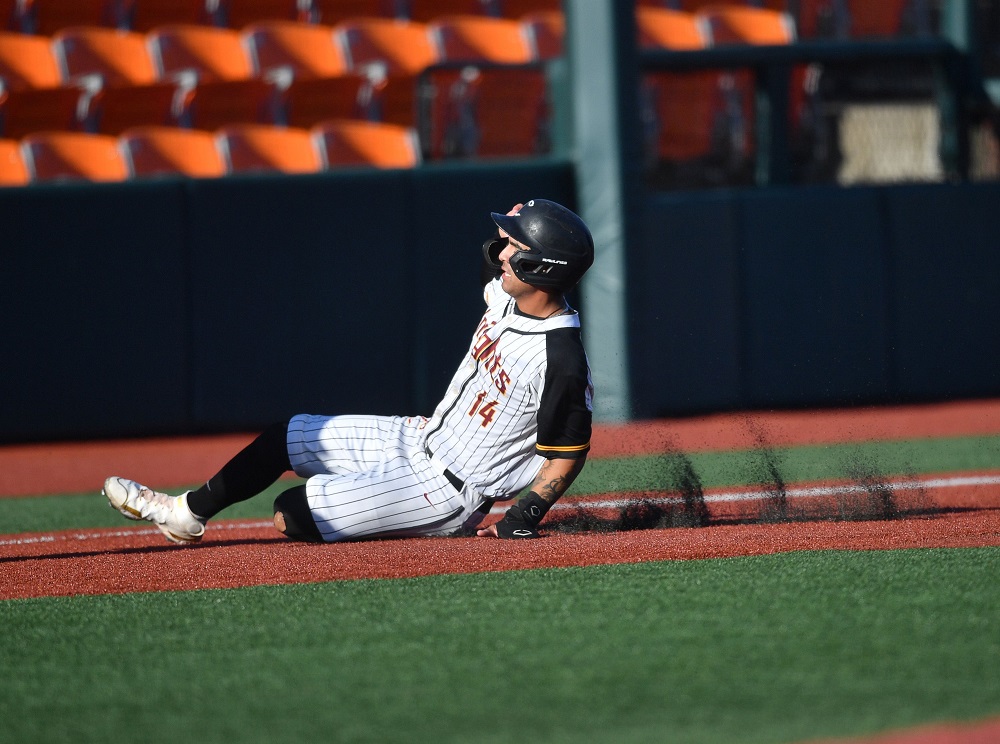 Ridgefield starts quickly, takes series opener over Corvallis 7-4
Friday, August 5, Ridgefield, Wash. – Ridgefield's first four batters all scored and the Raptors went on to defeat Corvallis 7-4in the opener of a three-game West Coast League series.
The Raptors built a 7-1 lead before the Knights (40-15 all, 38-14 WCL, 20-6 second half) mounted a late comeback. Corvallis had the tying run at the plate in the ninth inning but could not draw even.
Arizona-bound Kiko Romero (pictured, above) drove in two runs, Logan Johnstone (Gonzaga) had two hits, a run and a RBI and Washington State-bound Jonah Advincula scored twice. Relievers Brady Maylett (Utah) and Matt Scott (Stanford in 2022-23) combined for four innings of scoreless relief, with Maylett allowing just one hit in three innings.
The series continues with Fireworks Night at 7:15 p.m. Saturday at Goss Stadium, The final home game of the regular season. Duke Brotherton of Washington State (3-2, 4.32) is the projected starter for Corvallis.
The teams conclude the regular season back at Ridgefield at 1:05 p.m. Sunday. Newcomer Nathan Marshall (0-0, 0.00) will make his regular-season starting debut; he threw four scoreless innings against the NW Star Nighthawks in a nonleague game on Aug. 1.
The Knights clinched their 15th consecutive postseason berth on July 7 by winning the South Division's first-half championship by two games over Ridgefield. As a reward for having the WCL's best overall record, Corvallis will host the one-game South Division Championship on Aug. 13 and the WCL Championship Game on Aug. 15 if it advances that far.
It will also have home-field advantage in the best-of-3 opening round of the South Division playoffs, which start on the road on Aug. 9. Corvallis will open the home portion of the postseason with Game 2 on Aug. 10. If necessary, Game 3 will be at Goss Stadium on Aug. 11.